The park was established in 1857 on 778 acres (315 ha) of city-owned land. In 1858, Frederick Law Olmsted and Calvert Vaux, a landscape architect and an architect, respectively, won a design competition to improve and expand the park with a plan they titled the "Greensward Plan". Construction began the same year and the park's first area was opened to the public in the winter of 1858. Construction continued during the American Civil War farther north, and was expanded to its current size of 843 acres (341 ha) in 1873.
The oldest free classical music concert series in the United States, the Naumburg Orchestral Concerts – founded in 1905 – presents concerts in the park's only neo-classical building, the Naumburg Bandshell on the Concert Ground, each summer. 
West Drive is the western of the park's three vertical "drives". The southbound-running road is described as "… concealed in sunken roadways and screened with densely planted shrub belts, creating a country-road feel in the center of the city." In the early 1900s, the drive was a popular place for carriage rides.
In 1908, the first ever film to feature Central Park in a scene was Romeo and Juliet and since then there have been three hundred and five films to feature the famous park. This makes it the most filmed location ever for films many Academy Award winning films feature a scene in the park.
Central Park in the Dark, composed in 1906, is one of the most famous works of American composer Charles Ives.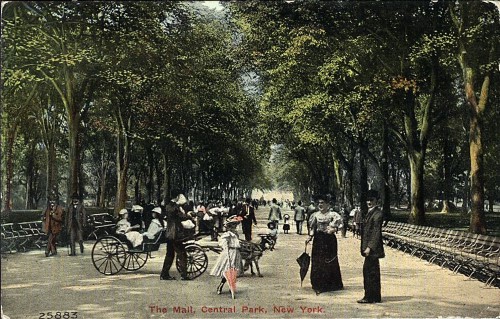 1910. Central Park.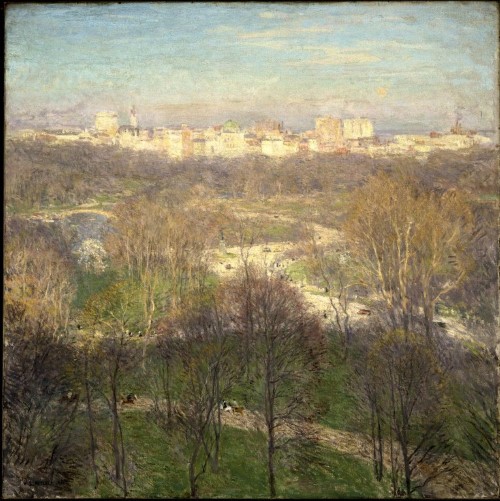 1911. Central Park. "Early Spring Afternoon – Central Park" by Willard Leroy Metcalf.