Musikverein Graz.
Congress center, next to Graz's main square.
697 seats.
1905 Concert Graz 01-06-1905 – Des Knaben Wunderhorn, Kindertotenlieder, Ruckert-Lieder
Also: Stephaniensaal
The Musikverein was founded in 1815 by a group of Grazer Akademiker – after the k.u.k. Society of music lovers of the Austrian Kaiserstaates in Vienna. The exact start date is not known, but some sources show that the association was already active in April 1815. According to the first statute, the driving force behind the founding of the music association Johann Farbmann, the Kurat of the Grazer Stadtprobstei. The names of 30 other persons who have signed this Statute are also known. However, the official recognition of the association, which existed in the highest knowledge of the monarch, took place only in 1821.
The Stefaniensaal is one of the most traditional concert and event rooms in Graz, executed by the architect Mathias Seidl in the building of the Steiermärkische Sparkasse between 1883 and 1885. The hall, named after Crown Princess Stephanie of Belgium, was opened on 04-11-1885 with a fixed-concert, in which, among other things, the conductor Karl Muck (1859-1940) and the Court Opera Singer Marie Wilt occurred.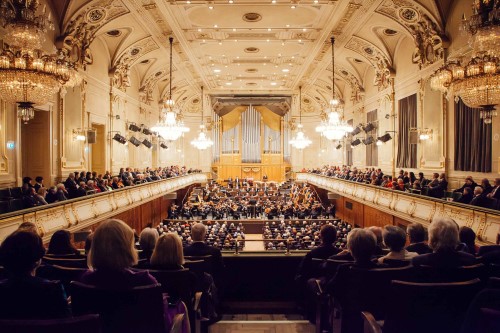 The Stefaniensaal, which is often called the small brother of the "Golden Hall" of the Vienna Musikverein, was built between 1905 and 1908 according to the plans by Leopold Theyer. The hall has a rich stuccoed ceiling and presents portraits of fourteen famous composers in Grisaille style painted by Julius Schmid. This concert hall, which has a capacity of 1,100 persons, is the venue for concerts of recreation – Großes Orchester Graz. It was also the setting for several styriarte musical recordings with Nikolaus Harnoncourt who especially likes the high acoustic quality of the Stefaniensaal.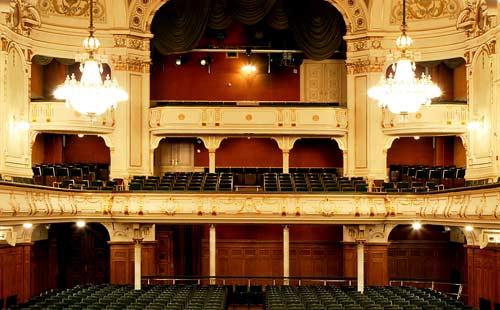 In a second phase of the building (1906-1908), the building was expanded, the room enlarged according to the plans of Leopold Theer (with a main staircase including Beethoven sculpture made of white marble by Johannes Benk) and a smaller hall for chamber concerts. In order to optimize the acoustics, both rooms were given double rabbits. The opening took place on 28-04-1908.
Today the hall is part of the Congress center with 19 event rooms and a capacity of up to 2400 persons.