At the time that he met Alma, Walter Gropius (1883-1969) was far from being the famous architect that he was later to become. Still only twenty-seven, he was four years younger than Alma, an age difference that must have flattered her. He had studied architecture in Munich and his native Berlin and spent some time working for the great Jugendstil artist and theatre reformer Peter Behrens. Gropius had just set up his own business in Neu-Babelsberg.
By the spring of 1910 he was exhausted from running that business and also suffering from the effects of a persistent chill. His doctor advised him to take the waters at Tobelbad.
Writers have repeatedly confused Tobelbad with Toblach. Tobelbad is in fact near Graz, and it was to Tobelbad that Gustav Mahler (1860-1911) took his ailing wife on 01-06-1910, together with their daughter Anna Justine Mahler (Gucki) (1904-1988) and the latter's English nanny Maud Turner (period 1907-1910). The following day he returned to Vienna in order to organize the preliminary rehearsals for his Eighth Symphony.
Alma had scarcely unpacked her suitcase when she met Gropius for the first time on 04-06-1910. She would soon be thirty-one and was no longer the most beautiful young woman in Vienna, but she was still attractive, now somewhat fuller of figure, a buxom beauty, voluptuous and imposing, a schoolboy's dream in frills and furbelows. Not until she turned forty did she start to look her age and her face and figure turned pudgy, a process evident from photographs of the period.
In 1910 she had largely reduced her alcohol intake, which had threatened to rise to dangerously high levels, and this will have added to her attractiveness. It is clear from photographs that the twentysevenyear-old Gropius was slim and relatively tall, with intensely piercing eyes and a moustache that made the age difference less apparent. He had already had the occasional affair, but Alma was undoubtedly the first genuinely impressive woman in his life, a thoroughbred of a woman.
Gropius's biographer, Reginald Isaacs, notes that his subject invariably became involved with women who were either married or in some way unavailable, which he attributes to an over-developed mother fixation. It is a diagnosis amply confirmed by the immoderately intimate letters that Gropius wrote to his mother. She too was a powerful woman – Isaacs thinks it significant that her son was drawn to other emotionally strong women.  
The doctor who was treating Alma and presumably Gropius, too, introduced the pair to each other. Alma gives the impression that Gropius was a young madcap who, much to her surprise, fell in love with her, but the truth of the matter is that for both parties it was a coup de foudre of a kind that Alma had not known since her adolescence, certainly not with her husband.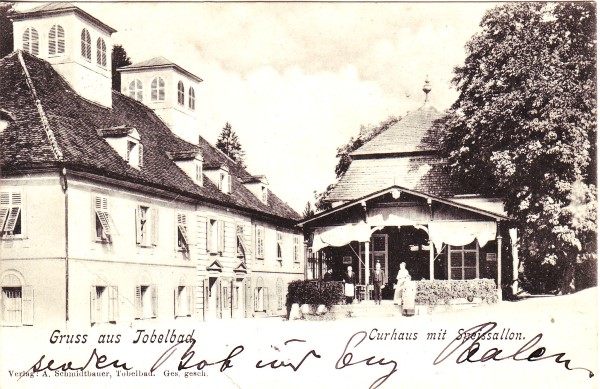 On the day of their first meeting, they had supper together, then went for a walk, before sitting by a stream and talking well into the night. In the course of the next few days, nature took its course, as writers of the turn of the century might have put it. Alma and Gropius had time to allow their affair to develop, for it was not until 30-06-1910 that Mahler returned: the lovers had three and a half weeks together, although the affair cannot have been easy to hide in a tiny resort, where Alma was still the wife of the director of the Vienna Court Opera and where they were under the constant scrutiny of Anna, the child's nanny and the prying eyes of the spa doctors and various other visitors.  
It is not entirely clear when Alma left Tobelbad for Toblach, but it must have been around 15-07-1910. She had had several more weeks in which to enjoy the state of euphoria occasioned by her love of Gropius, for he too had remained in Tobelbad, the spa treatment for twenty-seven-year-olds lasting a remarkable length of time at this date.
The disaster was triggered by the impassioned letter to Alma that he addressed to 'Herr Director Mahler' or 'Herr Gustav Mahler' and that arrived on 29-07-1910. Writers continue to puzzle over whether Gropius 'made a mistake in the stress of emotion', as Alma puts it with disdainful reserve, or whether he intended the letter for Mahler.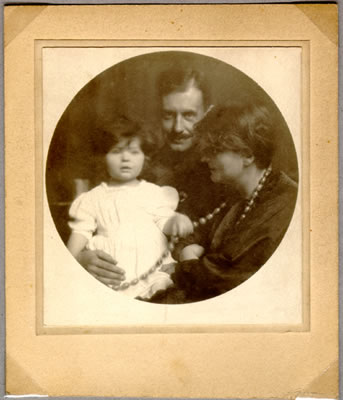 1916. Manon Gropius (1916-1935), Walter Gropius (1883-1969) and Alma Mahler (1879-1964).