170 bars drafted in short score, the first 30 bars of which were also drafted in orchestral score.
The Purgatorio movement (originally entitled Purgatorio oder Inferno (Purgatory or Hell)) but the word "Inferno" was struck out, is a brief vignette presenting a struggle between alternately bleak and carefree melodies with a perpetuum mobile accompaniment, that are soon subverted by a diabolical undercurrent of more cynical music.
The short movement fails to end in limbo though, as after a brief recapitulation a sudden harp arpeggio and gong stroke pull the rug out from under it; it is consigned to perdition by a final grim utterance from the double basses.
"Purgatorio oder Inferno".
On the title page of the short score. The title page was cut in two with scissors or a razor blade. The word "Pergatorio" might have been suggested to Mahler by the identical title of a set of poems by Siegfried Lipiner (1856-1911). Because Alma had always disliked him she would have destroyed Mahler's reference to him. However, the word "Purgatorio" was very appropriate, considering Mahler's present ordeal.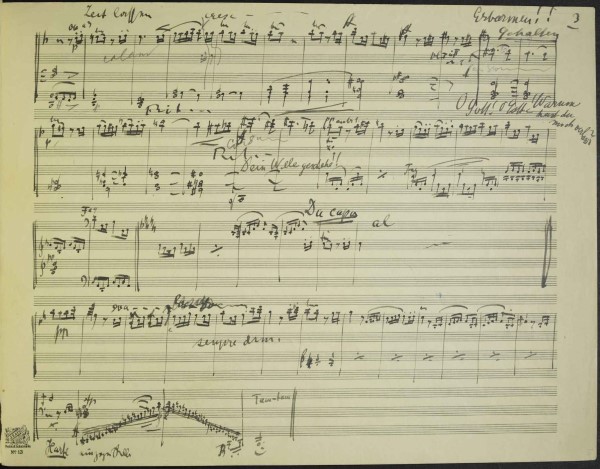 Last page.

Last page, detail harp.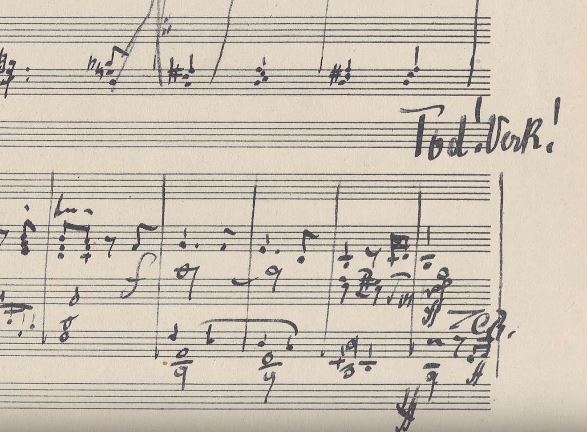 "Tod! Verk!" (Death!, Verk(ündigung), Annunciation of death)
On the preliminary sketch. The "Todesverkundigung" is the episode in the second act of Wagner's Walkure, when Brunnhilde announces to Siegmund his imminent death. Only the syllables "Tod! Verk!" appear over the same bar on the orchestral sketch. Bar 95.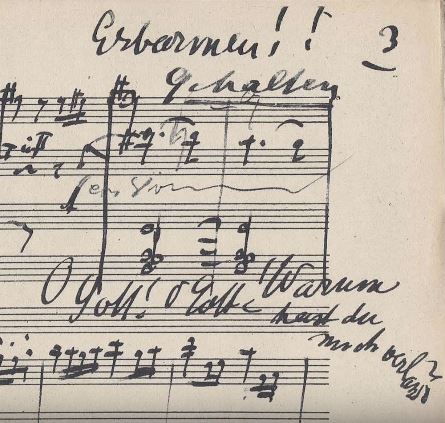 "Erbarmen!!" (Have pity!!)
"O Gott! O Gott! Warum hast du mich verlassen?" (O God! O God! Why have you forsaken Me?)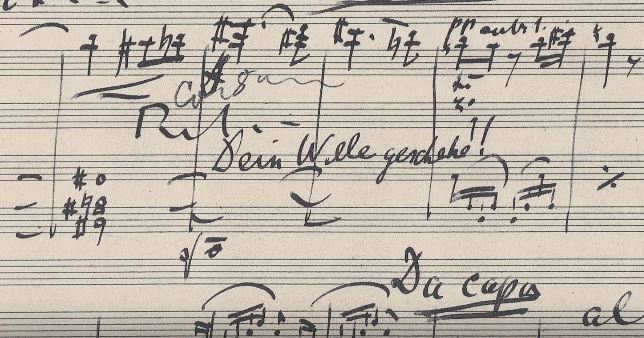 "Dein Wille geschehe!" (Thy will be done)
Bar 113
---
Listening Guide