Peacefully, somewhat slowly. Theme and variations. The third movement is a solemn processional march cast as a set of variations. Mahler uses the theme and variation structure in a more unconventional way.
This movement can be divided into five main sections: A1 – B1 – A2 – B2 – A3 – CODA. The theme is presented in the first 16 bars of A1, but the true variations don't appear until section A3, although the theme is developed slightly within the preceding sections; sections A1, A2, B1 and B2 are in bar form. This movement remains mostly in G major, but does modulate to D minor, E minor and E major; the B2 section has a rather unstable tonality, being more chromatic and moving through many keys.
Manuscript Movement 3: Ruhevoll (poco adagio).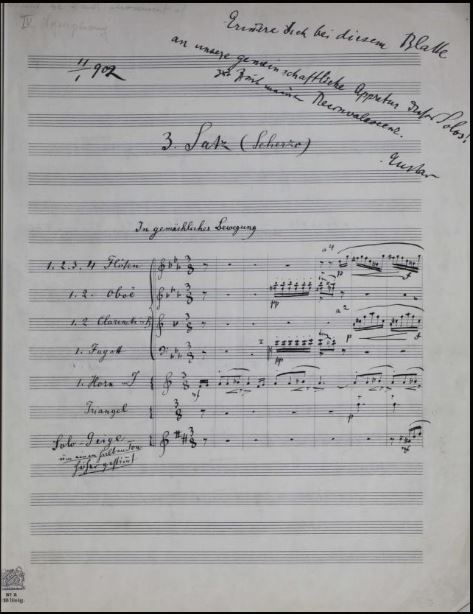 Manuscript Movement 3: Ruhevoll (poco adagio).
Ruhevoll (Calm) (Poco Adagio). With the third movement we reach the essence of Mahler's music and, one could almost say, of his soul. No other composer writing in the Beethovenian tradition could have created music so serene, so serious and so profound. In Adorno's words: 'Stripped of all pathos, the long melody discovers the quietude of a happy homeland, relieved of the suffering that is caused by limitation. Its authenticity, which does not need to fear comparisons with Beethoven's, is confirmed by the fact that, after a period in abeyance, a sense of nostalgia wells up again, incorruptibly, in the plaintive strains of the second theme, which transcends the expressive melody of the consequent phrase.'
Mahler was right to remark that this movement 'laughs and cries at one and the selfsame time', since the opening theme, motionless and meditative with its passacaglia bass, is followed by a second theme that is openly anguished in character. What follows are two distinct groups of variations on the main theme separated by a return of the second, anguished, theme. The coda, which is in E major, announces the principal motif of the final movement, its sudden modulation unleashing the symphony's only genuinely loud tutti and throwing open the gates of perhaps the only paradise accessible to the living—the naive paradise of childhood and popular imagery.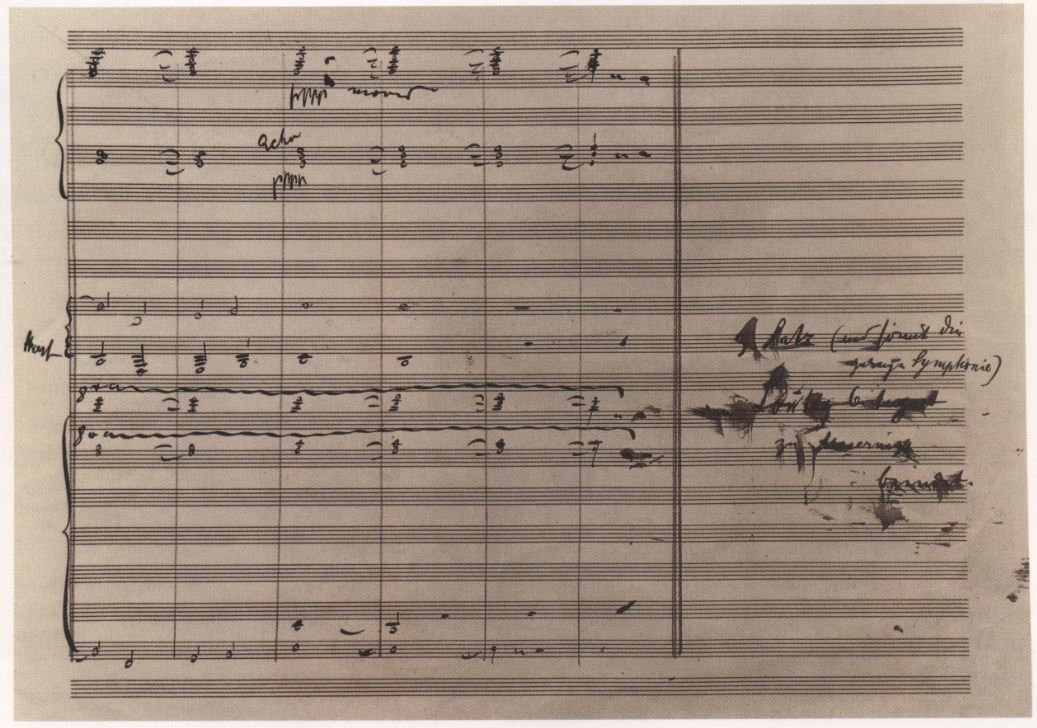 Movement 3: Ruhevoll (poco adagio). Orchestral score, finale.
---
Listening Guide