Nachtmusik I.
Andante, C major/minor.
The movement opens with horns calling to each other. The second horn is muted, however, to create the illusion of distance. Scampering woodwinds imitating somewhat grotesque bird calls pass off into the distance, as the trumpets sound the major-minor seal from the sixth symphony. The horns introduce a rich, somewhat bucolic (A) theme, surrounded by dancing strings and a march rhythm from his song "Revelge".
This theme leads to some confusion about the key, as it switches between C major and C minor every few beats. The rural mood is heightened by a gentle, rustic dance for the (B) section – typical of Mahler at his most carefree and childlike – as well as by the gentle clanking of distant cow-bells in the returns of the introductory section. The malicious (C) theme, upon its return, is arabesqued by the Revelge rhythms and bird calls from earlier in the movement.
Overall, the movement possesses a grotesque quality, but always with friendly intentions.
Manuscript Symphony No. 7, Movement 2: Nachtmusik. Allegro moderato.
The movement progresses through a series of marches and dances and naturalistic nocturnal descriptions. One remarkable aspect of the movement is its symmetrical form; it is a rondo following the structure (I)-(A)-(B)-(I/A)-(C)-(I/A)-(B)-(A)-(I), where (I) is an introductory section and (I/A) combines the introductory music and the (A) theme.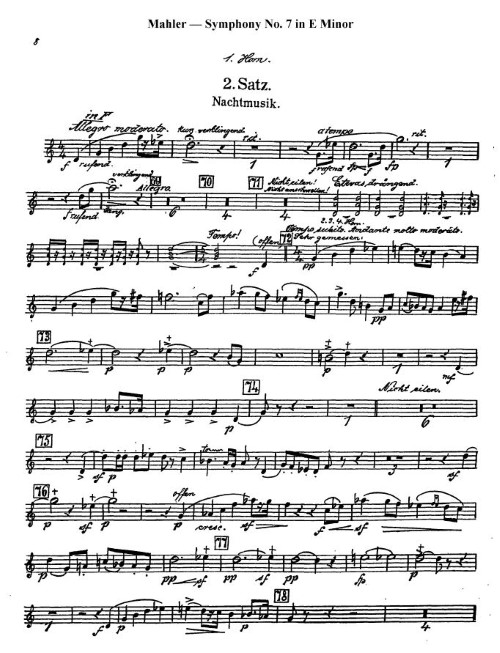 Movement 2: Nachtmusik. Allegro moderato, Horn. Plate?
According to Alphons Diepenbrock (1862-1921), Gustav Mahler commented that the second movement has a connection with Rembrandt van Rijn (1606-1669) painting the 'The Night Watch' (1642). 'It is a night-time journey, … a march with a fantastic clair obscur, with the result that … the fantastic colours … awaken an image of landsknechts and soldiers'.
---
Listening Guide