Alexander von Zemlinsky (1871-1942).
Profession: Pedagogue, conductor, composer.
Residences: Vienna, New York.
Relation to Mahler: Love affair with Alma Schindler.
Correspondence with Mahler: Yes.
Born: 14-10-1871 Vienna, Austria.
Died: 15-03-1942 Larchmont, New York, America. Aged 70.
Buried: 00-00-0000 Unknown
Reburied: 18-07-1985 Central cemetery, Vienna, Austria. Grave 33G-71.
Alexander Zemlinsky or Alexander von Zemlinsky was an Austrian composer, conductor, and teacher. Zemlinsky was born in Vienna to a highly multicultural family. Zemlinsky's grandfather, Anton Semlinski, emigrated from Žilina, Hungary (now in Slovakia) to Austria and married an Austrian woman. Both were from staunchly Roman Catholic families, and Alexander's father, Adolf, was raised as a Catholic.
Alexander's mother was born in Sarajevo to a Sephardic Jewish father and a Bosnian Muslim mother. Alexander's entire family converted to the religion of his maternal grandfather, Judaism, and Zemlinsky was born and raised Jewish. His father added an aristocratic "von" to his name, though neither he nor his forebears were ennobled. He also began spelling his surname "Zemlinszky."
Alexander studied the piano from a young age. He played the organ in his synagogue on holidays, and was admitted to the Vienna Conservatory in 1884. He studied piano with Anton Door, winning the school's piano prize in 1890. He continued his studies until 1892, studying theory with Robert Fuchs and composition with Johann Nepomuk Fuchs and Anton Bruckner. At this time he began writing music.
Zemlinsky had a valuable supporter in Johannes Brahms. In 1893, On the invitation of Zemlinsky's teacher Johann Nepomuk Fuchs, Brahms attended a performance of Zemlinsky's Symphony in D minor. Soon after that, Brahms attended a performance of one of Zemlinky's quartets by the Hellmesberger Quartet. Brahms, impressed with Zemlinsky's music, recommended the younger composer's Clarinet Trio (1896) to the N. Simrock company for publication. 
Zemlinsky also met Arnold Schoenberg when the latter joined Polyhymnia, an orchestra in which he played cello and helped found in 1895. The two became close friends and later mutual admirers and brothers-in-law when Schoenberg married his sister Mathilde. Zemlinsky gave Schoenberg lessons in counterpoint, thus becoming the only formal music teacher Schoenberg would have.
In 1897 Zemlinsky's Symphony No. 2 (chronologically the third he had written, and sometimes numbered as such) was a success when premiered in Vienna. His reputation as a composer was further helped when Gustav Mahler conducted the premiere of his opera Es war einmal (Once Upon a Time) at the Hofoper in 1900. In 1899 Zemlinsky secured the post of Kapellmeister at Vienna's Carltheater. 
In 1900, Zemlinsky met and fell in love with Alma Schindler, one of his composition students. She reciprocated his feelings initially; however, Alma felt a great deal of pressure from close friends and family to end the relationship. They were primarily concerned with Zemlinsky's lack of an international reputation and by an unappealing physical appearance. She broke off the relationship with Zemlinsky and subsequently married composer Gustav Mahler in 1902. 
06-10-1906: Alexander von Zemlinsky (1871-1942) is elected as the new director of the Vienna State Opera. In 1906 Zemlinsky was appointed first Kapellmeister of the new Vienna Volksoper, from 1907/1908 at the Hofoper in Vienna. Zemlinsky married Ida Guttmann in 1907, but the marriage was an unhappy one.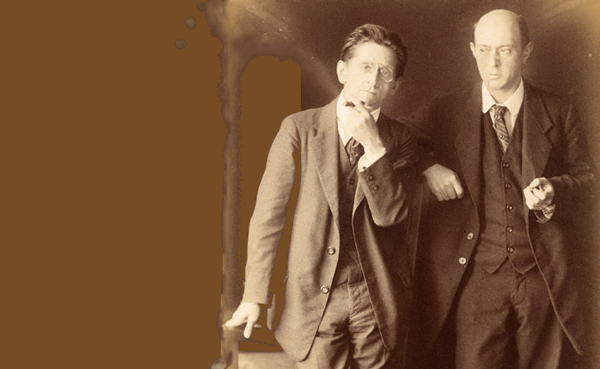 Alexander von Zemlinsky and Arnold Schoenberg (1874-1951) in Prague (1917).
From 1911 to 1927, he was conductor at Deutsches Landestheater in Prague, premiering Schoenberg's Erwartung in 1924. Zemlinsky then moved to Berlin, where he taught and worked under Otto Klemperer as a conductor at the Kroll Opera. With the rise of the Nazi Party, he fled to Vienna in 1933, where he held no official post, instead concentrating on composing and making the occasional appearance as guest conductor. In 1938 he moved to the United States and settled in New York City. Although fellow émigré Schoenberg was celebrated and feted in the Los Angeles of the 1930s and 40s – teaching at the University of California, Los Angeles (UCLA) and the University of Southern California (USC) and gaining a new generation of acolytes – Zemlinsky was neglected and virtually unknown in his adopted country. He fell ill, suffering a series of strokes, and ceased composing. Zemlinsky died in Larchmont, New York of pneumonia. In 1930, Zemlinsky converted to Protestantism. He alluded to the Christian cross and to Jesus in the text of Turnwächterlied, and included verses from Psalms in several of his compositions.
Following Ida's death in 1929, Zemlinsky married Luise Sachsel in 1930, a woman twenty-nine years his junior, and to whom he had given singing lessons since 1914. This was a much happier relationship, lasting until Zemlinsky's death. Ida died in 1929 and he married Luise in 1930. From 1930 until 1933 he was a guest conductor at the Berlin State Opera, but when the nazi's came to power they fled to Vienna.
In 1938 moved on to Prague and then to the United States, where they arrived on Ellis Island on December 23th, 1938. But Zemlinsky's health was failing and he didn't succeed in learning English. They lived in poor circumstances and he died in 1942 in Larchmont. Luise took care of his musical heritage and continued her painting. In 1985 she accompanied his ashes to a grave at the Central cemetery in Vienna. She died in Manhattan in 1992.
Music
Zemlinsky's best-known work is the Lyric Symphony (1923), a seven-movement piece for soprano, baritone and orchestra, set to poems by the Bengali poet Rabindranath Tagore (in German translation), which Zemlinsky compared in a letter to his publisher to Mahler's Das Lied von der Erde (though the first part of Schoenberg's Gurre-Lieder is also a clear influence). The work in turn influenced Alban Berg's Lyric Suite, which quotes from it and is dedicated to Zemlinsky.
Other orchestral works include the large-scale symphonic poem Die Seejungfrau (The Mermaid). This work, premiered in 1905 in the same concert as Schoenberg's Pelleas und Melisande, was considered 'lost' until 1984, since when it has become one of Zemlinsky's most frequently performed scores. A three-movement Sinfonietta written in 1934, admired by Schoenberg and Berg, is written in a style comparable to contemporary works by Paul Hindemith and Kurt Weill. 
Other works include eight operas, including Eine florentinische Tragödie (1915–16) and the semi-autobiographical Der Zwerg (The Dwarf, 1919–21), both after Oscar Wilde; chamber music (including four string quartets) and the ballet Der Triumph der Zeit (1901). He also composed three psalm settings for chorus and orchestra and numerous song cycles, both with piano and with orchestra, of which the Sechs Gesänge, Op. 13, to texts by Maurice Maeterlinck is the best-known.
While the influence of Brahms is evoked in Zemlinsky's early works (prompting encouragement from Brahms himself), an original voice is present from the first works on, handling dissonances in a much freer manner than Brahms. Later works adopt the kind of extended harmonies that Wagner had introduced whilst also drawing influence from Mahler. In contrast to his friend Schoenberg, he never wrote atonal music, and never used the twelve-tone technique.
However, late works such as the Symphonische Gesänge, Sinfonietta and third and fourth string quartets move away from post-Romanticism towards a leaner, harder-edged idiom that incorporates elements of Neue Sachlichkeit, Neoclassicism and even jazz.
As a conductor, Zemlinsky was admired by, among others, Kurt Weill and Stravinsky, not only for his notable interpretations of Mozart, but also for his advocacy of Mahler, Schoenberg and much other contemporary music. As a teacher, his pupils included Erich Wolfgang Korngold, Hans Krása and Karl Weigl.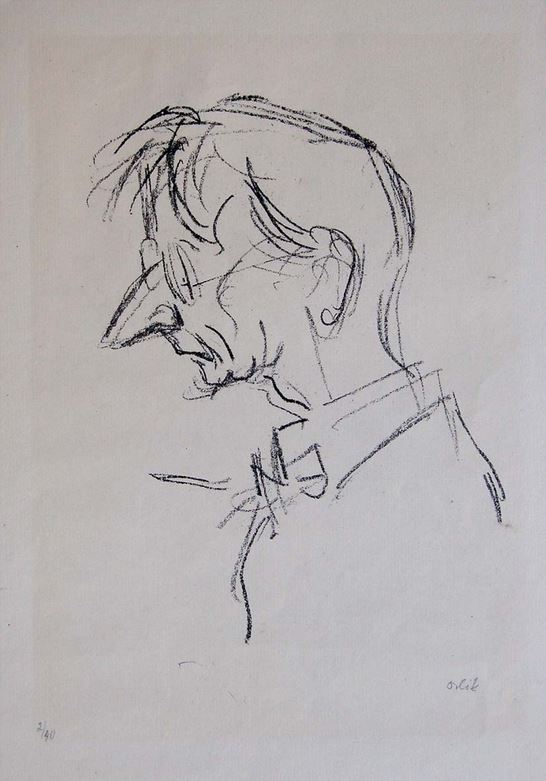 Alexander von Zemlinsky by Emil Orlik (1870-1932).
More
Alexander Zemlinsky is one of those composers who do not enjoy great renown and yet were very highly regarded in their time. His works did not change the history of music but are an authentic testimony of the turbulent developments in music between 1890 and 1940. Zemlinsky stands between times and styles but in this intermediary position he found a rich, unmistakeable, musical language. His personality and work epitomise one of the most fascinating epochs of art in Europe.
Zemlinsky was born in 1871 in Vienna and grew up in the Leopoldstadt district which was characterised by the many Jewish inhabitants who lived there. His musical talent became evident at an early age and so his parents registered him at the Conservatory of the Society of the Friends of Music when he was barely 13 years old. Zemlinsky studied at this institution until 1892, composing works of his own which were influenced by those of his model and patron Johannes Brahms.
After completing his studies, through personal contacts and a strong commitment in working for a number of institutions and societies, Zemlinsky soon succeeded in creating a certain position for himself in the pulsating musical life of Vienna. During these years his encounters with Arnold Schoenberg and Alma Schindler — who later became Gustav Mahler's wife — were especially significant both on a human and artistic level. For a brief period Zemlinsky instructed Schoenberg in counterpoint and from 1906 became his brother-in-law, indeed Schoenberg was to become Zemlinsky's most important friend and artistic partner. Zemlinsky had an intensive and unhappy love affair with his pupil Alma Schindler which only came to an end when she met Mahler.
After 1900 Zemlinsky was firmly established as a leading musical figure in Vienna, both as composer and conductor. However, he did not achieve a really major breakthrough. From 1900 to 1904 Zemlinsky was kapellmeister at the Carltheater and at the Theater an der Wien where he was only entrusted with conducting operettas. It was not until 1904, when he was appointed kapellmeister at the Volksoper and for one season (1907-8) at the Hofoper, that he was able to conduct major works in the repertoire. During this period he focused his compositional work on music theatre: until 1910 Zemlinsky wrote four operas which show in a very varied manner his infallible affinity for the genre.
In 1911 Zemlinsky went to Prague where he held the post of opera conductor of the Deutsches Landestheater until 1927. This was where he celebrated his greatest successes as a conductor, especially for his readings of the music of Mozart and Wagner but also through performances of works by Mahler and Schoenberg, Zemlinsky's name became synonymous with a natural and perceptive interpretation that served the music. His work as a conductor allowed Zemlinsky only a little time to compose and yet works such as the String Quartet No. 2, the Lyrische Symphonie and the two one-act operas based on works by Oscar Wilde are some of the highlights of his œuvre. 
In 1927 Zemlinsky moved to Berlin, where he was kapellmeister at the Kroll Opera (until it was closed). Here he conducted a number of productions which aroused interest because of the aesthetics of their staging and yet Zemlinsky was overshadowed by the rise of younger conductors such as Otto Klemperer, Georg Szell and Erich Kleiber. In 1931 he took on a teaching appointment at the Music Academy but after the seizure of power by the Nazis and in 1933 the passing of the law which prohibited Jews from being employed in state service he had to resign his position. He returned to the city of his birth with his second wife Louise (his first wife Ida had died in 1929) — Vienna now became his exile.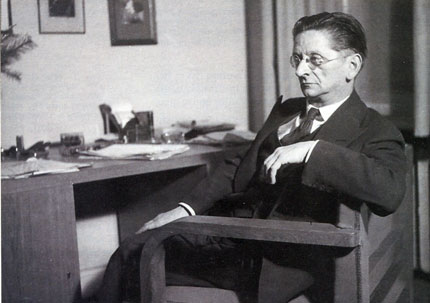 Alexander von Zemlinsky (1871-1942).
As cultural life in Vienna increasingly became influenced by political developments Zemlinsky was no longer able to become established. He did, however, have more time to compose. The works of this later period were varied in style and form, the main one being the opera Der König Kandaules. From 1938 the situation in Vienna made it impossible for him to continue working and, after Hitler's invasion, Zemlinsky and his family planned to escape. In the autumn of 1938 they left Vienna and fled to New York. Zemlinsky was a broken man when he arrived in the New World. He even had to abandon his opera and composed only a few minor works. After suffering several strokes Zemlinsky died on 15 March 1942 in his house in Larchmont near New York.
For several decades after his death the music of Zemlinsky was more or less disregarded. It was not until the 1970s that his central works were performed and recorded. The re-assessment of his biography also led to the renaissance of a composer whose music combines in incomparable manner the trends of half a century. The phase of rediscovery can be regarded as having reached fruition with the world premiere of Der König Kandaules at the Hamburg State Opera in 1996. Now the public again has the music of a composer about whom Schoenberg said in 1949, "I always firmly believed that he was a great composer and I still believe this. It is possible that his time will come sooner than we think".