Year 1873. Arnold Bocklin (1827-1901).
Profession: Painter
Relation to Mahler: 
Correspondence with Mahler: 
Born: 16-10-1827 Basel, Switzerland
Died: 16-01-1901 Fiesole, near Florence, Italy
Buried: 00-00-0000 Cimitero degli Allori, Florence, Italy
Swiss symbolist romantic painter.
Mentioned in diary Natalie Bauer-Lechner (1858-1921).
He was born in Basel. His father, Christian Frederick Böcklin (b. 1802), was descended from an old family of Schaffhausen, and engaged in the silk trade. His mother, Ursula Lippe, was a native of the same city. Arnold studied at the Düsseldorf academy under Schirmer, and became a friend of Anselm Feuerbach. He is associated with the Düsseldorf school of painting. Schirmer, who recognized in him a student of exceptional promise, sent him to Antwerp and Brussels, where he copied the works of Flemish and Dutch masters. Böcklin then went to Paris, worked at the Louvre, and painted several landscapes.
After serving his time in the army, Böcklin set out for Rome in March 1850. In Rome, he married Angela Rosa Lorenza Pascucci in 1853. The many sights of Rome were a fresh stimulus to his mind. These new influences brought allegorical and mythological figures into his compositions. In 1856 he returned to Munich, and remained there for four years.
He then exhibited the Great Park, one of his earliest works, in which he treated ancient mythology. Of this period are his Nymph and Satyr, Heroic Landscape (Diana Hunting), both of 1858, and Sappho (1859). These works, which were much discussed, together with Lenbach's recommendation, gained him appointment as professor at the Weimar academy. He held the office for two years, painting the Venus and Love, a Portrait of Lenbach, and a Saint Catherine.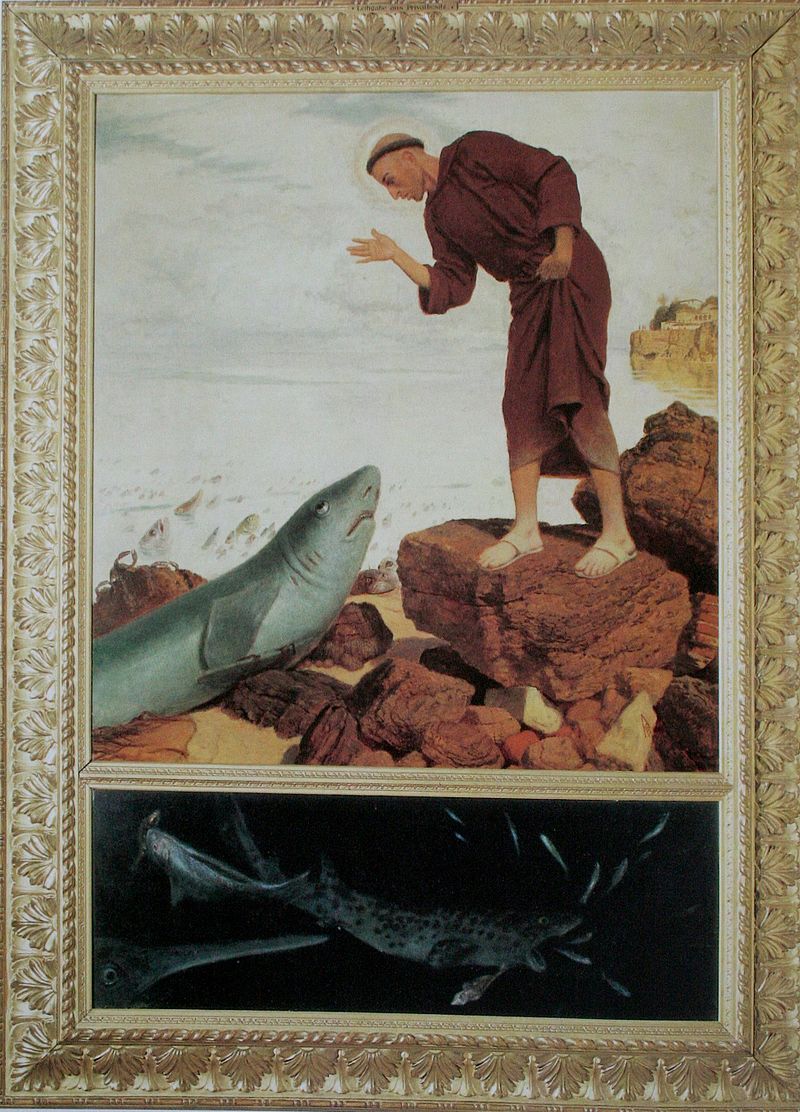 Year 1892. Des Antonius von Padua Fischpredigt, Der Heilige Antonius predigt den Fischen, The Sermon of Antonius by Arnold Bocklin (1827-1901).
He returned to Rome from 1862 to 1866, and there gave his fancy and his taste for violent colour free play in his Portrait of Mme Böcklin, and in An Anchorite in the Wilderness (1863), a Roman Tavern, and Villa on the Seashore (1864).
He returned to Basel in 1866 to finish his frescoes in the gallery, and to paint, besides several portraits, The Magdalene with Christ (1868), Anacreon's Muse (1869), and A Castle and Warriors (1871).
'Self-Portrait with Death playing the Fiddle (violin solo)' (1872), was painted after his return again to Munich, where he exhibited Battle of the Centaurs, Landscape with Moorish Horsemen and A Farm (1875). From 1876 to 1885 Böcklin was working at Florence, and painted a Pietà, Ulysses and Calypso, Prometheus, and the Sacred Grove.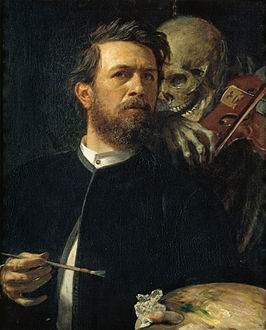 Year 1892. Self-Portrait with Death playing the Fiddle (violin solo).
From 1886 to 1892 he settled at Zürich. Of this period are the Naiads at Play, A Sea Idyll, and War. After 1892 Böcklin resided at San Domenico, near Florence.