Augustus Henry Glossop Harris (1852-1896).
Sir Augustus Henry Glossop Harris was a British actor, impresario, and dramatist. Harris was born in Paris, the son of Augustus Glossop Harris (1825-1873), who was also a dramatist, and his wife, née Maria Ann Bone, a theatrical costumier. He spent his childhood in London, returning to Paris for schooling at age 12. In 1877, he starred in one of the most successful London plays of the day, The Pink Dominos, at the Criterion Theatre, alongside Charles Wyndham.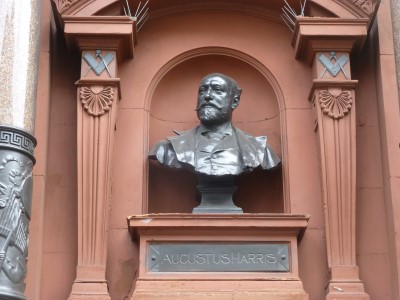 2016. Bust Augustus Henry Glossop Harris (1852-1896) at Theatre Royal Drury Lane.
From 1879, Harris was manager of the Theatre Royal Drury Lane in London, and was nicknamed the "Father of Modern Pantomime" and "Augustus Druriolanus". He introduced Jean de Reszke, Nellie Melba, Emma Eames, and Emma Calvé. His first pantomime production was Bluebeard, the next Forty Thieves. He produced and co-wrote the scripts for large-scale pantomimes at Drury Lane every Christmas that became the most popular holiday entertainments in London, assembling a famous company, including Herbert Campbell, Dan Leno and Harry Nicholls.
More
Actor, impresario, and dramatist, the son of Augustus Glossop Harris, was born in the Rue Taitbout, Paris, in 1852. After a short experience of commerce, he played in September 1873 Malcolm in a revival at the Theatre Royal, Manchester, of Macbeth.' 
At the Amphitheatre, Liverpool, in juvenile and light comedy parts, he supported Barry Sullivan. He then became, under Mapleson, assistant stage-manager, and afterwards manager, at Royal Opera House Covent Garden. 
He produced in 1876 Blanchard's Crystal Palace pantomime, 'Sindbad the Sailor.' At the Criterion he was, 31 March 1877, the original Harry Greenlanes in 'Pink Dominoes.' 
In 1879 he became the lessee of Theatre Royal Drury Lane, but it was some time before he could carry out his ambitious and well-planned schemes. On 31 July 1880 he produced the 'World,' by himself, Paul Meritt, and Henry Pettitt, a spectacular melodrama, which was succeeded, 6 Aug. 1881, by 'Youth,' by the same authors. 'Pluck,' by Harris and Pettitt, came in 1882; 'A Sailor and his Lass,' in collaboration with Robert Buchanan, and ' Freedom,' with Rowe, in 1883; 'Human Nature,' with Pettitt, 1885; 'A Run of Luck,' with the same, 1886; 'Pleasure,' with Meritt, 1887; the 'Armada,' with Hamilton, 1888; the 'Royal Oak,' with the same, 1889; 'A Million of Money,' with Pettitt, 1890; 'A Sailor and his Lass,' by Pettitt alone, 1891; the 'Prodigal Daughter,' with Pettitt, 1892; 'A Life of Pleasure,' with the same, 1893; the 'Derby Winner,' with C. Raleigh and H. Hamilton, 1894; and 'Cheer, Boys, Cheer,' by the same, 1895. 
The popularity of most of these and that of the pantomimes, which were on a scale of unexampled splendour, raised Drury Lane to the highest point of prosperity. No less remarkable was Harris's success with opera. 
Beginning at Drury Lane with 'Lohengrin' in 1887, he produced, at one or other of the great houses, operas such as 'Cavalleria Rusticana,' 'Falstaff,' 'I Pagliacci,' 'I Rantzau,'; La Navarraise,' with great splendour and with the finest obtainable cast. For tragedy he engaged Ristori and John McCullough, whom, in ' Yirginius,' he supported as Icilius, the Saxe-Meiningen company, and the Grand-Ducal company of Saxe-Coburg and Gotha. 
Indefatigable in labour, he managed three, and sometimes four, of the principal London theatres at the same time. The spring of 1891 thus saw him at the same time manager of Her Majesty's, Covent Garden, Drury Lane, and the Olympic. 
He was the first member of the London County Council for the Strand division, and a member of the committee on theatres and music halls; was sheriff of London in 1890-1891, and was knighted on the occasion of the visit of the German emperor. These manifold occupations overtaxed his strength, and he died at the Pavilion Hotel, Folkestone, on 22 June 1896. 
Harris had a genius for stage management, in which in his time he had no English equal. He had few gifts as an actor, though he occasionally played in his own pieces. He married, on 8 Nov. 1881, Florence Edgecornbe Rendle, who survives him. His sisters Nelly and Maria and his brother Charles were also connected with the stage.