The parents of the Eissler siblings were Hermann Eissler, professor of natural sciences at the University of Brno, and Rosa Eissler. After the death of her husband, probably around 1870, Rosa Eissler moved to Vienna with her children "in order that her daughters might have greater musical advantages than was possible in Brno" (The Windsor Magazine 1896, p. 466). In addition to Marianne, Clara and Emma Eissler, concert reports also list the pianists Frida (Frieda, Freda) and Fanny Eissler as sisters.
Also: Eißler, Eyßler, Eisler
The connection to Mahler is referred to in an article in the Cornhill magazine from May 1938, which mentions Mahler visiting the Eisslers in their London home (in 1892?).
Barnett's Riviera Weekly Samedi 17 fevrier 1906 (17-02-1906):
…The final number was the Preislied from the Meistersinger, in honour of Wagner the date of whose death-anniversary is the same as the date of the concert. It is worth noting that everyone remained to listen, and they were rewarded with a very fine performance. The combination here of violin and harp is admirably appropriate. The interpretation is one of the best in the two sisters repertoire; but it is also, I believe, an authentic reading. Some years ago Mahler, the great Wagnerian conductor at Vienna, went through it with them, and was absolutely delighted with their reading. On Tuesday it won several enthusiastic re calls.
There were four Eissler sisters, all of whom studied at the Vienna Conservatoire at various times between 1870 and 1882.
Frau Rosa Eissler, mother of the girls, moved her household to Vienna at some point in the early 1870s. She was a very hospitable lady and she and her daughters came from the same sort of circumstances as Mahler – Jews from Moravia now in Vienna.
1. Emmy Eissler
2. Frida Eissler
Frida, who went on to become a piano teacher in Paris, passing on Leschitizky's methods, seems to have been the most academic, and certainly studied at the same time as Gustav Mahler with Franz Krenn (1816-1897), for example. Frida lived her life quite separately from the other sisters.
3. Marianne Eissler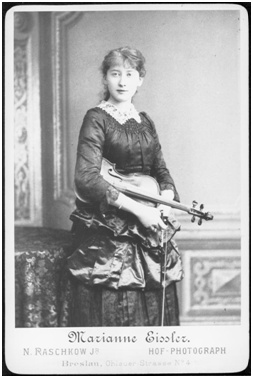 Marianne Eissler, Year 1884
On 18-09-1893 Adelina Patti (1843-1919) writes Gustav Mahler about Marianne Eissler. See Adelina Patti (1843-1919).
From around 1873 Marianne Eissler studied at the Vienna Conservatory with Carl Heissler (1823-1878). Marianne Eissler was present in international concert life for over 40 years. Together with her sister, the pianist Emma Eissler, trained at the Vienna Conservatory with Max Schwarz), Marianne Eissler made more than 60 appearances between 1880 and 1885, including in Berlin (1881, 1885), Dresden (1881), Hamburg (1881), Vienna (1881, 1883, 1884), Basel (1881), Paris (1882, 1883) and Copenhagen (1883).
In 1885 the "Neue Zeitschrift für Musik" wrote: "The violin virtuoso Marianne Eißler, her sister Emmy Eißler, pianist, and the opera singer Carl Riese have come together to undertake a concert tour through Germany in October and November" (NZfM 1885, p. 372). Implementation of this project cannot be confirmed. A note in the magazine "Signals for the Musical World" on their appearance on December 12th, 1883 in Vienna says that since the sisters first appeared in Vienna in 1880, "both women have been on a tour that has been accompanied by the best artistic success Germany, France, England, Belgium and Holland "(Signals 1883, p. 1158).
The cooperation between the two sisters was expanded to include Clara Eissler from 1884: Between 1884 and 1905 the trio gave concerts in Paris (1884-1887), Hamburg (1885), Berlin (1886, 1888, 1889), Frankfurt a. M. (1887), Prague (1887), London (1888, 1890, 1894), Leeds (1889), Birmingham (1890, 1891), Bristol (1891), Vienna (1895), Derby (1895) and on the Cote d'Azur (1905). Some of the performances in England took place in concerts of the singer friend Adelina Patti.
4. Clara Eissler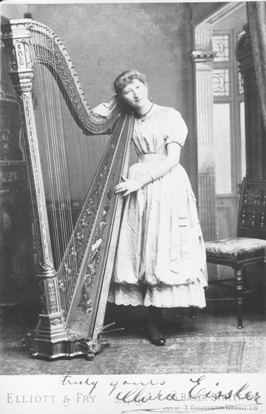 Clara Eissler.
It is said that Clara Eissler proposed that Adelina Patti (1843-1919) should sing Traume, and she accompanied Patti on the harp in this song in many concerts.
If you have more information about the Eissler sisters, please contact Jenny Broome at jenny.broome@ntlworld.com or the Mahler Foundation.