Felix von Kraus (Dr.) was an Austrian dramatic bass. Born in Vienna, he received a doctorate in musicology from the University of Vienna in 1894; as a singer, however, he was mainly self-taught.
He made his debut at Bayreuth as Hagen in Götterdämmerung in 1899 and was heard thereafter at numerous Bayreuth Festivals and at other opera houses throughout Europe; he specialized in the works of Richard Wagner.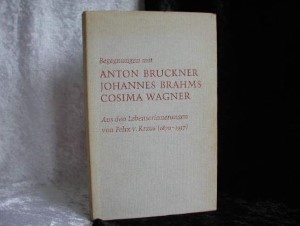 Felix von Kraus (1870-1937) recollections.
In 1899 Kraus married the American contralto Adrienne von Kraus-Osborne (1873-1951), also a Wagnerian. The name of his child is Felizitas. He had a second daughter who died as a small child – her name was Maria or "Moidl". 
In 1908 he became the artistic director of the Munich Opera; that same year he became a professor at the Munich Conservatory. Among his students was the Swiss tenor and early music specialist Max Meili and heldentenor Karl Burrian (1870-1924).
He retired from the stage in 1927 and died in Munich in 1937.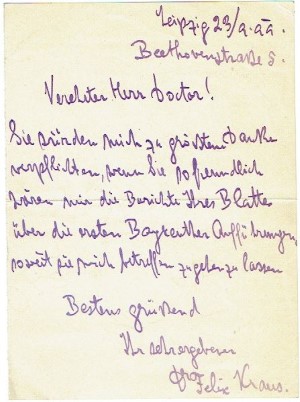 Felix von Kraus (1870-1937) letter.
To Theodor Helm (1843-1920): "Sie würden mich zu größtem Danke verpflichten, wenn Sie so freundlich wären mir die Berichte Ihres Blattes über die ersten Bayreuther Aufführungen, soweit sie mich betreffen zugehen zu lassen".