Henry van de Velde (1863-1957).
Profession: Painter, architect.
Residences: Belgium.
Relation to Mahler:
Correspondence with Mahler:
Born: 03-04-1863 Antwerp, Belgium.
Died: 15-10-1957 Zurich, Switerland. Aged 94.
Buried: Cemetery of Tervuren near Brussels, Belgium. His ashes were silently buried next to his wife's tomb. He had already designed his own tombstone in 1943.
Henry Clemens van de Velde was a Belgian painter, architect and interior designer. Together with Victor Horta and Paul Hankar he could be considered as one of the main founders and representatives of Art Nouveau in Belgium. Van de Velde spent the most important part of his career in Germany and had a decisive influence on German architecture and design at the beginning of the 20th century.
Van de Velde was born in Antwerp, where he studied painting under Charles Verlat at the famous Royal Academy of Fine Arts, Antwerp. He then went on to study at Carolus-Duran in Paris. As a young painter he was thoroughly influenced by Paul Signac and Georges Seurat and soon adopted a neo-impressionist style (pointillism). In 1889 he became a member of the Brussels-based artist group "Les XX". After Vincent van Gogh exhibited some work on the yearly exhibition of Les XX van de Velde became one of the first artists to be influenced by the Dutch painter. During this period he developed a lasting friendship with the painter Théo van Rysselberghe and the sculptor Constantin Meunier.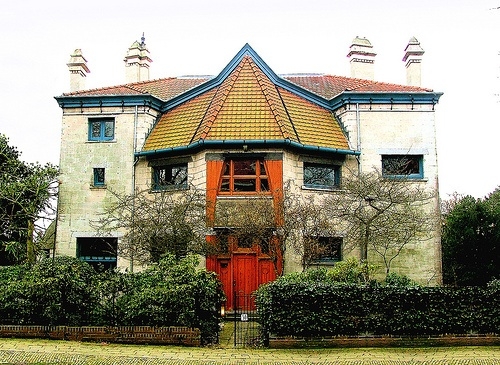 Henry van de Velde (1863-1957).
Art Nouveau
In 1892 he abandoned painting, devoting his time to arts of decoration and interior design (silver- and goldsmith's trade, chinaware and cutlery, fashion design, carpet and fabric design). His own house, Bloemenwerf in Ukkel, was his first attempt at architecture, and was inspired by the British and American Arts and Crafts Movement. He also designed interiors and furniture for the influential art gallery "L'Art Nouveau" of Samuel Bing in Paris in 1895. This gave the movement its first designation as Art Nouveau. Bing's pavilion at the 1900 Paris world fair also exhibited work by Van de Velde. Van de Velde was strongly influenced by John Ruskin and William Morris's English Arts and Crafts movement and he was one of the first architects or furniture designers to apply curved lines in an abstract style. Van de Velde set his face against copying historical styles, resolutely opting for original (i.e. new) design, banning banality and ugliness from people's minds.
Van de Velde's design work received good exposure in Germany, through periodicals like Innen-Dekoration, and subsequently he received commissions for interior designs in Berlin. Around the turn of the century, he designed Villa Leuring in the Netherlands, and Villa Esche in Chemnitz, two works that show his Art Nouveau style in architecture. He also designed the interior of the Folkwang Museum in Hagen (today the building houses the Karl Ernst Osthaus-Museum) and the Nietzsche House in Weimar.
In 1899 he settled in Weimar, Germany, where in 1905 he established the Grand-Ducal School of Arts and Crafts, together with the Grand Duke of Weimar. It is the predecessor of the Bauhaus, which, following World War I, eventually replaced the School of Arts and Crafts, under new director Walter Gropius, who was suggested for the position by Van de Velde.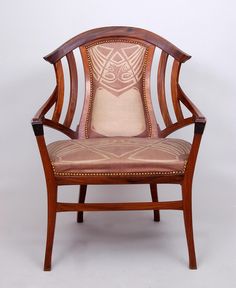 Henry van de Velde (1863-1957).
Although a Belgian, Van de Velde would play an important role in the German Werkbund, an association founded to help improve and promote German design by establishing close relations between industry and designers. He would oppose Hermann Muthesius at the Werkbund meeting of 1914 and their debate would mark the history of Modern Architecture. Van de Velde called for the upholding of the individuality of artists while Hermann Muthesius called for standardization as a key to development.
During World War I, Van de Velde, as a foreign national, was obliged to leave Weimar (although on good terms with the Weimar government), and returned to his native Belgium. Later, he lived in Switzerland and in the Netherlands where he designed the Kröller-Müller Museum in Otterlo. In 1925 he was appointed professor at the Ghent University Institute of Art History and Archaeology, where he lectured architecture and applied arts from 1926 to 1936. He was instrumental in founding in Brussels, in 1926, today's renowned architecture and visual arts school La Cambre, under the name of "Institut supérieur des Arts décoratifs."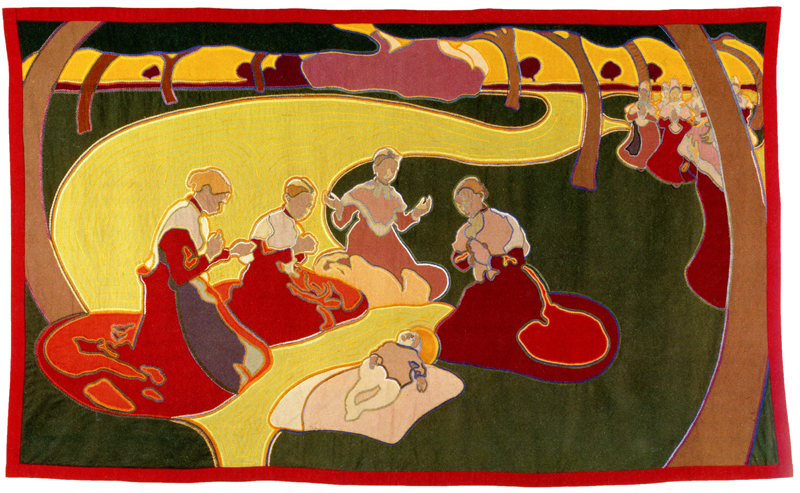 Henry van de Velde (1863-1957).
He continued his practice in architecture and design, which had demarcated itself significantly from the Art Nouveau phase, whose popularity was by 1910 in decline. During this period, he mentored the great Belgian architect, Victor Bourgeois. In 1933 he was commissioned to design the new building for the university library (the renowned Boekentoren). Construction started in 1936, but the work would not be completed until the end of the Second World War. For budget reasons, the eventual construction did not entirely match the original design. For instance, the reading room floor was executed in marble instead of the black rubber Van de Velde originally intended. He was also involved in the construction of the Ghent University Hospital.