Jacques Francois Fromental Halevy (1799-1862).
Profession: Composer.
Residences: Paris.
Relation to Mahler: 
Correspondence with Mahler: 
Born:  27-05-1799 Paris, France.
Died: 17-03-1862 Nice, France.
Buried: Montmartre cemetery, Paris, France.
Jacques-François-Fromental-Élie Halévy, usually known as Fromental Halévy was a French composer. He is known today largely for his opera La Juive. Halévy was born in Paris, son of the cantor Élie Halfon Halévy, who was the secretary of the Jewish community of Paris and a writer and teacher of Hebrew, and a French Jewish mother. The name Fromental, by which he was generally known, reflects that he was born on the feast-day of that name, 7 Prairial, in the French Revolutionary calendar, which was still operative at that time. He entered the Conservatoire de Paris at the age of nine or ten (accounts differ), in 1809, becoming a pupil and later protégé of Cherubini. After two second-place attempts, he won the Prix de Rome in 1819: his cantata subject was Herminie.
As he had to delay his departure to Rome because of the death of his mother, he was able to accept the first commission that brought him to public attention: a Marche Funèbre et De Profundis en Hébreu for three part choir, tenor and orchestra, which was commissioned by the Consistoire Israélite du Département de la Seine, for a public service in memory of the assassinated duc de Berry, performed on 24 March 1820. Later, his brother Léon recalled that the De Profundis, "infused with religious fervor, created a sensation, and attracted interest to the young laureate of the institute."
Halévy was chorus master at the Théâtre Italien, while he struggled to get an opera performed. Despite the mediocre reception of L'artisan, at the Opéra-Comique in 1827, Halévy moved on to be chorus master at the Opéra. The same year he became professor of harmony and accompaniment at the Conservatoire de Paris, where he was professor of counterpoint and fugue in 1833 and of composition in 1840. He had many notable students (Georges Bizet).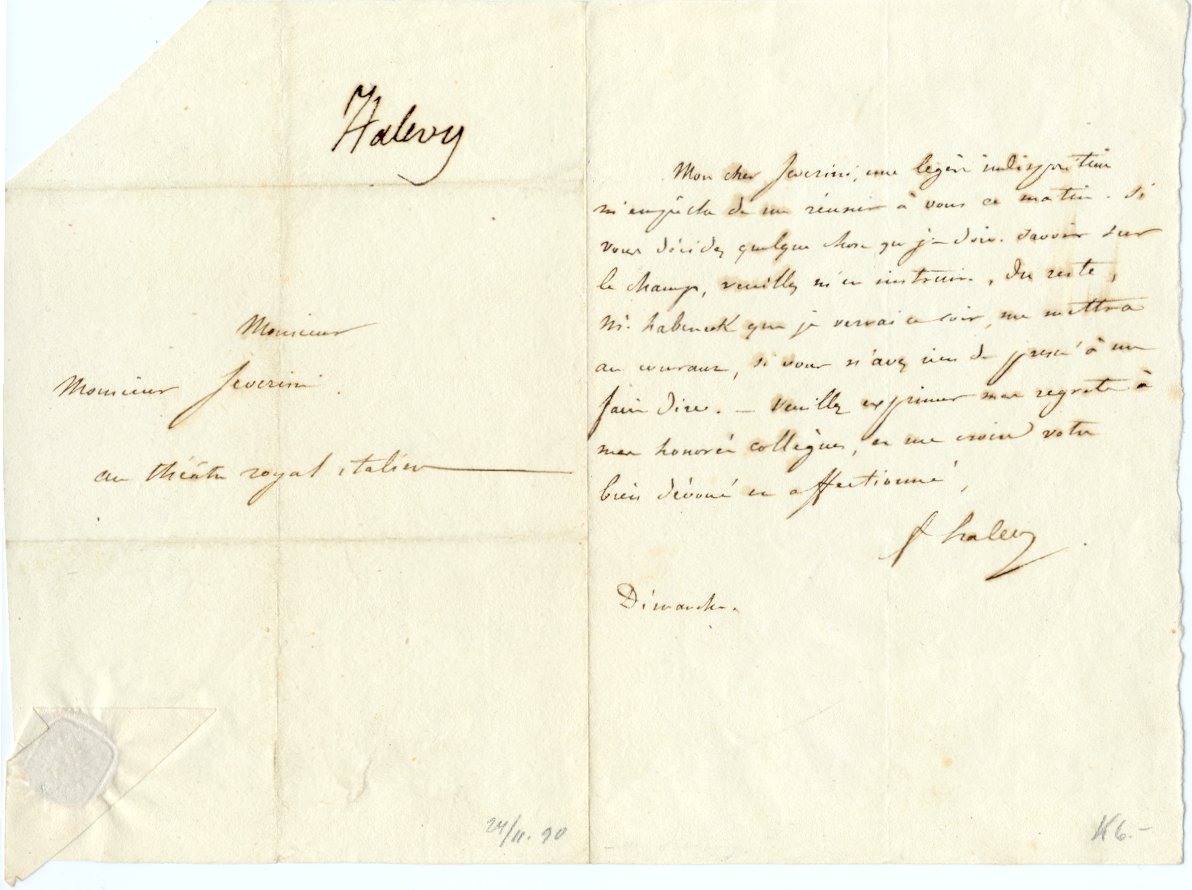 Jacques Francois Fromental Halevy (1799-1862). Autograph Letter, signed "F Halevy". "Sunday". One page with integral address leaf. 6″ h x 4″ w. Letter to Monsieur Severin at the Royal Italian Theater expressing regret for not "joining you this morning. If you decide something I should know without delay, please instruct me. Otherwise Mr. Habaneck, who I will see tonight, will keep me up to date….".