Jean-Philippe Rameau (1683-1764).
Profession: Clavecinist, composer.
Residences:
Relation to Mahler:
Correspondence with Mahler:
Born: 25-09-1683 Dijon, France.
Died: 12-09-1764 Paris, France.
Buried: Saint Eustache Church, Île-de-France, Paris, France.
Jean-Philippe Rameau was one of the most important French composers and music theorists of the Baroque era. He replaced Jean-Baptiste Lully as the dominant composer of French opera and is also considered the leading French composer for the harpsichord of his time, alongside François Couperin. Little is known about Rameau's early years, and it was not until the 1720s that he won fame as a major theorist of music with his Treatise on Harmony (1722) and also in the following years as a composer of masterpieces for the harpsichord, which circulated throughout Europe.
He was almost 50 before he embarked on the operatic career on which his reputation chiefly rests today. His debut, Hippolyte et Aricie (1733), caused a great stir and was fiercely attacked by the supporters of Lully's style of music for its revolutionary use of harmony. Nevertheless, Rameau's pre-eminence in the field of French opera was soon acknowledged, and he was later attacked as an "establishment" composer by those who favoured Italian opera during the controversy known as the Querelle des Bouffons in the 1750s. Rameau's music had gone out of fashion by the end of the 18th century, and it was not until the 20th that serious efforts were made to revive it. Today, he enjoys renewed appreciation with performances and recordings of his music ever more frequent.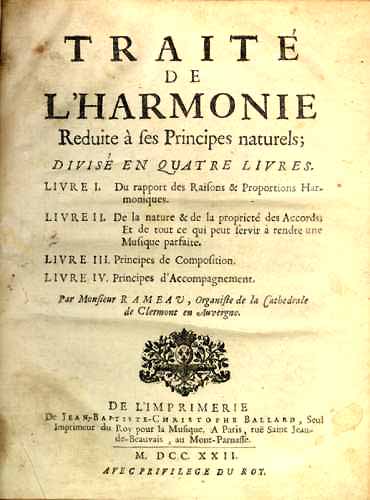 Jean-Philippe Rameau (1683-1764).
Composer and Theorist. His "Treatise of Harmony" (1722) is considered a landmark in the development of modern theories of harmony. His theories helped shift the emphasis from Baroque counterpoint to a more symphonic style using chords, laying the foundations for the Classical period. He wrote many harpsichord and chamber pieces, but is best-known for his stage compositions. Rameau was born in Dijon, France, and was a cathedral organist in many cities before settling in Paris around 1722.
His chief dramatic works include the operas "Hippolyte and Aricie" (1733), "Castor and Pollux" (1737), and "Zoroastre" (1749), and the opera-ballet "Les Indes Galants" (1735). Two of them, "The Princess of Navarre" (1745) and "The Temple of Glory" (1745) had librettos by Voltaire. These were written in the emotional style of Jean-Baptiste Lully, but Rameau added the novelty of lavish staging. This marked the beginning of the French grand opera tradition. Rameau's stage works are seldom performed today, but his ideas, in the "Treatise of Harmony" and the later books "A New System of Music Theory" (1726), "Demonstrations of the Principals of Harmony" (1750), and "Elements of Music Theory and Practice" (1752), are influential and historically important.