Profession: Composer, church musician, teacher, editor.
Relation to Mahler: Transcriptions of large-scale works.
Correspondence with Mahler: Yes.
Born: 13-06-1863 Kotor, Montenegro.
Died: 22-10-1943 Vienna, Austria. Aged 80.
Buried: 00-00-0000 Hernals cemetery, Vienna. (58-14-1)
Josef Venantius (J.V.) von Wöss was a Viennese composer and teacher of harmony. His name is most frequently encountered today in connection with his piano transcriptions of large-scale works by Gustav Mahler.
Mahler transcriptions by Josef von Woss (1863-1943):
Also transcriptions of Anton Bruckner and Stephen Heller.
Josef Venantius von Wöss was the son of an Austrian captain and came to Vienna in 1866. He received his first piano lessons from his mother and uncle Richard Löffler, 1880-82 he studied at the Conservatory of the Society of Music Friends with Franz Krenn and then worked as a bandmaster and choirmaster. 1886-1889 he worked as a music teacher at the Military High School in Moravian-White churches. He then returned to Vienna until 1907 as proofreader of the Waldheim-Eberle Music Center.
In 1892/93 Wöss taught harmony at the Church Music Association School of the Votive Church. As a member of the Universal Edition in Vienna from 1908 to 1931, he produced countless piano scores, including: a. Gustav Mahler's 3rd, 4th, 8th and 9th Symphony, The Song Plaintiff and The Song of the Earth, to which he also wrote a thematic analysis.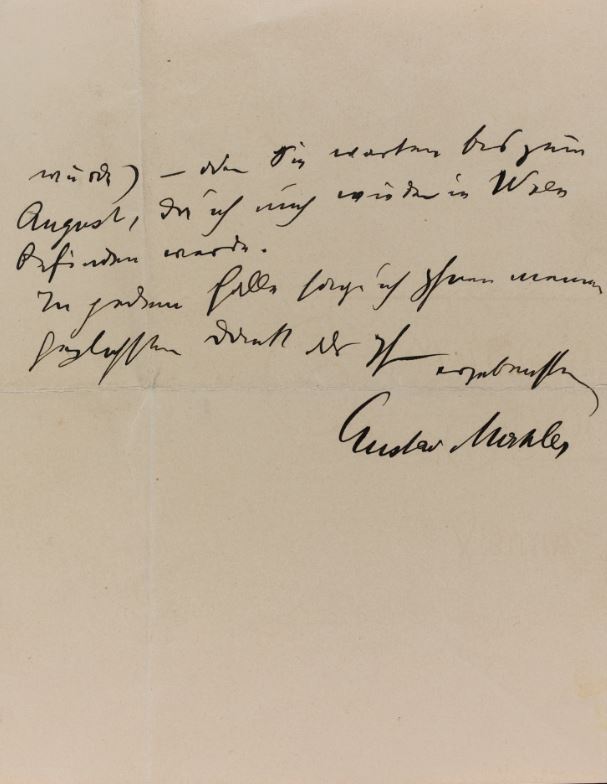 Year 1900? Letter by Gustav Mahler to Josef von Woss (1863-1943). About one of Wöss's arrangements of Mahler's symphonies, thanking him for the great care he is devoting to the task, but explaining that he is unable to answer Wöss's enquiry about the work, as he does not have a copy of the score with him; Wöss will either have to send him one (probably with the copy of the Symphony No. 1, that Dr Stritzko has promised), or wait until he himself returns to Vienna in August ("…Entweder also, Sie senden mir eine solche (vielleicht mit dem Exemplar der I., die [mir] von Hr Dr Stritzko für die allernächste Zeit zugesagt wurde)–oder Sie warten…"). 2 pages, 8vo (c.17 x 13.5cms), no place or date, (probably Aussee or Maiernigg, c.1900?). (Josef Stritzko (1861-1908), Printing firm director.)
In addition, Woss worked as an organist and choirmaster at the Calvary Church and the Redemptorist Church in Hernals and as a music teacher and in the season 1899/1900 as a conductor of the Vienna Singing Academy. From 1913 to 1934 he was editor of the church music journal Musica divina. He was also a member of the Society for publishing the monuments of the art of sound in Austria. In 1926 he was awarded the title Professor.
Wöss died in 1943 in his home in Hernalser Geblergasse 52, where a plaque was also attached. 
Works
As a composer Wöss was representative of the Cäcilianismus. He created 16 masses, two requiem and spiritual songs. His church music was influenced by Anton Bruckner. The best-known masses are the Holy Trinity Mass for mixed choir, brass and timpani, as well as the Mass in honor of St. Cecilia for four-part choir and organ in E major, op. 32, No. 3. Examples of his spiritual songs can be found in Praise of God (Praise be praised , Lord Jesus Christ GL No. 375, A thank-you song to the Lord, GL No. 382).
He also wrote symphonic works, about 150 songs and three operas:
The Lenz Lie or A Talisman (Text: Heinrich von Korff and E. Brasso, Elberfeld 1905).
Flaviennes adventure (text: Wilhelm Schriefer, Breslau 1910).
Camilhan (text: Ferdinand von Ehrenfels, unperformed).
On 12-01-1900 Wöss organized a religious concert in the Great Hall of the Musikverein with works by Mathilde Kralik of Meyrswalden, The Baptism of Christ after a poem by Pope Leo XIII. for solo, chorus and orchestra as well as the Christmas cantatas for four solo parts, choir and orchestra.