Mathilde Frohlich (1865-1934).
Profession: Alto.
Relation to Mahler: Worked with Gustav Mahler.
Correspondence with Mahler:
Born: 19-07-1865 Vienna, Austria.
Died: 08-11-1934 Vienna, Austria. Aged 69.
Buried: 12-11-1934 Central cemetery, Vienna, Austria. Grave 67-44-86.
Mathilde Fröhlich, married Mathilde Kolbe.
Die Tochter des Lehrers Karl F. (* 26.1.1892 Deinzendorf/NÖ, † ?) erhielt ihre erste musikalische Ausbildung von ihrem Vater. Studierte ab September 1879 mit Unterbrechungen bis 1888/89 am Konservatorium der GdM, zuletzt bei Selma Nicklass-Kempner (Gesang) und Leo Friedrich (dramatische Darstellung). 1891–1901 an der Dresdner Hofoper; gastierte 1892 an der Londoner Covent Garden Oper (sang in Rich. Wagners Ring des Nibelungen unter der Leitung von G. Mahler). 1901 beendete sie ihre Karriere aufgrund ihrer Heirat mit Otto Kolbe. Ihr Enkel ist der Klarinettist und Komponist A. Prinz.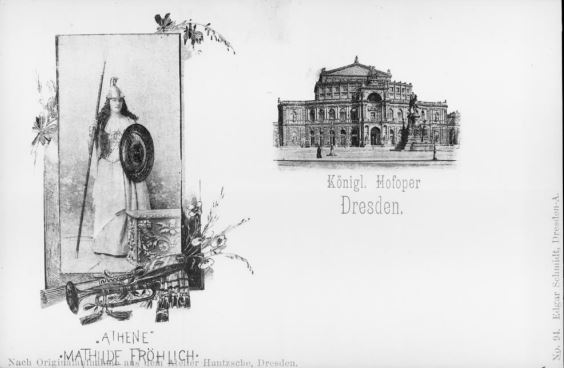 Mathilde Frohlich (1865-1934), Hofoper Dresden.