By 1870, the District's population had grown 75% from the previous census to nearly 132,000 residents. Despite the city's growth, Washington still had dirt roads and lacked basic sanitation. Some members of Congress suggested moving the capital further west, but President Ulysses S. Grant refused to consider such a proposal.
Congress passed the Organic Act of 1871, which repealed the individual charters of the cities of Washington and Georgetown, and created a new territorial government for the whole District of Columbia. President Grant appointed Alexander Robey Shepherd to the position of governor in 1873. Shepherd authorized large-scale projects that greatly modernized Washington, but ultimately bankrupted the District government. In 1874, Congress replaced the territorial government with an appointed three-member Board of Commissioners.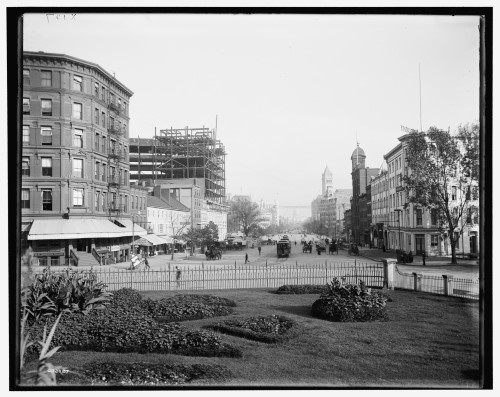 The city's first motorized streetcars began service in 1888 and generated growth in areas of the District beyond the City of Washington's original boundaries. Washington's urban plan was expanded throughout the District in the following decades. Georgetown was formally annexed by the City of Washington in 1895. However, the city had poor housing conditions and strained public works. Washington was the first city in the nation to undergo urban renewal projects as part of the "City Beautiful movement" in the early 1900s.