Brno (Brunn) is the second largest city in the Czech Republic by population and area, the largest Moravian city, and the historical capital city of the Margraviate of Moravia. Brno is the administrative center of the South Moravian Region in which it forms a separate district (Brno-City District). The city lies at the confluence of the Svitava and Svratka rivers and has about 400,000 inhabitants.
The etymology of the name Brno is disputed. It perhaps comes from Old Czech brnie 'muddy, swampy'. Alternative derivations are from a Slavic verb brniti (to armour or to fortify) or a Celtic language spoken in the area before it was overrun by Germanic peoples and later Slavic peoples (this theory would make it cognate with other Celtic words for hill, such as the Welsh word bryn).
Throughout its history, Brno's locals also referred to the town in other languages, including Brünn in German, ???? (Brin) in Yiddish and Bruna in Latin. The city was also referred to as Brunn in English, but this usage is not common today.
1900. City of Brno.
In 1839 the first train arrived in Brno from Vienna, this was the beginning of rail transport in what is now the Czech Republic. In the years 1859-1864 the city fortification was almost completely removed. In 1869 a horsecar service started to operate in Brno, it was the first tram service in the Czech lands.
In December 1805 the Battle of Austerlitz was fought near the city; the battle is also known as the "Battle of the Three Emperors". Brno itself was not involved with the battle, but the French Emperor Napoleon Bonaparte spent several nights here at that time and again in 1809.
Gregor Mendel conducted his groundbreaking experiments in genetics while he was a monk at St. Thomas's Abbey in Brno.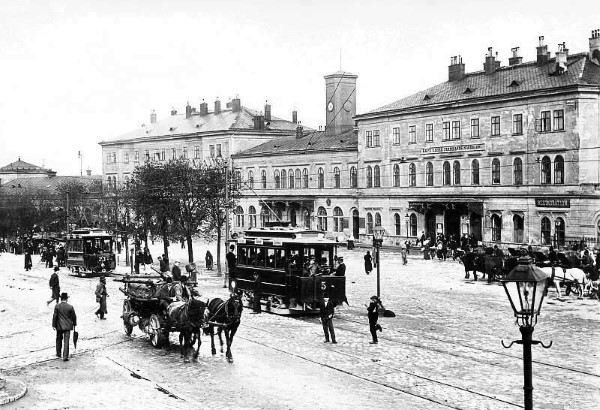 1901. Railway station. City of Brno.
Around 1900 Brno, which until 1918 consisted in administrative terms only of the central city area, had a predominantly German-speaking population (63%), as opposed to the suburbs, which were predominantly Czech-speaking. Life in Brünn/Brno was therefore bilingual, and what was called in German "Brünnerisch" was a mixed idiom containing elements from both languages.