Leipzig has been a trade city since at least the time of the Holy Roman Empire. The city sits at the intersection of the Via Regia and Via Imperii, two important Medieval trade routes. Leipzig was once one of the major European centers of learning and culture in fields such as music and publishing.
Leipzig became a center of the German and Saxon liberal movements. The first German labor party, the General German Workers' Association (Allgemeiner Deutscher Arbeiterverein, ADAV) was founded in Leipzig on 23 May 1863 by Ferdinand Lassalle; about 600 workers from across Germany travelled to the foundation on the new railway line. Leipzig expanded rapidly to more than 700.000 inhabitants. Huge Gründerzeit areas were built, which mostly survived both war and post-war demolition.
 
With the opening of a fifth production hall in 1907, the Leipziger Baumwollspinnerei became the largest cotton mill company on the continent, housing over 240,000 spindles. Daily production surpassed 5 million kilograms of yarn.
The historic downtown area of Leipzig features a renaissance style ensemble of buildings from the 16th century, including the old city hall in the market place. There are also several baroque period trading houses and former residences of rich merchants. As Leipzig grew considerably during the economic boom of the late 19th century, the town has many buildings in the historicist style representative of the Gründerzeit era. Approximately 35% of Leipzig's apartments are in buildings of this type.
1890. City of Leipzig.
Johann Sebastian Bach worked in Leipzig from 1723 to 1750, conducting the St. Thomas Church Choir, at the St. Thomas Church, the St. Nicholas Church and the Paulinerkirche, the university church of Leipzig (destroyed in 1968). The composer Richard Wagner was born in Leipzig in 1813, in the Brühl. Robert Schumann was also active in Leipzig music, having been invited by Felix Mendelssohn when the latter established Germany's first musical conservatoire in the city in 1843. Gustav Mahler was second conductor (working under Artur Nikisch) at the Leipzig Theatre from June 1886 until May 1888, and achieved his first great recognition while there by completing and publishing Carl Maria von Weber's opera Die Drei Pintos, and Mahler also completed his own 1st Symphony while living there.
 
This conservatory is today the University of Music and Theatre Leipzig. A broad range of subjects are taught, including artistic and teacher training in all orchestral instruments, voice, interpretation, coaching, piano chamber music, orchestral conducting, choir conducting and musical composition in various musical styles. The drama departments teach acting and scriptwriting.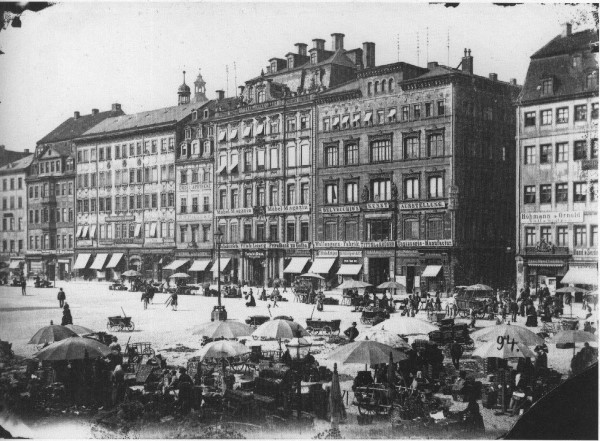 1890. City of Leipzig.
 
The Bach-Archiv for documentation and research of life and work of Bach and also of the Bach family was founded in Leipzig in 1950 by Werner Neumann. The city's musical tradition is also reflected in the worldwide fame of the Leipzig Gewandhaus Orchestra under the baton of chief conductor Riccardo Chailly (1953) and the Thomas Church Choir.