The former vineyard cottage in the Park on the Ilm, probably built around the end of the 16th century, was the first home acquired by Johann Wolfgang Goethe in Weimar in 1776, a few months after his arrival in Weimar, together with the surrounding garden. The purchase was financed by Duke Carl August of Saxe-Weimar-Eisenach. The Gartenhaus was Goethe's main residence and workplace until he moved to Frauenplan in June 1782.
He worked for the Privy Council, the Duchy's highest governing authority, and performed other offices entrusted to him from there. A large part of his literary works dated back to that period were also written there, including the ballad of the Erlkönig and the poem To the Moon.
House Goethe's Gartenhaus (summer house).
After buying the house, Goethe began to repair it and redesign the garden immedeately. He divided it into three parts which are still recognisable today: the park-like slope behind the house, the sunny orchard and the lower part of the garden where the vegetable beds can be found. Apart from supplying the household with fruit and vegetables, the garden was also a venue for social events.
After moving to Frauenplan, Goethe only paid occasional visits to the property. When he reached old age, the Gartenhaus once again became an important refuge where he could work without being disturbed. In 1830, Goethe had the classical white garden gate built and the pebble mosaics arranged according to the Pompeiian model.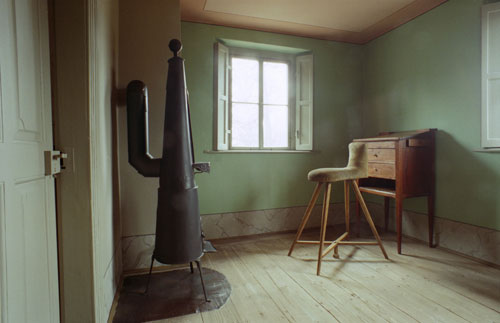 House Goethe's Gartenhaus (summer house).
After Goethe's death, the Gartenhaus became a place of pilgrimage for his admirers, and was opened to the public as a memorial site in 1886. Since the restoration in 1995/1996, the interior once again glows in the colours chosen by Goethe.