Wiesbaden is a city in central western Germany and the capital of the federal state of Hesse. The city, together with nearby Frankfurt am Main, Darmstadt and Mainz, is part of the Frankfurt Rhine Main Region, a metropolitan area.
 
Wiesbaden is one of the oldest spa towns in Europe. Its name translates to "meadow baths," making reference to the hot springs. It is internationally famous for its architecture, climate (also called the "Nice of the North"), and its hot springs. At one time, Wiesbaden boasted 26 hot springs. Fourteen of the springs are still flowing today.
In the Austro-Prussian War of 1866, Nassau took Austria's side. This decision led to the end of the duchy. After the Austrian defeat Nassau was annexed by Prussia and became part of the Prussian province of Hesse-Nassau. The deposed duke Adolph of Nassau in 1890 became the Grand Duke of Luxembourg (see House of Nassau). This turned out to be a fortunate change for the city as it then became an international spa town.
A rise in construction commenced after the aristocracy followed the lead of the Hohenzollern emperors who began annual trips to Wiesbaden. The period around the turn of the 20th century is regarded as the heyday of the city.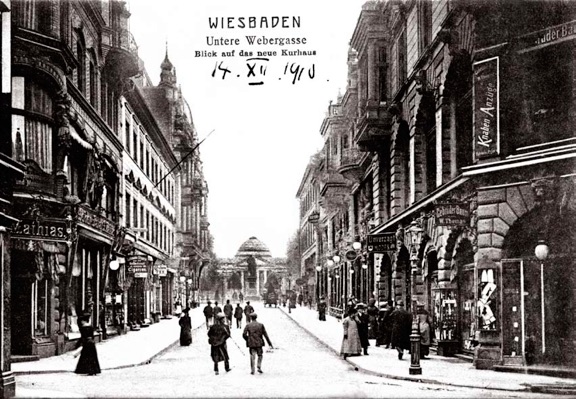 Kaiser Wilhelm II visited the city regularly in summer, such that it became an unofficial "summer residence". The city was also popular among the Russian nobility. In the wake of the imperial court, numerous nobles, artists and wealthy businessmen increasingly settled in the city.
Many wealthy persons chose Wiesbaden as their retirement seat, as it offered leisure and medical treatment alike. In the latter part of the 19th century, Wiesbaden became the German city with the most millionaires.
 
In 1894, the present Hessian State Theater, designed by the Vienna architects Fellner and Helmer, was built on behalf of Kaiser Wilhelm.