Palais/Palace Wittgenstein.
Alleegasse No. 4, today Argentinierstrasse No. 16. District IV.
Built 1871-1873
Demolished 1950
Architect Friedrich Schachner.
First owner Pranter (contractor), second owner Karl Wittgenstein (1847-1913)
The family hosted small private musical performances featuring many of the city's top musicians. Gustav Mahler was a frequent guest at the home of the Wittgensteins.
The Palais Wittgenstein in the Alleegasse (now Argentine Street 16) in the 4th district of Vienna Wieden was built by architect Friedrich Schachner for a builder named Pranter in 1871-1873. It soon became the property of steel industrialist Karl Wittgenstein. Karl Wittgenstein, originally from the Jewish family but transformed into Protestantism, was the father of nine children, including the philosopher Ludwig Wittgenstein and the pianist Paul Wittgenstein. He retired from business life at the height of his success and then worked mainly as a sponsor of the arts, such as the Vienna Secession (association) and the Wiener Werkstatte.
Karl Wittgenstein (1874-1950), the unmarried daughter of Charles and sister of the philosopher and the pianist, was the sole owner of the house since the beginning of the 1930s, after the death of Karl Wittgenstein (1913). The splendidly decorated palace survived the war virtually without damage, however, the NS-Regime authorities intervened. After the war the owner decided to sell to the Austrian State Bank. The latter had the palace demolished in the 1950s and built in its place a residential building.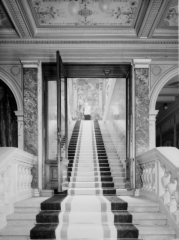 House Wittgenstein. Stairs.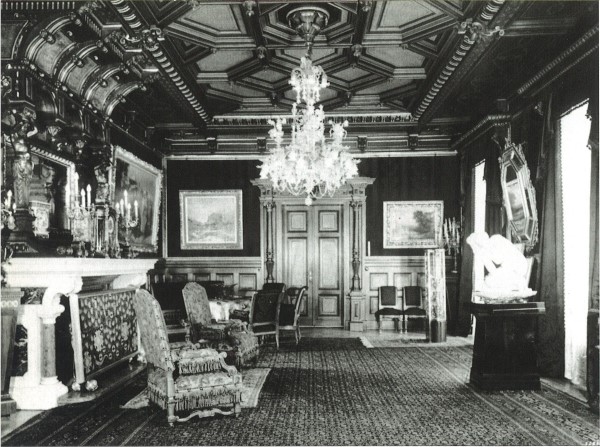 House Wittgenstein. The Rote Salon. To the right a Jugendstil glass cabinet and the sculpture Kauernde by Max Klinger (1857-1920).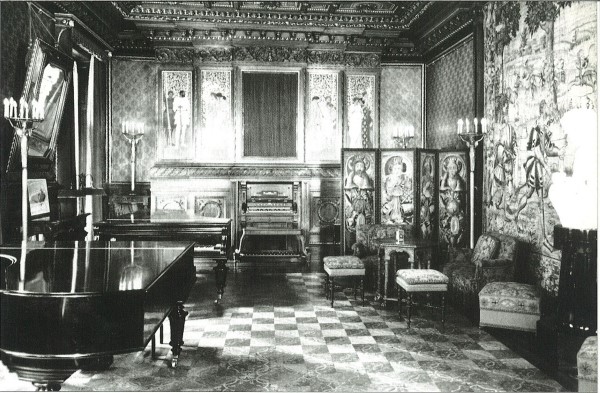 House Wittgenstein. Photo: To the right a bust of Beethoven by Max Klinger (1857-1920).