The Ring Road, Ring Street (German: Ringstrasse) is a circular, more properly called grand boulevard ring road surrounding the oldest historical city centre Innere Stadt district of Vienna, Austria and is one of its main sights. It is located on the site of the former medieval city fortifications and the open military plain (glacis) that lay before them.
Constructed in the mid-19th century after the dismantling of the city walls, its architecture is typical of the eclectic, historicist style called Ringstraßenstil ("ring road style") of the 1860s to 1890s, a collection of imposingly grand neo-Gothic, neo-Renaissance, neo-Classical and neo-Baroque.
Known for its unique architectural beauty and history, it has also been called the "Lord of the ring roads", and is inscribed by UNESCO as part of Vienna's World Heritage Site.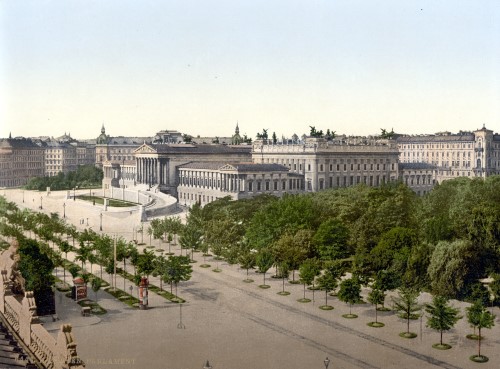 Year 1900. Ringstrasse. Parliament.
The Ringstrasse has several sections. It surrounds the central area of Vienna on all sides, except for the northeast, where its place is taken by the Franz-Josephs-Kai, the street going along the Donaukanal (a branch of theDanube). Starting from the Ringturm at the northern end of the Franz-Josephs-Kai, the sections are:
Schottenring (named after the Schottenstift).
Universitätsring (formerly Dr.-Karl-Lueger-Ring). University of Vienna.
Dr.-Karl-Renner-Ring (Karl Renner).
Burgring (Hofburg).
Opernring (Vienna State Opera). Vienna State Opera (Hofoper, Wiener Staatsoper).
Kärntner Ring (Carinthia).
Schubertring (Franz Schubert).
Parkring (Wiener Stadtpark).
Stubenring (named after the Stubenbastei, part of Vienna's city walls since 1156).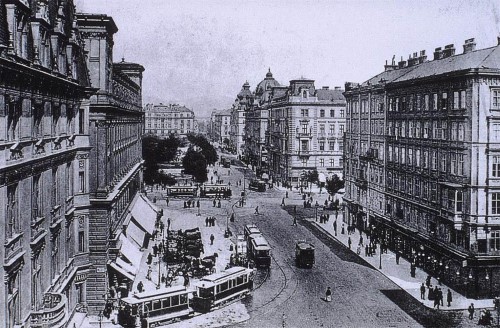 1916. Ringstrasse.