Karl Wittgenstein (1847-1913).
Profession: Entrepeneur, steel magnate.
Residences:
Relation to Mahler:
Correspondence with Mahler:
Born: 08-04-1847 Gohlis/Leipzig.
Died: 20-01-1913 Vienna. Aged 66.
Buried: 22-01-1913 Central cemetery, Vienna, Austria. Grave 32B-24.
More
Married to Leopoldine "Poldy" Kalmus (14-03-1850 Vienna – 03-06-1926 Vienna). Buried Central cemetery, Vienna.
Nine children:
Hermine "Mining" Wittgenstein (1874-1950). Unmarried. Buried Central cemetery, Vienna.
Dora Wittgenstein (1876-1876) Died at birth.
Johannes "Hans" Wittgenstein (1877-1902) Probably suicide. A musical prodigy.
Konrad "Kurt" Wittgenstein (1878-1918) Suicide at Italian front.
Helene "Lenka" Wittgenstein (1879-1956) Married to Dr. Max Salzer. Four children.
Rudolf "Rudi" Wittgenstein (1881-1904) Suicide in Berlin. Buried Central cemetery, Vienna.
Margaret "Gretl" Wittgenstein (1882-1958) Two children. Devorced in 1923.
Paul Wittgenstein (1887-1961) Pianist. Three children.
Ludwig Wittgenstein (1889-1951) (1889-1951) Philosopher. No children.
Rosalie Herrmann, housekeeper, also buried in the family grave Central cemetery, Vienna.
Karl Wittgenstein was a steel tycoon. A friend of Andrew Carnegie, with whom he was often compared, at the end of the 19th century he controlled an effective monopoly on steel and iron resources within the Austro-Hungarian Empire, and had by the 1890s acquired one of the largest fortunes in the world. He was also the father of Ludwig Wittgenstein, one of the most influential philosophers of the 20th century (ninth child).
The grandfather of Karl Wittgenstein was an estate manager named Moses Meyer, who came from Laasphe in the former Wittgenstein kreis (county). He moved to Korbach before 1802, where he was a merchant. Around 1808, Moses Meyer named himself Wittgenstein, after his birthplace Siegen-Wittgenstein and thereafter was known as Moses Meyer Wittgenstein.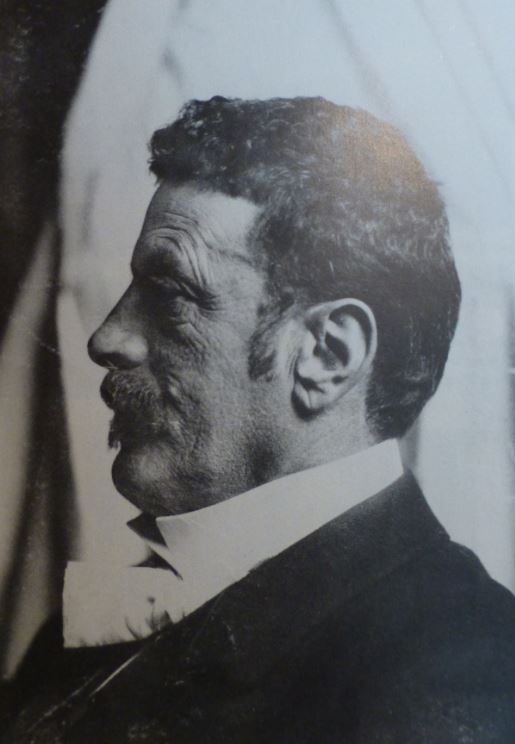 Year 1910. Karl Wittgenstein (1847-1913).
At first, Wittgenstein's business became the biggest and most successful enterprise in the city of Korbach, but also shortly thereafter began to decline. He had a son, Hermann Christian who moved the business to Gohlis at the end of the 1830s. From there, the family continued to prosper financially. In 1938, to escape Nazi racial laws and to be reclassified as half Jewish, his descendants claimed that Herman Christian was not the son of Moses Meyer Wittgenstein but rather the illegitimate offspring of a prince of the House of Waldeck. After Hermann Christian converted to Protestantism, he married Fanny Figdor in 1839. She came from one of the most important business families in Vienna.
Karl, born in 1847, was the sixth of eleven children of Hermann and Fanny. Three years later the family moved to Vösendorf (Mödling district) in Austria, where his four younger siblings were born. One of his brothers, Paul Wittgenstein (1842-1928), was the father of Dr Karl Paul Wittgenstein who married Hilde Köchert, daughter of renowned Viennese jeweller Heinrich Köchert: their son Paul Wittgenstein (1907-1979) was "Wittgenstein's Nephew", the central character of a book by his friend Thomas Bernhard.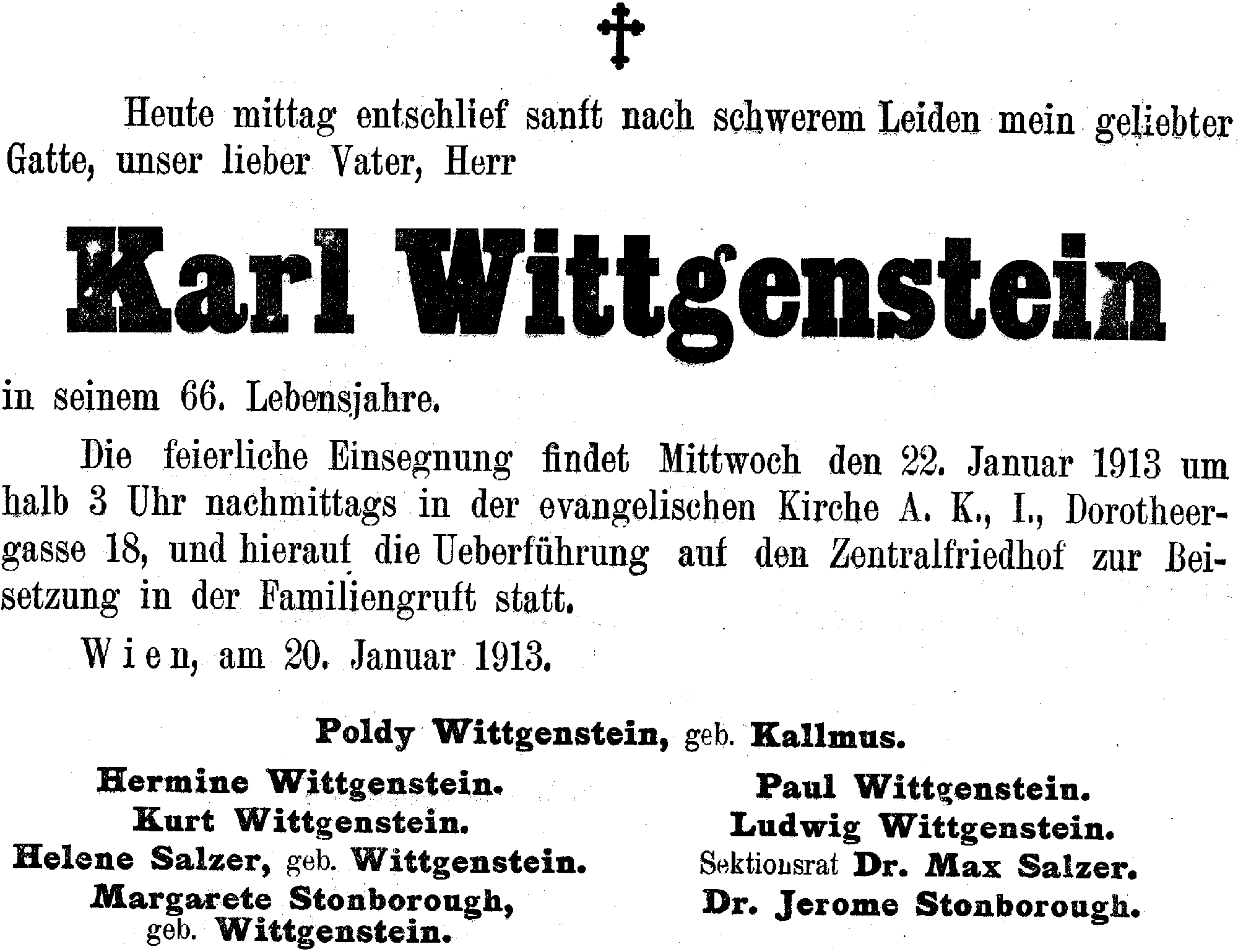 Karl Wittgenstein (1847-1913).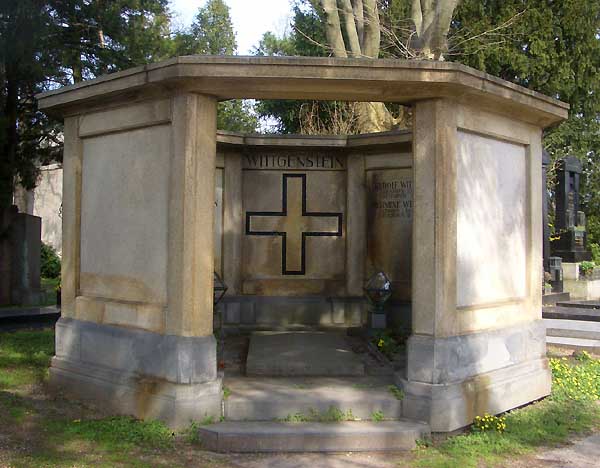 Karl Wittgenstein (1847-1913).