Composed
Pre premiere
Performances by Gustav Mahler
Versions
Order of the movements (Research by Cees Broekhuijsen and Eveline Nikkels, 2019)
Design version 1
1895?, Paul Bekker (1882-1937), Title: 'Das glückliche Leben, ein Sommernachtstraum'
I Was mir das Wald erzählt
II Was mir die Dämmerung erzählt
III Was mir die Liebe erzählt
IV Was mir die Dämmerung erzählt
V Was mir die Blumen auf der Wiese erz.
VI Was mir der Kuckuck erzählt
VII Was mir das Kind erzählt
Design version 2
1895?, Alma Mahler (1879-1964), Title: 'Ein Sommernachtstraum'
I Der Sommer marschiert ein (Fanfare und lustiger Marsch) (Einleitung) (Nur blaser mit konzertierenden Contrabassen)
II Was mir der Wald erzählt (1 .Satz)
III Was mir die Liebe erzählt (Adagio)
IV Was mir die Dämmerung erz. (Scherzo)
V Was mir die Blumen auf der Wiese erzählen (Menuetto)
VI Was mir der Kuckuck erzählt (Scherzo)
VII Was mir das Kind erzählt
1895
In 1895 Movement VII is called in multiple letters both 'Was mir das Kind erzählt' and 'Das himmlische Leben'.
Design in letter 17-08-1895 to Arnold Berliner (1862-1942):
Title: 'Die fröhliche Wissenschaft. Ein Sommermorgentraum'
I Der Sommer marschiert ein
II Was mir die Blumen auf der Wiese erz.
III Was mir die Tiere im Walde erzählen
IV Was mir die Nacht erzählt
V Was mir die Morgenglocken erzählen
VI Was mir die Liebe erzählt
VII Das himmlische Leben
Alles fertig bis auf Nr. I.
Design in letter 29-08-1895 to Friedrich Fritz Lohr (1859-1924):
Scheme with a 'Stufenreihe der Wesen':
I Der Sommer marschiert ein
II W.d. Blumen m.e.
III W.d. Tiere m.e.
IV W.d. Nacht me. (der Mensch) (Altsolo)
V W.d. Morgenglocken m.e. (die Engel, letztere beide Nummern mit Tekst und Gesang) (Frauenchor mit Aitsolo)
VI W.m.d. Liebe erzählt Motto: "Vater sieh an die Wunden mein! Kein Wesen lass verloren sein!" (Aus des Knaben Wunderhorn)
VII Zum Schluss d[as] h[immlische] L[eben], dem ich entgtiltig aber den Titel 'Was mir das Kind erzählt' gegeben habe (Sopransolo, humoristisch)
Alles bis auf No.1 ist in Partitur fertig.
Version in handwriting Weidig
I Einleitung: Pan erwacht Nr. 1: Der Sommer marchiert ein (Bachuszug) Hamburg, 17-10-1896
3) Was mir die Blumen auf der Wiese erzählen. 11-04-1896
4) Was mir die Tiere im Walde erzählen. 25-04-1896
5) Was mir der Mensch erzählt. z.d.
-) no number, no motto. 08-05-1896
6) Was mir die Liebe erzählt. z.d.
Version in 1902/1903 (Krefeld/Amsterdam)
First Section

No. 1. Introduction and first movement

Second section

No. 2. Tempo di menuetto
No. 3. Scherzando
No. 4. Alto solo (words by Friedrich Nietzsche (1844-1900))
No. 5. Female and boys choir with alto Solo (words from Des Knaben Wunderhorn)
No. 6. Adagio
Publications
Year 1899. Score by Weinberger music publishers.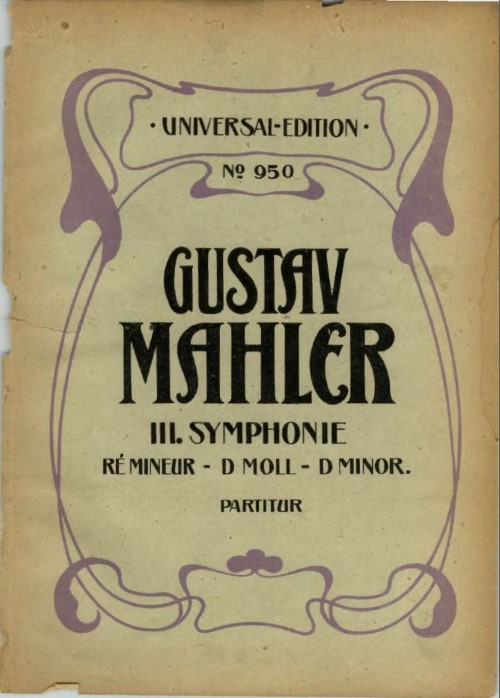 Year 1906. Score by Universal Edition (UE) music publishers.
Historical recordings
The piece is performed in concert less frequently than Mahler's other symphonies, due in part to its great length and the huge forces required. Despite this, it is a popular work and has been recorded by most major orchestras and conductors.
When it is performed, a short interval is sometimes taken between the first movement (which alone lasts around half an hour) and the rest of the piece. This is in agreement with the manuscript copy of the full score (held in the Pierpont Morgan Library, New York), where the end of the first movement carries the inscription Folgt eine lange Pause! ("there follows a long pause").The inscription is not found in the score as published.
The final movement was used as background music in one episode of the 1984 television series Call to Glory and on an episode of the BBC's Coast programme, during a description of the history of HMS Temeraire. It also served as background music (in full length) during the "Allegory" segment of the Athens 2004 Summer Olympics opening ceremony cultural show.
A section from the Fourth Movement "Midnight Song" features in Luchino Visconti's 1971 film Death in Venice, where it is presented as the music that Gustav von Aschenbach composes before he dies.
The second movement was arranged by Benjamin Britten in 1941 for a smaller orchestra. This version was published by Boosey & Hawkes as What the Wild Flowers Tell Me in 1950.
The Adagio movement was arranged by Yoon Jae Lee in 2011 for a smaller orchestra. This version was premiered by Ensemble 212 with Lee as conductor in New York on the eve of the 10th anniversary of 9/11. Subsequently, Lee arranged the five remaining movements for smaller orchestra as part of his Mahler Chamber Project. The orchestral reduction of the entire symphony was premiered in October 2015 by Ensemble 212, mezzo-soprano Hyona Kim, and the Young New Yorkers' Chorus Women's Ensemble.
NYPO, Lipton, Choir of the Transfiguration, Leonard Bernstein, 06-1989: