Profession: Composer, pianist, conductor, pedagogue.
Relation to Mahler: 19-05-1897 Mahler made a short trip to Dresden to attend an opera by Anton Ruckauf (1855-1903), Die Rosenthalerin. It never staged in Vienna. 19-02-1899 Signature Ruckauf at menu card of Restaurant Meissl und Schaden.
Correspondence with Mahler: 
Born: 13-03-1855 Prague, Czech Republic.
Died: 19-09-1903 Schloss Alt-Erlaa, near Vienna, Austria. Aged 48.
Buried: 22-09-1903/10-1904 Vienna, Central cemetery. Grave 32A-12 (on his grave: born in 1856).
Also: Rückauf
He attended the prestigious Proksch Institute in Prague, where he was taught by Marie Proksch on the piano and František Zden?k Skuherský and František Blažek on the organ. In 1878 he moved to Vienna, where he worked as a pianist and teacher in bourgeois (Arthur Schnitzler (1862-1931) and aristocratic circles and was introduced by Martin Nottebohm and after his death by Karl Nawratil in the art of counterpointing. From 1885 he studied for a while with Theodor Leschetitzky, who had revolutionized the piano playing with a novel method. Of great influence on his artistic development was the acquaintance with the tenor Gustav Walter: On the one hand, Rückauf had as his constant piano accompanist great success, on the other hand, he was inspired by him to numerous song compositions, which also came to the concerts to the performance. Rückauf died at the age of 48 at Alterlaa Castle in Erlaa near Vienna (now district Vienna-Liesing) from a cancer.
The city of Vienna has dedicated a grave of honor to him at the central cemetery (group 32A, number 12). The grave monument was designed by Franz Vogl, the creator of the Raimund monument. In Oberdöbling (at the Döblinger cemetery) the Rückaufgasse reminds of the artist. Anton Rückauf was single and lived in the Kopernikusgasse 6.
His significance as a composer lies primarily in his song-making. The more than 100 unison piano songs composed by him are characterized by careful declamation of the singing voice, which is supported by an independent, mostly difficult piano part. In the field of chamber music Rückauf was less fortunate, and his opera Die Rosenthalerin, which was rejected in Vienna and performed in Dresden in 1897, did not bring him the success he had expected. From 1899 to 1901, Rückauf directed the evangelical Singverein and acquired a good reputation among the Viennese public during this time by organizing renaissance music evenings.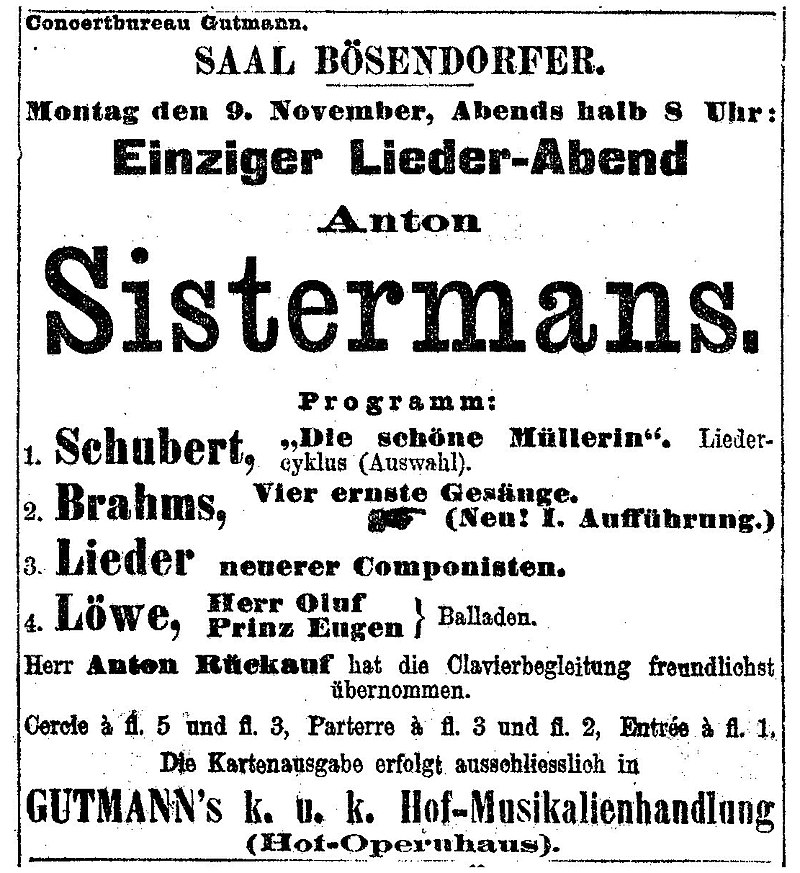 Newspaper advertisement of the Konzertbüro Albert Gutmann, Vienna, for the recital by Anton Sistermans (1867-1926), accompanied by Anton Ruckauf (1855-1903), in the Bösendorfer-Saal on November 9, 1896. Sistermans sang u.a. the premiere of the Four Serious Songs op. 121 by Johannes Brahms.