Karl Prill (1864-1931). 1894.
Profession: Violinist, concertmaster, composer, pedagogue.
Relation to Mahler: From 1897 Gustav Mahler's concertmaster at the Vienna State Opera and the Philharmonic in Vienna. 19-02-1899 Signature on menu card of Restaurant Meissl und Schaden.
Correspondence with Mahler:
Born: 22-10-1864 Berlin, Germany.
Died: 15/18-08-1931 Klosterneuburg, near Vienna, Austria. Aged 66.
Buried: Unknown (not at Zentral Cemetery).
Also: Carl Prill
He is the brother of violoncellist Paul Prill and flutist Emil Prill.
Prill received his first violin lessons from his father, the violinist and military bandmaster Carl Prill (1838-1876). Later he studied violin with Joseph Joachim (1831-1907) in Berlin. From 1882 to 1885 he played violin in various Berlin orchestras. From 1883 to 1885 he was concertmaster in Benjamin Bilses Orchestra in Berlin. At this time he undertook concert tours in Germany, Russia, Sweden and Denmark.
From 1895 to 1891 he was concertmaster in Magdeburg and from 1891 to 1897 first concertmaster in the Leipzig Gewandhaus Orchestra.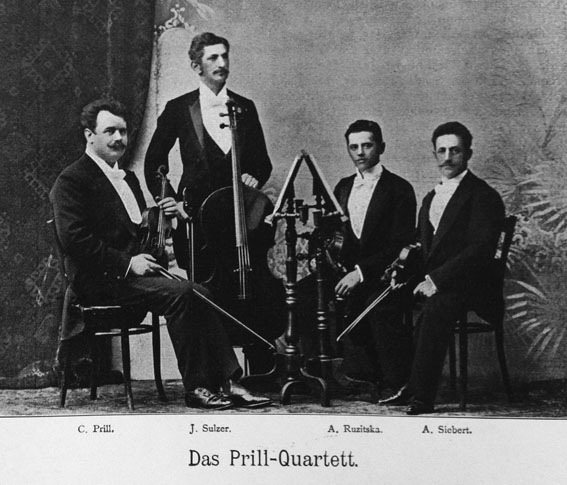 Prill-quartet: Karl Prill (1864-1931), Joseph Sulzer (1850-1926), Anton Ruzitska and August Siebert (1856-1938).
In 1897, after his first engagement at the Bayreuth Festival, he was won by Gustav Mahler as Concertmaster for the Court Opera and the Philharmonic in Vienna. In addition, he served as a violin professor at the Conservatory of the Society of Music Friends in Vienna, the later Vienna Music Academy. Together with the cellist Joseph Sulzer, he founded the Prill Quartet, with whom he undertook numerous concert tours throughout Europe.