Profession: Pianist, Soprano.
Relation to Mahler: Worked with Gustav Mahler. Vienna State Opera. Also at Gustav Mahler Festival Amsterdam 1920.
Correspondence with Mahler: 
Born: 21-12-1880 Leipzig, Germany.
Died: 07-06-1950 Bad Godesberg, Germany. (near Bonn).
Buried: 00-00-0000 Unknown.
Also: Gertrud, Gertrude, Förstel, Foerstel.
Gertrude Forstel (1880-1950) was a German opera singer (soprano) and vocal pedagogue.
Daughter of a member of the Gewandhausorchester, was actually determined as a pianist, also a graduate of the Leipzig conservatory and made his debut in 1897 as such an audience in Werdau.
Angelo Neumann (1838-1910), however, caught her voice and he had her – at his expense – in Berlin with Bertha Niklas-Kempner and trained in Dresden at Aglaya Orgeni. Her debut was on 01-09-1900 in the Prague State Theater as "Amine" in Bellini's nightwalker.
She participated in the premieres of Eugen d'Albert (1864-1932)'s Tiefland.
1906, 1908, 1910, 1911 she performed at the Bayreuth Festival, in parts such as Waldvogel in Siegfried, and Woglinde in Der Ring des Nibelungen, among others.
On 11-04-1905 she performed in the Vienna State Opera ("Sulamith", the Queen of Sheba). From 01-09-1906 to 31-01-1912 she was a member of the Vienna State Opera (her debut as "Mignon" on 04-09-1906).
From 1912 until the end of her singing career she worked exclusively as a concert singer and then worked as a vocal pedagogue at the music academy in Cologne.
1927 at Beethoven centenary in Vienna.
She was especially famous for her soprano solo in Symphony No. 4 of Gustav Mahler. Also performed Mahler in Paris.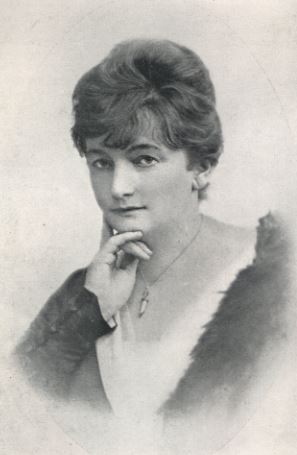 1920. Gertrude Forstel (1880-1950).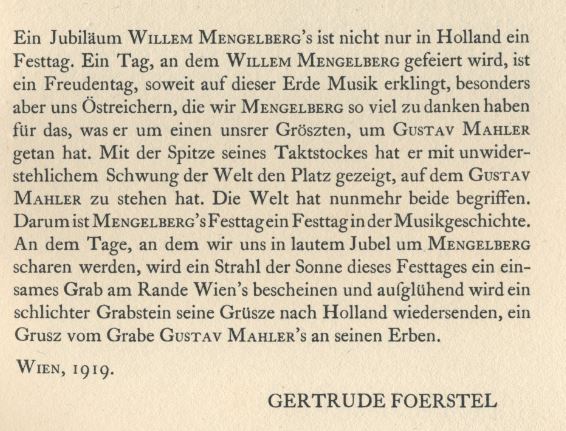 24-04-1920. Gustav Mahler Festival Amsterdam 1920. Willem Mengelberg (1871-1951). Gedenkboek. Commemorative book. Contribution by Gertrude Forstel (1880-1950) (Vienna, December, 1919).
German:
"Ein Jubilaum Willem Mengelberg's ist nicht nur in Holland ein Festtag. Ein Tag, an dem Willem Mengelberg gefeiert wird, ist ein Freudentag, soweit auf dieser Erde Musik erklingt, besonders aber uns Östreichern die wir Mengelberg so viel zu danken haben fur das, was er um einen Grosszten, um Gustav Mahler getan hat. Mit der Spitze seines Taktstockes hat er mit unwiderstehlichem Schwung der Welt den Platz gezeigt, auf dem Gustav Mahler zu stehen hat. Die Welt hat nunmehr beide begriffen. Darum ist Mengelberg's Festtag ein Festtag in der Musikgeschichte. An demTage, an dem wir uns in lautem Jubel um Mengelberg scharen werden, wird ein Strahl der Sonne dieses Festtages ein einsames Grab am Rande Wien's bescheinen und aufglühend wird ein schlichter Grabstein seine Grüsze nach Holland wiedersenden, ein Grusz vom Grabe Gustav Mahler's an seinen Erben. Wien, 1919. Getrude Foerstel"
English:
"A jubilee for Willem Mengelberg's is not just a festive day in Holland. A day on which Willem Mengelberg is celebrated is a day of rejoicing, as far as music is heard on this earth, but especially to us Austrians whom we have Mengelberg so much to thank for what he did for the greatest, for Gustav Mahler. With the tip of his baton he has shown with irresistible impetus the world where Gustav Mahler has to stand. The world has now understood both. That is why Mengelberg's festival is a feast day in the history of music. On the day we jubilate Mengelberg, a ray of the sun of the festival will illuminate a grave on the edge of Vienna, and a glowing simple tombstone will send its greetings back to Holland, a greeting of Gustav Mahler to his heirs. Vienna, 1919. Gertrude Forstel (1880-1950)".