Hans Richter (1843-1916)  in approx. 1880.
Profession: Conductor.
Residences: Vienna, London.
Relation to Mahler: Older collegue in Vienna Opera.
Correspondence with Mahler: Yes.
Born: 04-04-1843 Raab, Hungary.
Died: 05-12-1916 Bayreuth, Germany.
Buried: City cemetery (A 2b/625), Bayreuth, Germany.
Richter has conducted the first Bayreuth performances of the Ring in the presence of Richard Wagner (1813-1883). From 1875 until 1898 (!) he was conductor of the Vienna Philharmonic Orchestra (VPO). From 1884 combining the posts of Kapellmeister at the Opera, Director of the Philharmonic concerts, and head of the Gesellschafts-Konzerte, he controlled all musical activity in Vienna. He had not been consulted about Mahlers' engagement, and did not take kindly to the arrival at the Vienna Opera of a colleague twenty years his junior, who, like himself, specialized in conducting Wagner and who was well-known for his exacting character and his 'modern' ideas. Richter himself embodied tradition, with all the self-indulgence and inflexibility that the term implies. Foreseeing the problems that the collaboration would entail, Mahler wrote to Richter before leaving Hamburg. Richters reply was reserved and even somewhat arrogant.
Hans Richter (János Richter) was an Austrian–Hungarian orchestral and operatic conductor. Richter was born in Raab (Hungarian: Gy?r), Kingdom of Hungary, Austro-Hungarian Empire. His mother was opera-singer Jozefa Csazenszky. He studied at the Conservatory of Vienna. He had a particular interest in the horn, and developed his conducting career at several different opera houses in the Austro-Hungarian Empire. He became associated with Richard Wagner in the 1860s, and in 1876 he was chosen to conduct the first complete performance of Wagner's Der Ring des Nibelungen at the Bayreuth Festspielhaus.
In 1877, he assisted the ailing composer as conductor of a major series of Wagner concerts in London, and from then onwards he became a familiar feature of English musical life, appearing at many choral festivals including as principal conductor of the Birmingham Triennial Music Festival (1885-1909) and directing the Hallé Orchestra (1899-1911) and the newly formed London Symphony Orchestra (1904-1911). In Europe his work was chiefly based in Vienna, where (transcending the bitter division between the followers of Wagner and those of Johannes Brahms) he gave much attention to the works of Brahms himself, Anton Bruckner (who once slipped a coin into his hand after a concert by way of a tip) and Antonín Dvorák (he gave the London and Vienna premieres of the Symphonic Variations); he also continued to work at Bayreuth.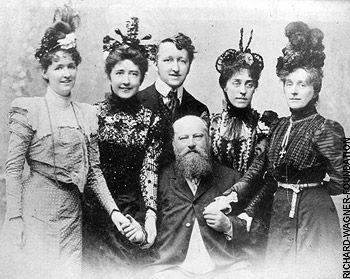 Eva, Isolde, Siegfried Wagner and Daniela and Blandine Von Bülow with Hans Richter (1843-1916), conductor of the first Ring cycle at Bayreuth in 1876.
In later years, Richter became a whole-hearted admirer of Sir Edward Elgar, and he also came to accept Pyotr Ilyich Tchaikovsky. On one occasion, he laid down his baton and allowed a London orchestra to play the whole second movement of Tchaikovsky's Pathétique Symphony itself. Never afraid to experiment on behalf of the music he loved, he lent his authority to an English-language production of The Ring at Covent Garden (1908). In 1909 he delivered the British premiere, very shortly after the world premiere in Boston, of Ignacy Jan Paderewski's Symphony in B minor "Polonia". Failing eyesight forced his retirement in 1911. He died at Bayreuth in 1916.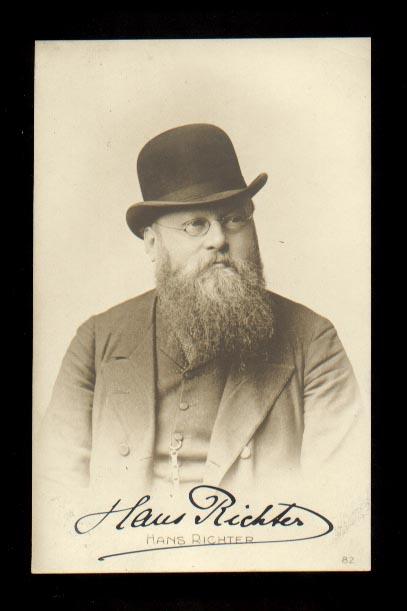 Richter's approach to conducting was monumental rather than mercurial or dynamic, emphasising the overall structure of major works in preference to bringing out individual moments of beauty or passion. Some observers regarded him as little more than a time-beater; but others, notably Eugene Goossens, pointed to the remarkable rhythmic vitality of his work, a quality which hardly squares with the image of Richter as a rather stolid and static personality.
Hans Richter was first brought to England by Wagner in 1877 to conduct six operatic concerts in London. The impact made by Richter (then 32 years old) on the capital's orchestral players was enormous. They had never been rehearsed so thoroughly, nor with such discipline as that of a genuine musician rather than a showman; nothing was allowed to slip through as the fundamentals were revisited. Intonation was scrutinised, details brought out, tempi rationalised, notes corrected. His practical knowledge (he played every orchestral instrument) proved formidable and no weak player felt secure. He usually conducted rehearsals and performances of orchestral concerts and operas from memory.
The living composers whose works he introduced to British audiences were the greats in whose company he could be found, Wagner, Brahms, Bruckner, Dvorak, Tchaikovsky, Glazunov, Stanford, Parry and Elgar. For 20 years from 1879 he toured the length and breadth of Britain with his Richter Orchestra.
— Christopher Fifield, Hans Richter's impact as a career conductor.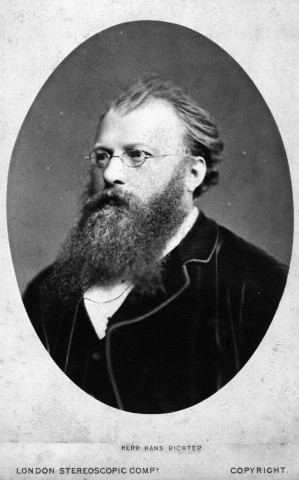 More on Hans Richter
Hans Richter was one of the greatest German conductors of the Romantic era and among Richard Wagner's greatest champions. His father was the Kapellmeister of the local Cathedral and his mother, Josephine Csazinsky, was a soprano who sang the role of Venus in the first production of Wagner's Tannhäuser in Vienna (1857). At ten years old he became a chorister at the Vienna Court Chapel. He studied violin, horn, and theory at Vienna Conservatory while playing horn at the Kärtnerthorn Theater from 1862 to 1864.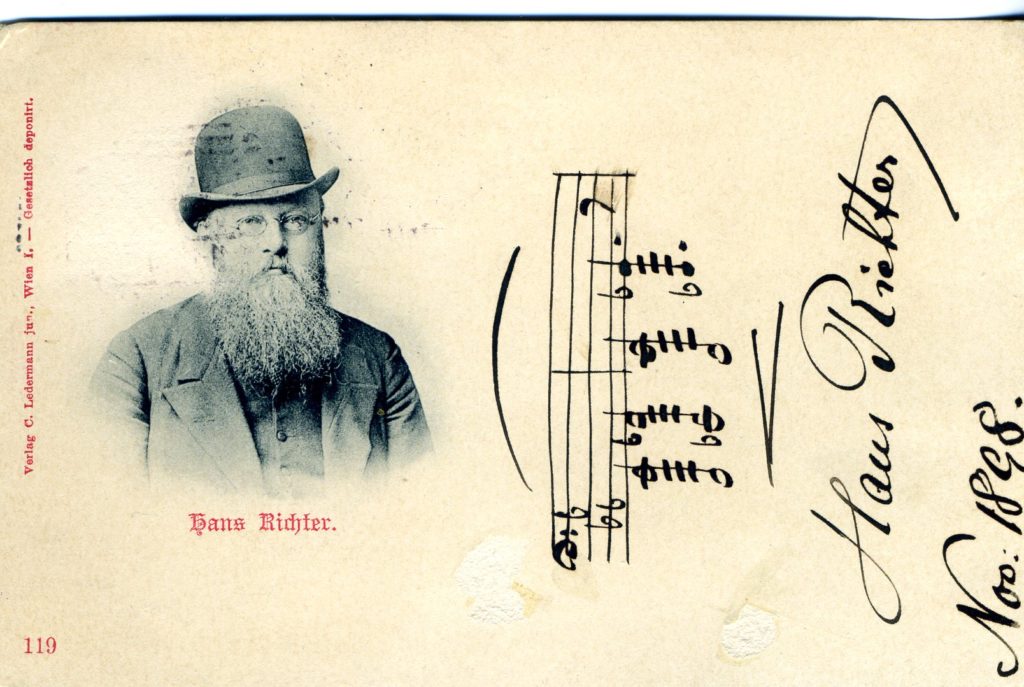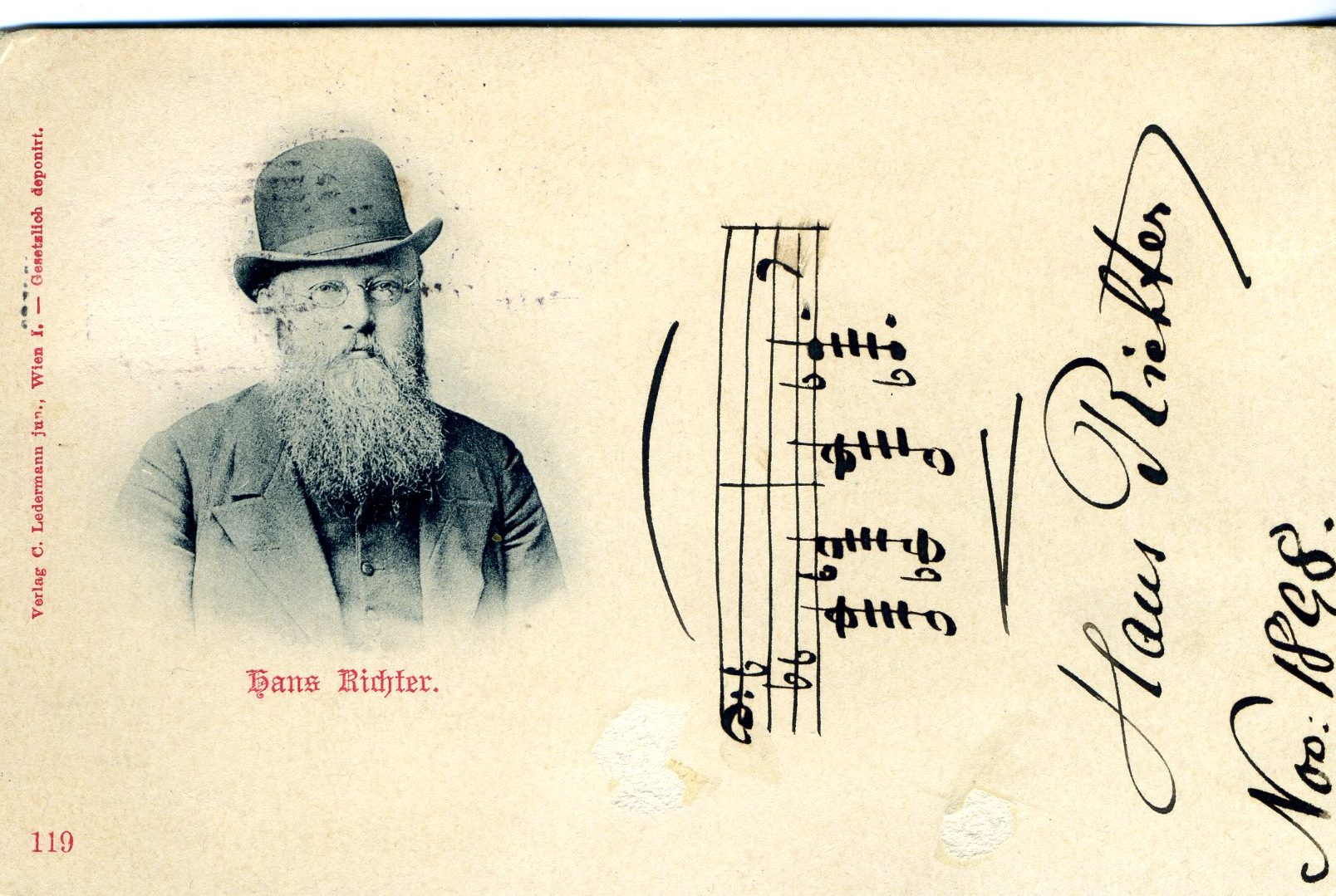 Wagner hired him for the job of preparing a fair copy manuscript of his latest opera, Die Meistersinger. After that Wagner recommended him to Hans von Bülow to be a chorus master at the Munich Court Opera (1867). The next year, Bülow made him his assistant conductor. Richter answered Wagner's request to put conducting aside and work on finishing the copying of the scores to the Ring operas. As trumpeter, he participated in the first performance of Wagner's Siegfried Idyl, and played in the foyer of Wagner's house in Tribschen as a surprise for Wagner's future wife. Richter became chief conductor in Pest (1871 – 1875) and in 1875 debuted in Vienna with such huge success that he became conductor of the Hofoper there. In 1876 he conducted the premiere performance of the entire Ring cycle to inaugurate the Bayreuth Festspielhaus.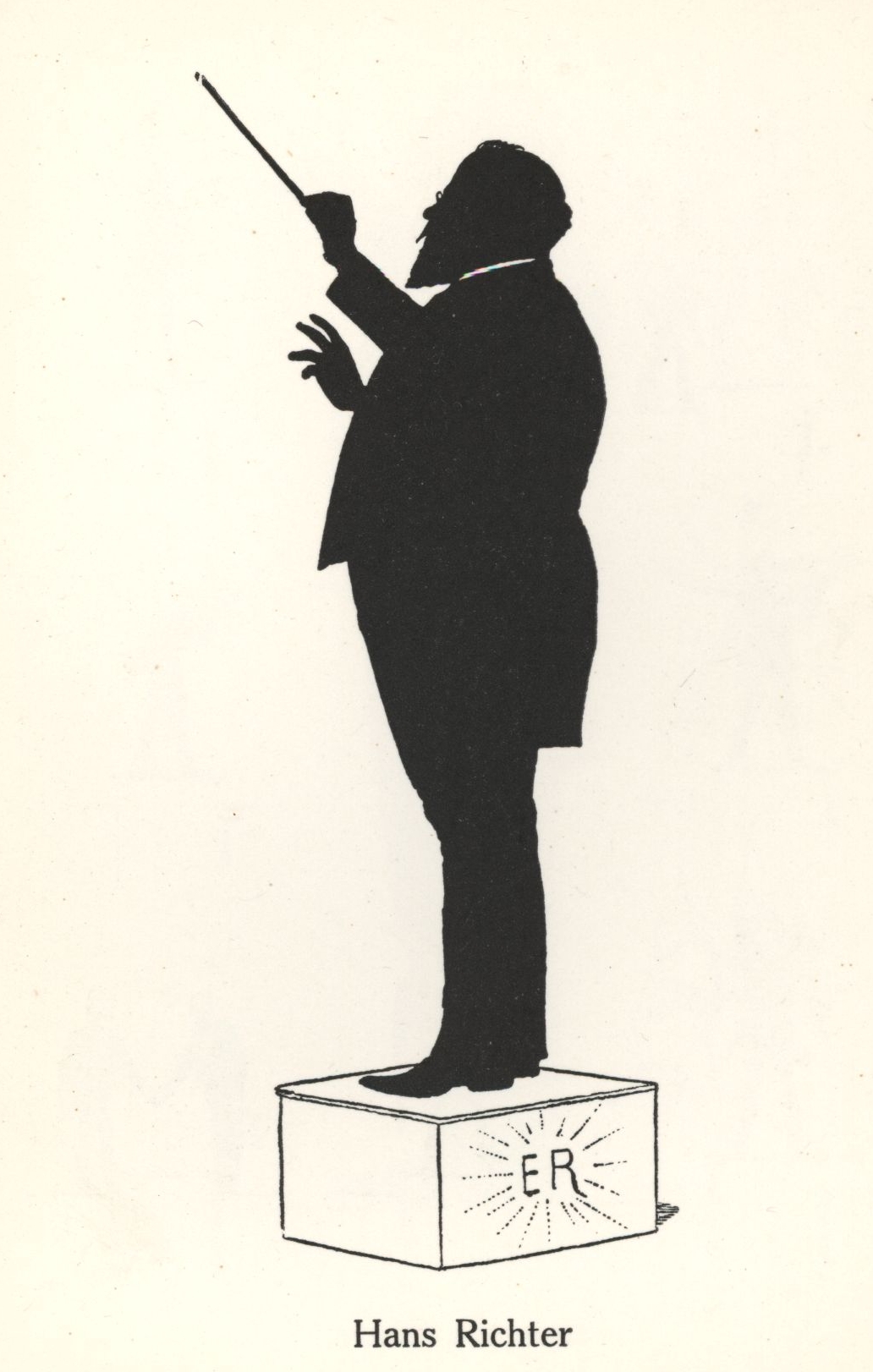 The Hofoper orchestra elected him to be their chief conductor in their alter ego as the Vienna Philharmonic. He remained with then until 1898. From 1880 to 1890 he was also conductor of the Gesellschaft der Musikfreunde. He made his debut in England in 1877 and became a popular favorite there, holding an annual series of Orchestral Festival Concerts from 1879 to 1897. (These became known as the "Richter Concerts.") He was director of the triennial Birmingham Music Festival from 1885 to 1905. In 1897 he accepted the position of music director of the Hallé Orchestra, arriving there in 1899 to take the position.
The delay was caused by his remaining in Vienna to be sure of his pension. While he was absent, Frederic Cowen had been conducting the orchestra and became popular enough that a faction of the audience resisted Richter, and were thereafter apt to complain over Richter's highly predominant German repertory. However, Richter made a great contribution to English musical culture when he became the first to recognize the greatness of Edward Elgar's Enigma Variations, premiered it with the Hallé, and played it to great acclaim in Germany. He left the Hallé in 1911 and retired in 1912.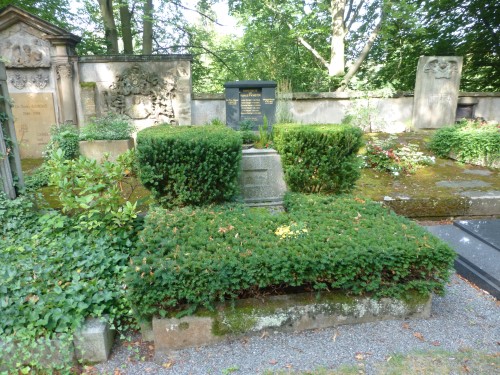 Bayreuth. Grave Hans Richter (1843-1916). City cemetery.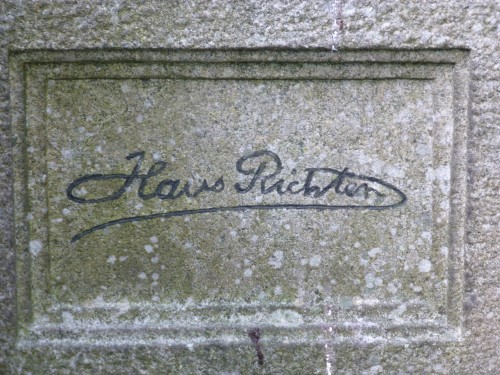 Bayreuth. Grave Hans Richter (1843-1916). City cemetery.