Address: Erlanger Strasse 4, 95444 Bayreuth, Germany.
Wagner Family grave (A 1b/910):
Wieland Wagner (1917-1966). Scenery builder and opera Director. For 15 years, he served as co-director of the Bayreuth Festspielhaus where he presented the music of his grandfather, Richard Wagner. Raised within the operatic setting of Bayreuth, he was early-on prepared for his eventual responsibilities. During the 1930s, he became associated with Hitler, whom he and his siblings called "Uncle Wolf", though he was later to equivocate over just how close the association was. Wieland designed a production of "Parsifal" in 1937 that gave a preview of the direction his later work would take, using film projection for some scenes. During WWII, he was exempt from military service (his brother Wolfgang was injured in combat), working instead as a civilian leader in the Flossenburg concentration camp, where rocket parts were made. Heavily damaged in the war, Bayreuth was closed from 1944 until 1951; when it reopened, Wieland and Wolfgang were made joint directors, their mother Winifred having been banned as an unreconstructed Nazi. Wieland was to be the developer thru his set designs and stage direction of "Regietheater", the presentation of Wagnerian opera in a modern setting. His productions, particularly of "Siegfried" and "Die Meistersinger" received mixed reviews at the time, but his group of strong singers and conductors make recordings of them continue to be sought. Wieland's work at Bayreuth led to invitations for him to present Wagner's operas, as well as Beethoven's "Fidelio", throughout Europe. Wieland was awarded the 1965 Pour le Merite; at his death from lung cancer, his brother Wolfgang assumed full control of Bayreuth. Family links: Parents: Son of Siegfried Wagner, the grandson of Richard Wagner (1869 – 1930) and Winifred Marjorie Williams Klindworth Wagner (1897 – 1980). Sibling: Wieland Wagner (1917 – 1966). Wolfgang Wagner (1919 – 2010).
Gertrud Reissinger-Wagner (1916-1998). Widow Wieland Wagner.
Gudrun Wagner (1944-2007). Administrator.
Siegfried Wagner (1869-1930). Composer, Son of Richard Wagner and Cosima von Bulow. Composed 19 operas (more than his father), but none has held the stage. In 1896 he began conducting at the Bayreuth Festival and continued conducting there and throughout Germany until his death. After Cosima surrendered direction of the Festival in 1908, Sigfried was artistic director until his own death in 1930.
Winifred Wagner (1897-1980). Opera Director, Folk Figure. During a turbulent time in Germany's history, she ran the Bayreuth Festspielhaus, presenting the music of her father-in-law Richard Wagner. Orphaned while a toddler, Winnie was shuttled thru a number of homes until she was adopted at around 10 by a German couple named Klindworth who had been friends of Wagner; in 1914 she met the somewhat older Siegfried Wagner, composer and son of Richard Wagner. The couple entered into a more-or-less arranged marriage next year, in part to quiet Siegfried's homosexual scandals as well as to provide a Wagnerian heir. Winnie had four children in three years and supported her husband in the running of Bayreuth; in 1923, she was to meet the true love of her life, Adolf Hitler. When Hitler was in Landsberg Prison the next year over the Munich Beer Hall Putsch, Winnie sent him food and the stationery on which he began writing "Mein Kampf". Having joined the NSDAP in 1926, she participated in Party rallies and became a favorite of Hess and the other leaders; at Siegfried's death in 1930 Winnie assumed the directorship of the Festspielhaus which was then in dire financial straits, though after Hitler took power he had the government buy tickets and provided subsidies and tax breaks. Winnie and the Fuhrer shared the same Nordic ideals and nationalism and there were soon rumors of romance and impending marriage, though with time Hitler also took an interest in her daughter Verena (born 1920), but declined to pursue the attraction due to the 30 year age difference. For her part Winnie gladly made her home a refuge for Hitler, catered to his musical tastes, particularly in hiring his favorite conductor, Wilhelm Furtwangler, and served as his interpreter in negotiations with the British. Interestingly, she was not an anti-Semite and personally intervened on behalf of a number of Jews who were, indeed, spared. During Winnie's time at the helm, the Bayreuth Festival became the center of the German social scene, with the Wagners the only people allowed to use the familiar form of address with Hitler; at the end of World War II, however, the opera house was heavily damaged and Winnie found herself banned for life from any control due to her unreconstructed Nazism, though she retained formal ownership until it passed to the Richard Wagner Foundation in 1973. When the facility was reopened in 1951, her sons Wieland and Wolfgang were made joint directors. Winnie lived out her days totally devoted to the man she called "our blessed Adolf"; the letters she exchanged with him over 20 years have never been made public. Her story was told in Brigitte Hamann's "Winifred Wagner: A Life at the Heart of Hitler's Bayreuth" (2005) and novelized by A.N. Wilson in the 2007 "Winnie and Wolf". Of her relationship with Hitler she said simply: "To have met him is an experience I would not have missed".
Wolfgang Wagner (1919 -2010). He is best known as the director (Festspielleiter) of the Bayreuth Festival, a position he initially assumed alongside his brother Wieland in 1951 until the latter's death in 1966. From then on, he assumed total control until he retired in 2008, although many of the productions which he commissioned were severely criticized in their day. He had been plagued by family conflicts and criticism for many years. Son of Siegfried Wagner, the grandson of Richard Wagner, and the great-grandson of Franz Liszt. Opera Director. As head of the Bayreuth Festspielhaus for close to 60 years, he was responsible for presenting the music of his grandfather Richard Wagner. Raised within the operatic milieu of Bayreuth which was managed by his father Siegfried (until his death in 1930), and then by his mother Winifred, he and his older brother Wieland were prepared early on to assume their grandfather's legacy. The Wagner family was of necessity associated with the ardent music fan Hitler and his high command, though in later years Wolfgang would give contradictory accounts of just how close the association was. (The Wagners were the only people allowed to use the familiar form of "you" when addressing the Fuhrer). Joining the German Army, Wolfgang was injured and boarded out in 1940; he spent the remaining war years studying theatre and preparing to run Bayreuth. The Festspielhaus was heavily damaged by bombing, and remained dark until 1951 when Wolfgang and Wieland were placed in charge, their mother having been removed due her continuing (indeed, lifelong) Nazi loyalty. Relations between the brothers were rocky; each had his own ideas of just how opera should be performed, and reviews of their offerings were mixed. Wolfgang's first production was a 1955 "The Flying Dutchman", followed in 1957 by "Tannhauser". Over the years, he was to produce all of the Wagner operas, several of them twice, and "The Ring" cycle four times. Wolfgang assumed full command following Wieland's death from cancer in 1966; modernistic productions (in contrast to the Nazi-inspired Nordic ones) continued, as did the intra-family problems. Patrice Chereau's 1976 "Ring" received a varied response, as did that given by Sir Georg Solti and Sir Peter Hall in 1983, though Harry Kupfer and Daniel Barenboim (1942)s effort was much praised. As the music went on, however, so did the Wagnerian family drama; Wolfgang was accused of slighting Wieland's offspring and, following his 1976 divorce and remarriage, his own. Wolfgang wanted his second wife Gudrun, to follow him, but her death in 2007 forced him to give authority to his daughters Eva (by his first wife) and Katharina, child of his second, in 2008. At Wolfgang's death, Bayreuth Festival Opera was ongoing, as was effort by Wieland's children to gain a measure of control.
Daniele von Bulow (1860-1940).
Bayreuth. Wagner family grave. City cemetery.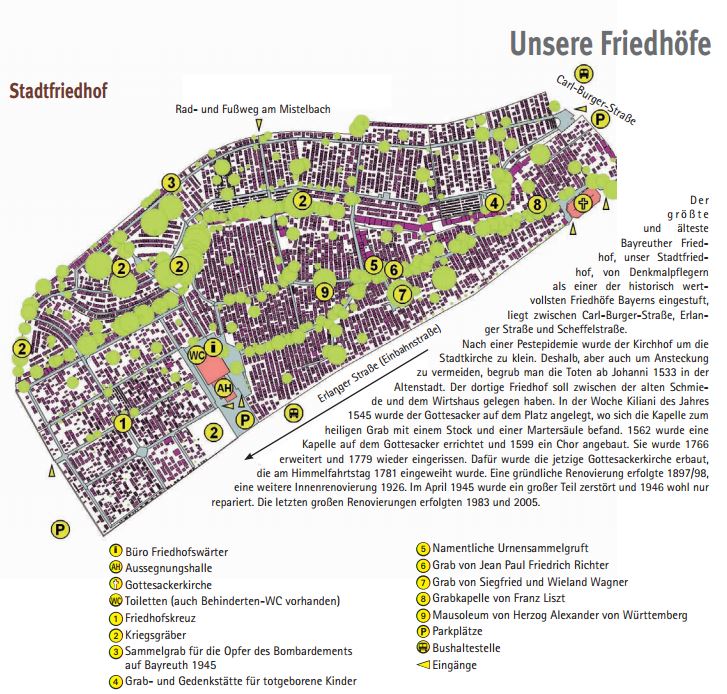 Bayreuth, City cemetery.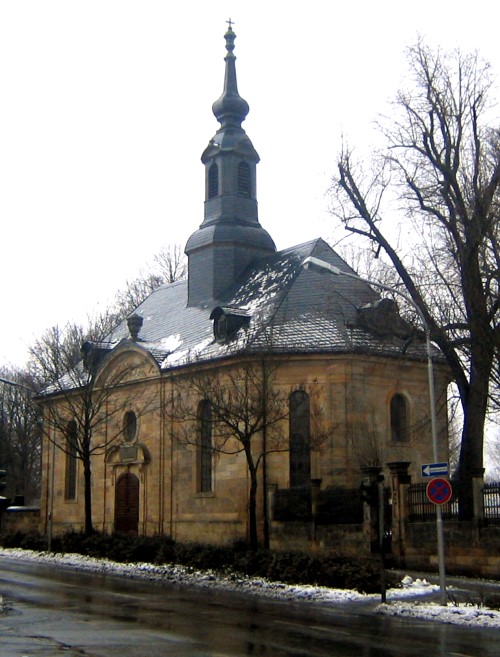 Bayreuth, City cemetery, Gottesacker church.