Profession: Mayor of Vienna, politician, lawyer.
Residences: Vienna.
Relation to Mahler:
Correspondence with Mahler:
Born: 24-10-1844 Wieden, Vienna, Austria.
Died: 10-03-1910 Vienna, Austria.
Buried: Central cemetery, Vienna, Austria. St Charles Borromeo church, crypt 5.
Karl Lueger was an Austrian politician, mayor of Vienna, and leader and cofounder of the Austrian Christian Social Party. He is credited with the transformation of the city of Vienna into a modern city. The populist and anti-Semitic politics of his Christian Social Party are sometimes viewed as a model for Hitler's Nazism. Karl Lueger came from a modest background, born at Wieden (since 1850 the 4th district of Vienna) to Leopold Lueger of Neustadtl an der Donau and his wife Juliane. His birthplace is now the western part of the main building of the Vienna University of Technology at Karlsplatz where Lueger's father worked as an usher at the Vienna Polytechnic.
He nevertheless was able to attend the renowned Theresianum boarding school (Theresianische Ritterakademie) as a day student. He studied law at the University of Vienna, receiving his doctorate in 1870. While at the university he was a member of the Catholic Student Association (Katholische akademische Verbindung Norica Wien, K.A.V. Norica Wien), part of the Österreichische Cartellverband (ÖCV) fraternities. He established his own lawyer's office in Vienna in 1874 and soon became known as a "little people's" ("kleinen Leute") advocate. In this his role model and mentor was the popular Jewish physician and local politician Ignaz Mandl, known as "God of the Little People", in Lueger's district of Landstraße (Third District), whom he followed into political life. The association ended when Lueger became identified with anti-semitism.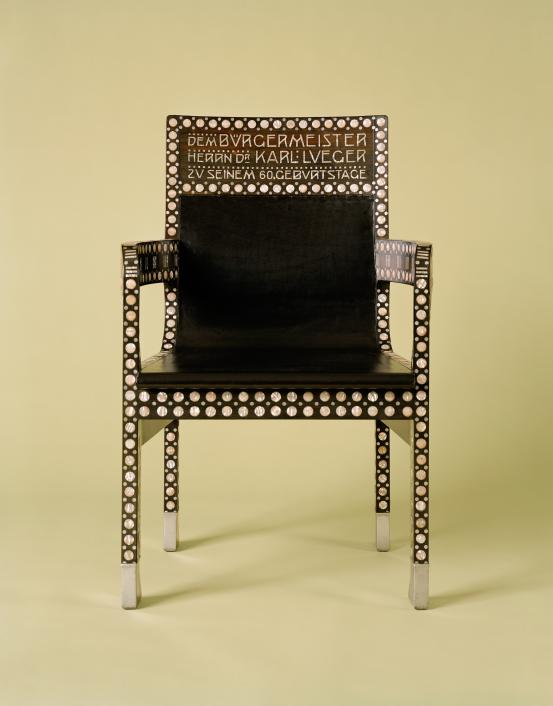 1904. Chair for mayor Karl Lueger (1844-1910) by Otto Wagner (1841-1918) at Historical Museum Vienna.