Profession: Bass, baritone.
Residences: Brno, Frankfurt, Hamburg, Cologns, Nürnberg, Prague, Salzburg, Vienna, Zagreb.
Relation to Mahler: 
Correspondence with Mahler: Yes.
Born: 03-07-1860 Elbeteinitz, Czech Republic.
Died: 04-01-1908 Vienna, Austria
Buried: Baumgarten cemetery, Vienna, Austria. Grave 15-1.
Wilhelm Hesch's voice was described as a real basso profundo. With technical skill he caught the tone by the root and led it energetically to the resonance chambers of the head, which gave him a good command of the high register too. As a buffo bass in the serious category, he had his own trademark. Initially he was given such roles as cardinals, high priests or the Hermit in Der Freischutz.
He was especially admired as Cardinal Brogni in La Juive, a part that is essentially tragic, and one in which he could present the particular features of his voice the most forcefully. Today, his posthumous fame is based on his extensive legacy of recordings. Together with Selma Kurz, Grete Forst, Hermine Kittel, Leo Slezak, Erik Schmedes, Leopold Demuth and Friedrich Weidemann, who all recorded for Grammophon, he was one of the top-selling artists of the artists of the then Austrian market.
In the years between 1900 and 1907 he recorded no less than 102 titles; among these 102 titles some arias were, of course, recorded repeatedly. Twenty more titles for Odeon, some of them sung in Czech, were produced in 1904 and 1905. His many recordings continue to provide listeners today with the unmistakable timbre of a real basso profundo.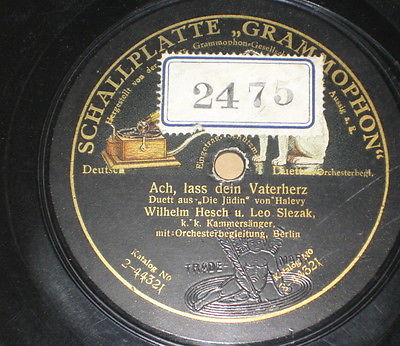 Wilhelm Hesch (1860-1908) and Leo Slezak (1873-1946) recording Jacques Francois Fromental Halevy (1799-1862).