Profession: Tenor, actor.
Residences: Vienna, Berlin, New York.
Relation to Mahler: Worked with Gustav Mahler.
Correspondence with Mahler: Yes.

30-08-1903 Year 1903 Maiernigg: Letter to Leo Slezak (1873-1946).
00-08-1903 Year 1903 Vienna: Letter to Leo Slezak (1873-1946). Late summer.
00-08-1908 Year 1908 Toblach: Letter to Leo Slezak (1873-1946). Summer.

Born: 18-08-1873 Sumperk, Czech Republic.
Died: 01-06-1946 Miesbach, Germany.
Buried: Rottach-Egern cemetery, Miesbach, Germany.
Opera.
Leo Slezak was a world-famous Moravian tenor. He was associated in particular with Austrian opera as well as the title role in Verdi's Otello. He is the father of actor Walter Slezak. Born in Šumperk, the son of a miller, Slezak worked briefly as a blacksmith, an engineer's fitter and served in the army before taking singing lessons with the first-class baritone and pedagogue Adolf Robinson. He made his debut in 1896 in Brno (Brünn) and proceeded to sing leading roles in Bohemia and Germany, appearing at Breslau and, in 1898-99, at Berlin. From 1901 onwards he was a permanent member of the Vienna State Opera's roster of artists, achieving star status.
International career
Frances Alda as Desdemona and Slezak in the title role of Verdi's Otello at the Metropolitan Opera in 1909. Slezak's international career commenced in London at the Royal Opera House, Covent Garden, where he sang Siegfried (a punishing role that he would soon drop from his repertoire) and Lohengrin in 1900. (He would return to Covent Garden in 1909 after undertaking further vocal studies in Paris the previous year with a great tenor of a previous era, Jean de Reszke.) Slezak secured a three-year contract with the New York Metropolitan Opera in 1909. Met audiences acclaimed him in performances of works by Wagner and Verdi. Along with Italy's Giovanni Zenatello, he became the most famous Otello of his generation, famously performing the role at the Met with Arturo Toscanini conducting. 
He was a convivial person, and many anecdotes reveal his amiable sense of humour. The best-known example is as follows: during a performance of Wagner's Lohengrin, a stage hand sent the swan out too early, before the tenor could hop aboard. Seeing his feathered transportation disappear into the wings, Slezak ad-libbed to the audience: "Wann fährt der nächste Schwan?" ("When does the next swan leave?"). Slezak had a versatile repertory which embraced 66 roles. They included notably Rossini's Guillaume Tell, Manrico, Radames, Walter, Tannhäuser, Hermann and, as we have seen, Otello and Lohengrin. He sang 44 roles in Vienna alone, where he chalked up 936 appearances in 1901-12 and 1917–27 and became an idol of audiences.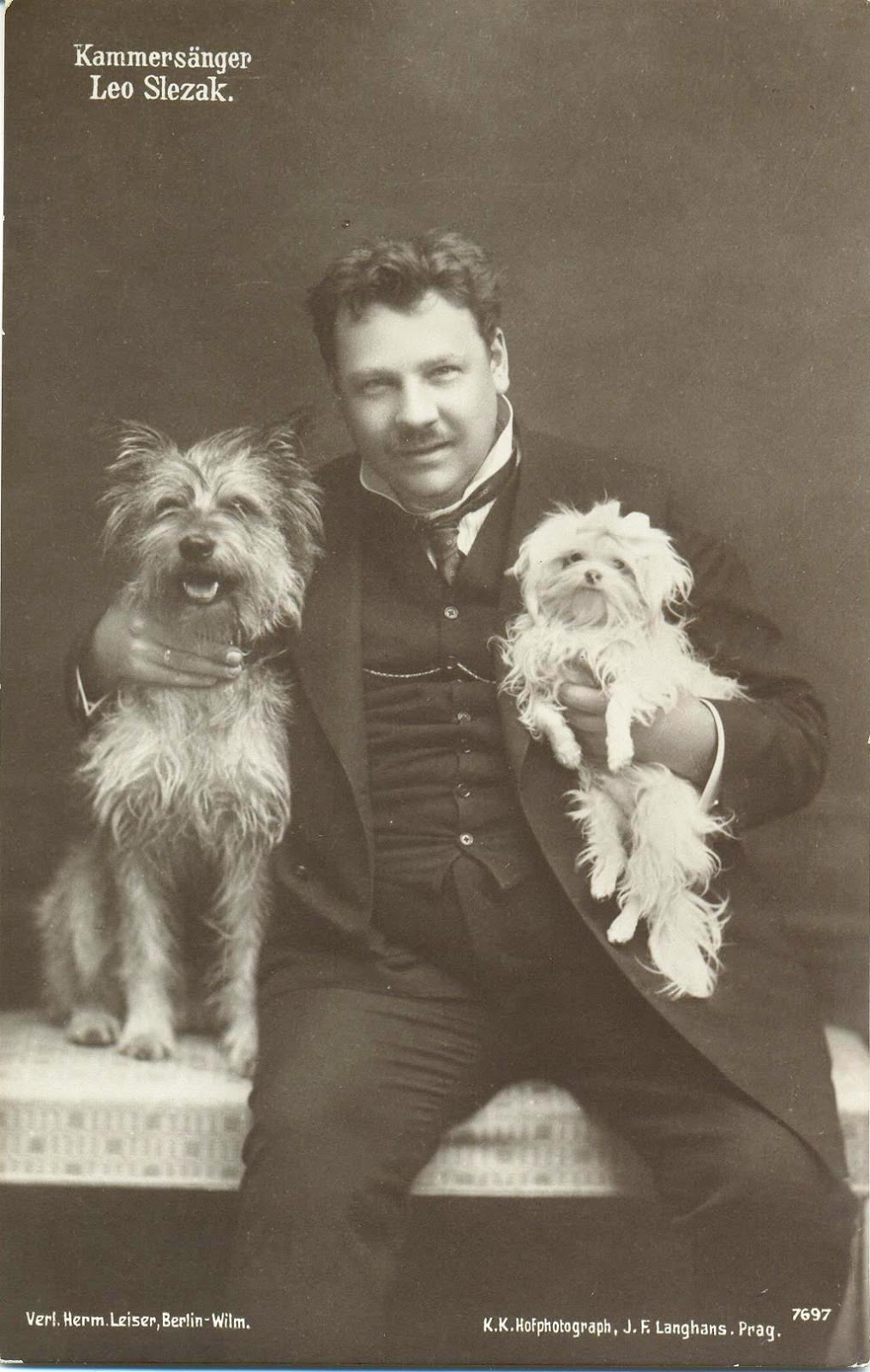 Vocal characteristics
A tall barrel-chested man, Slezak possessed a large and attractive lyric-dramatic voice which enabled him to undertake all but the very heaviest Wagnerian parts such as Siegfried or Tristan. He had a distinctive tonal quality, too, which became markedly darker after his studies with de Reszke in 1908. Slezak was a master of mezza-voce singing and he could also deliver haunting head notes. Unfortunately, with time and hard use, his top register developed a strained and unsteady quality when used at full volume, as can be heard on some of his recordings.
Recordings
Slezak made hundreds of disc and cylinder recordings, beginning in the early 1900s and ending in the 1930s. They were produced by several different record companies and include arias, duets and songs by a wide selection of composers, ranging from Mozart to Wagner.