Altaussee (Alt-Aussee) is a municipality and spa town in the district of Liezen in Styria, Austria. The small village is nestled on the shores of the Lake Altaussee, beneath the Loser Plateau. Occupying an area of 92 km², Altaussee is home to 1,777 people. The municipality includes two cadastral communities: Altaussee and Lupitsch. The designated climatic spa is within the Salzkammergut region.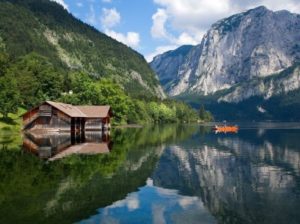 Altaussee has the biggest salt deposits of Austria, which are still mined today. In the 19th century Altaussee evolved into a popular summer-resort. Especially writers and intellectuals, for example Hugo von Hofmannsthal (1874-1929), Theodor Herzl (1860-1904) and Gustav Mahler (1860-1911), spent their summer holidays in the small alpine village.
See also: Egon Wellesz (1885-1974).