On 07-06-1894 Czech Philharmonic Orchestra was founded with the official approval of the Governor's Office in Prague. The orchestra was defined as 'an organisation for the enhancement of musical art in Prague, and a pension organisation for the members of the National Theatre Orchestra in Prague, its widows, and its orphans.'
The Czech Philharmonic Orchestra's first philharmonic concert took place on 04-01-1896 in the Rudolfinum. Antonin Dvorak (1841-1904) conducted the orchestra in performances of his own works: the third Slavonic Rhapsody, the world-premiere of his Biblical Songs, Nos.1-5, the Othello overture, and his Symphony No.9 (From the New World). The influence of Bedrich Smetana (1824-1884) was also apparent at this concert: the composer had wanted to create a tradition of symphonic concerts for Czech audiences as far back as the 1860s, but had died in 1884. Also present were founding members of the 'Society for the Maintenance of a Large Orchestra in the City of Prague', an organisation established in 1882. 
The foundation of the Czech Philharmonic
Until 1901, the Czech Philharmonic remained a forum for National Theatre musicians, who were committed to giving at least four large symphonic concerts each year. The money these concerts raised went into a fund created to support members of the organisation who could no longer play, as well as the immediate survivors of deceased musicians. Members of the organisation were required to participate in rehearsals and concerts, with a high level of attendance expected. Musicians who arrived at rehearsals more than 15 minutes late received penalty payments of one gold piece, and unexplained absences at concerts were punishable by payment of five gold pieces.
During these early years, the Czech Philharmonic did not have a permanent Chief Conductor; rather, its concerts were led by conductors such as Adolf Cech and Moric Anger (both from the National Theatre), Karel Kovarovic, Oskar Nedbal (1874-1930) (then the violist in the Bohemian Quartet) and composer Zdenek Fibich.
The orchestra becomes independent
On 09-02-1901, the National Theatre Orchestra (whose members were also in the embryonic Czech Philharmonic) went on strike, protesting against the head of the National Theatre Opera, Karel Kovarovic. On 15-02-1901, the strikers were dismissed from their orchestral positions, and Kovarovic began to build a new theatre orchestra.
The displaced musicians decided to establish the Czech Philharmonic as an independent symphony orchestra. 31 year old Ludvík Vítezkav Celanský (1870-1931) was elected as the first Chief Conductor. A fight for survival then began, and the orchestra performed continuously in order to establish its reputation. Between October and December 1901, the Czech Philharmonic gave 49 concerts: 22 in Bohemian and Moravian cities, and 15 in Prague. The orchestra even performed in the brewery in Smíchov, where it gave its first full rendition of Smetana's Má Vlast on 08-12-1901. The Czech Philharmonic's debut appearance abroad took place in Vienna, with conductor Oskar Nedbal (1874-1930) directing an orchestra of 62 musicians.
A tour to London, Czech premieres, and Gustav Mahler
Fresh challenges faced the Czech Philharmonic when Ludvík Vítezslav Celanský unexpectedly resigned in April of 1902. Oskar Nedbal (1874-1930) turned down the offer to become the orchestra's Chief Conductor, but he did lead the Czech Philharmonic on a significant tour to England during May and June of 1902. World-famous Czech violinist Jan Kubelík accompanied the orchestra, which travelled under the title 'The Kubelík Bohemian Orchestra'. Oskar Nedbal (1874-1930) wrote to his friends from London that, "this is the first time that an orchestra from the Continent has settled in London for a longer period of time. The London Philharmonic is allegedly raging…"
Year 1902. Czech Philharmonic Orchestra with Chief Conductor Ludvík ?elanský.
In January 1903, Vílem Zemánek (1875-1922) became the orchestra's Chief Conductor. Under his leadership, the Czech Philharmonic offered regular subscription concerts, as well as concerts of popular music. In addition to performing music by composers from around the world, the orchestra gave premieres of significant works by Czech composers including Leos Janacek (1854-1928), Suk, and Novák. Financials remained a threat to the orchestra, which supplemented its income by playing in restaurants, alongside bold projects such as a five-month tour of St Petersburg, Russia, in 1904.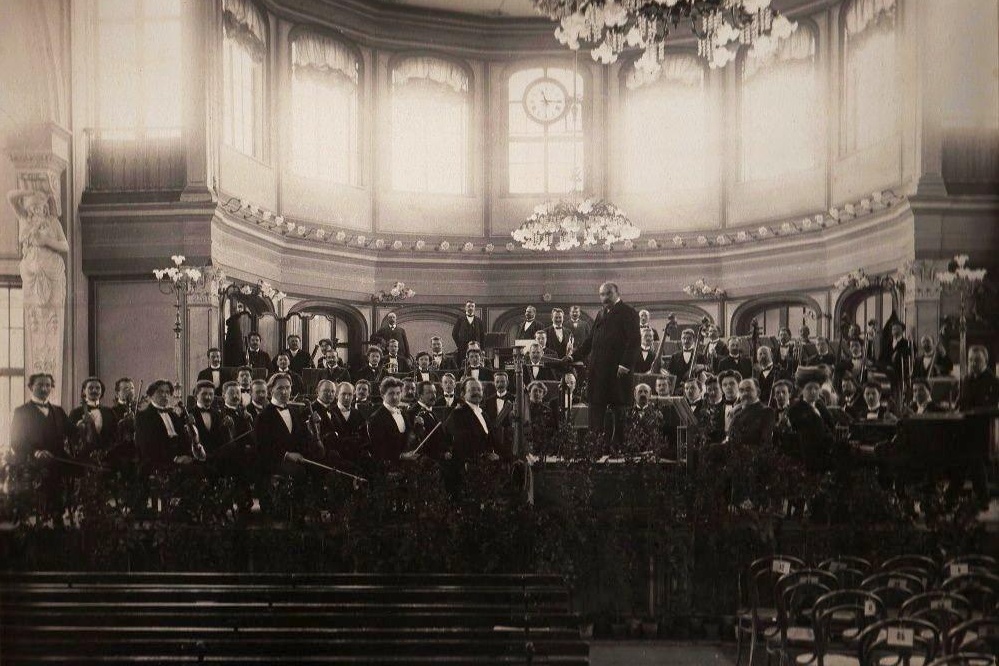 Year 1904. Czech Philharmonic Orchestra with conductors Oskar Nedbal and Vilém Zemánek in Pavlovsk, Russia.
On 19-09-1908 Gustav Mahler conducted the Czech Philharmonic in the premiere of his Symphony No. 7. See: 1908 Concert Prague 19-09-1908 – Symphony No. 7 (Premiere). 
Home of the Czech Philharmonic Orchestra is since 1946 the Rudolfinum.
Conductors:
1901-1903 Ludvík ?elanský.
1903-1918 Vilém Zemánek.
1919-1931 Václav Talich.
1933-1941 Václav Talich.
1942-1948 Rafael Kubelík.
1950-1950 Karel Šejna.
1950-1968 Karel An?erl.
1968-1989 Václav Neumann.
1990-1992 Ji?í B?lohlávek.
1993-1996 Gerd Albrecht.
1996-2003 Vladimir Ashkenazy.
2003-2007 Zden?k Mácal.
2009-2012 Eliahu Inbal.
2012-2017 Ji?í B?lohlávek.
2018-present Semyon Bychkov.