1902 Concert St Petersburg 18-03-1902.
1902 Concert St Petersburg 22-03-1902.
1902 Concert St Petersburg 27-03-1902.
The building housing the Philharmonia was constructed in 1839 by the architect P. Jacot (the facade designed by C. Rossi) for the St Petersburg Assembly of the Nobility. The hall with its wonderful acoustics and a seating capacity of over 1500 has been the center of the city's musical life since the 1840s.
This elegant neoclassical building was erected as part of Carlo Rossi's enormous project to redevelop the square in front of the Mikhailovsky Palace and the streets leading to it.
Rossi himself designed the two identical facades, one facing Mikhailovskaya Ulitsa, the other Ploshchad Iskusstv (Arts Square), while the rest of the building and its beautiful interiors were the work of French architect Paul Jacquot.
Built 1834-1839, the building originally housed the St Petersburg Assembly of the Nobility, an organization of local administration that, after the Emancipation Reforms of 1861, became more like a society club, organizing charitable events including concerts and balls.
Jacquot's Grand Tricolor Hall (now the Grand Hall of the Philharmonia) was designed specifically for these purposes and is renowned for its excellent acoustics.
In the second half of the 19th century, the building established itself as a centre of musical culture in St Petersburg, and attracted some of the greatest musicians of the age, including Franz Liszt, Hector Berlioz, Richard Wagner and Gustav Mahler.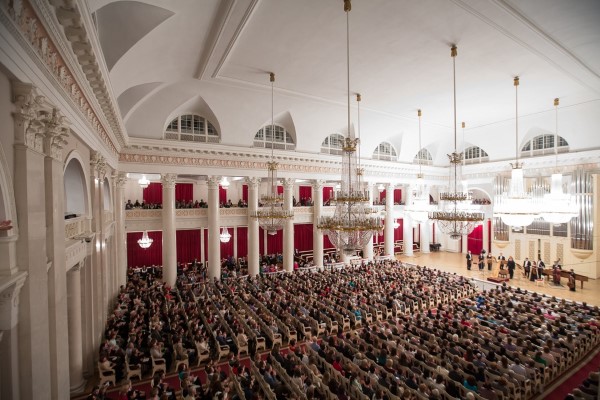 The Assembly of the Nobility was disbanded in 1917, and the building became the permanent home of the Petrograd/Leningrad/St Petersburg Philharmonic Orchestra in 1921.
Founded in 1882 as the Imperial Music Choir, it is the oldest symphony orchestra in Russia, and has a solid reputation at home and abroad. The building and orchestra are particularly closely linked to Dmitri Shostakovich (1906-1975), whose 1st Symphony was premiered here in 1926, and who continued to perform and premier works here throughout the 1920s and 1930s.
When the building was renamed again, along with the orchestra, after the fall of the Soviet Union, it was seen as an opportunity to honour the great composer.