24-08-1907: Postcard to Alma Mahler (1879-1964). (2)
Gustav Mahler arrived in Vienna the same day.
Province Steyrmark.
213, 214
Also: Marburg, Marburg an der Drau, Marburg a. Drau, Marchburch, Marburc, Marchpurch, Marprk, Marprog
Maribor was attested in historical sources as Marpurch circa 1145 (and later as Marchburch, Marburc, and Marchpurch), and is a compound of Middle High German march 'march (borderland)' + burc 'fortress'.
In modern times, the town's German name was Marburg an der Drau (literally, 'Marburg on the Drava'). The Slovene name Maribor is an artificial Slovenized creation, coined by Stanko Vraz in 1836. Vraz created the name in the spirit of Illyrianism by analogy with the name Brandenburg (cf. Lower Sorbian Bramborska). Locally, the town is known in Slovene as Marprk or Marprog. In addition to its Slovene and German names, the city is also known as Marburgum in Latin and Marburgo in Italian.
In 1164, a castle known as Castrum Marchburch ("March Castle") was documented in the March of Drava. The castle was originally built on Piramida Hill, which is located just above the city.
Maribor was first mentioned as a market near the castle in 1204, and received town privileges in 1254. It began to grow rapidly after the victory of Rudolf I of the Habsburg dynasty over King Otakar II of Bohemia in 1278. Maribor withstood sieges by Matthias Corvinus in 1480/1481 and by the Ottoman Empire in 1532 and 1683.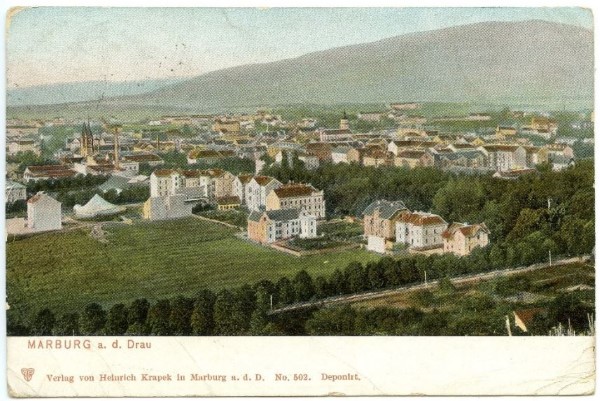 In 1900 the city had a population that was 82.3% Austrian Germans and 17.3% Slovenes (based on the language spoken at home); most of the city's capital and public life was in Austrian German hands. Thus, it was mainly known by its Austrian name Marburg an der Drau.
According to the last Austro-Hungarian census in 1910, the city of Maribor and the suburbs Studenci (Brunndorf), Pobrežje (Pobersch), Tezno (Thesen), Radvanje (Rothwein), Kr?evina (Kartschowin), and Košaki (Leitersberg) was inhabited by 31,995 Austrian Germans (including German-speaking Jews) and only 6,151 ethnic Slovenes. The surrounding area however was populated almost entirely by Slovenes, although many Austrian Germans lived in smaller towns like Ptuj.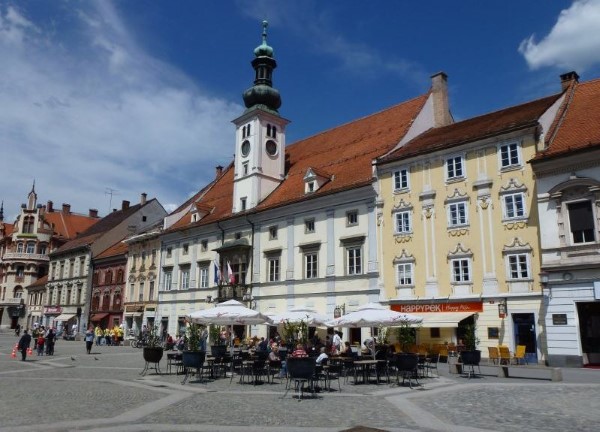 City of Maribor. City hall.
From Maribor are: