Composed
Performances by Gustav Mahler
Versions
Completed in 08-1901 for both piano and orchestral version, in Maiernigg, premiered 1905 Concert Vienna 29-01-1905 – Des Knaben Wunderhorn, Kindertotenlieder, Ruckert-Lieder (Premieres):
Completed 10-08-1902 for piano (no orchestral version), in Maiernigg, premiered 08-02-1907 in Vienna. Gustav Mahler present. Rose Quartet. Year 1902.
Publications
The set of songs is not a cycle in the narrowest sense, because the Lieder are independent, connected only by the poetry and common themes. However, they were published together and most often have been performed together and come to be known as the Rückert-Lieder, although Mahler did set more texts of Rückert. Artists such as Dietrich Fischer-Dieskau and Kathleen Ferrier have chosen their own order of the Lieder.
The songs were first published in 1910 by Kahnt music publishers in Leipzig as Sieben Lieder aus letzter Zeit (Seven Songs of Latter Days), together with Lied 1: Revelge and Lied 2: Der Tamboursg'sell (on poems from Des Knaben Wunderhorn) in the order:
Publication by Kahnt music publishers.
Historical recordings
Lied Ruckert 2: Ich atmet' einen linden Duft! recorded with Sarah Charles Cahier (1870-1951). (1930?)
The Baritone Choice: Fischer-Dieskau; BPO / Böhm (DG 477 5556GM3). Some will regret the omission of 'Liebst du um Schönheit', but Fischer-Dieskau combines beauty of tone, Mahlerian understanding and a spiritual quality.
The Modern Choice: Kožená; BPO/ Rattle (DG 479 0065GH). In partnership with Rattle and the Berlin Philharmonic, Kožená sings with youthful vocal radiance and an individual response to text and verbal music.
The Piano Choice: Hunt Lieberson; Vignoles (Wigmore Hall Live 0013). From a trancelike 'Ich atmet' einen linen Duft!' to a serene 'Ich bin der Welt abhanden gekommen', Hunt Lieberson's performances are lit with an inner glow.
Top Choice: Baker; New Philh Orch / John Barbirolli (1899-1970) (EMI 566981-2). Tenderness, grace, impassioned directness, sublime Mahlerian inwardness: Janet Baker, in glorious voice, has them all, abetted by John Barbirolli (1899-1970)'s loving, yet never indulgent, accompaniments. Baker's version of these songs is immensely moving.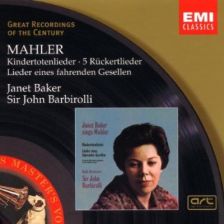 Album Ruckert Lieder by Janet Baker/John Barbirolli (1899-1970).