Louise Kirkby-Lunn (1873-1930).
Profession: Alto.
Relation to Mahler: Worked with Gustav Mahler.
Correspondence with Mahler:
Born: 08-11-1873 Manchester, England. (1872?)
Died: 17-02-1930 London, England. Aged 56.
Buried: Unknown.
She was born Louisa Baker. Father: W.H. Baker, confectioner, of 27 Oldham Road, Manchester, England. Mother: Mary Elizabeth Kirkby. Name at the Royal College of Music (RCM): Louisa Kirkby Lunn (in brackets 'Professional name'). Entered RCM as a student 27-04-1893 RCM Scholarship exam 22-02-1894. Entered RCM as an Open Scholar 04-1894 Left RCM 07-1896. Louisa married William John Pearson in London in 1899. Home address: 10 St John's Wood Park, London, England.
Louise Kirkby Lunn was an English contralto. Sometimes classified as a mezzo-soprano, she was a leading English-born singer of the first two decades of the 20th century, earning praise for her performances in concert, oratorio and opera.
Kirkby Lunn had her early vocal training in her native city of Manchester, at All Saints Church. She sang there in the choir under Dr J. H. Greenwood, the church's organist, and later appeared at concerts in the city. In 1890, she obtained a place at the Royal College of Music in London and studied for three years with Albert Vissetti, also training for opera. Winning a scholarship in her second year, she took the role of Margaret in Schumann's Genoveva in a College production at Drury Lane in December 1893, and then as the Marquise de Montcontour in Delibes' Le roi l'a dit at the Prince of Wales Theatre a year later.She also studied for some time with Jacques Bouhy in Paris.
In 1895, she appeared in the first season of Promenade concerts for Henry J. Wood. Augustus Harris gave her a five-year contract almost upon first hearing. In 1896 she appeared as Nora in Stanford's Shamus O'Brien at the Theatre Comique, again under Wood, with Joseph O'Mara, Maggie Davies, W.H. Stevens and Denis O'Sullivan, a production which ran for 100 nights from 2 March. 
This was followed by a number of small roles at the Royal Opera House, Covent Garden. However, the Covent Garden contract expired with Harris's death in June 1896, whereupon she joined the Carl Rosa Opera Company, performing as principal mezzo-soprano in London and on tour in the provinces in Carmen, Mignon, Lohengrin, Rigoletto and other works. In 1898, at Queen's Hall in London, she sang as a Rhinemaiden in excerpts from Das Rheingold with Lillian Blauvelt and Helen Jaxon, with David Bispham appearing as Alberich. She remained with the Carl Rosa until 1899, the year in which she married W. J. Pearson.
She was particularly active in the 1900–1901 Queen's Hall season with Wood, appearing with Blauvelt, Lloyd Chandos and Daniel Price, and the Wolverhampton Festival Choral Society, in Beethoven's last symphony on 16 March, and in Gilbert and Sullivan excerpts (with Lloyd Chandos and Florence Schmidt). In the midst of a series of Wagner concerts with Marie Brema, Philip Brozel, David Ffrangcon-Davies and Olga Wood, on 22 November 1901 (the first anniversary of the death of Arthur Sullivan), she sang in a special performance of Sullivan's cantata The Golden Legend, with Blauvelt, John Coates and Ffrangcon-Davies.
From 1901-1914, Louise Kirkby Lunn appeared regularly at the Covent Garden, and for several of those years also in the United States, especially at the Metropolitan Opera in the seasons of 1902–03, 1906–08 and 1912–14. 
She was particularly successful in Wagnerian opera parts, especially as Fricka, Brangane, Ortrud and Erda, and in 1904 gave the first English-language performance of the role of Kundry (Parsifal) in America, at Boston. Her American 1902 debut, however, had been as Amneris in Aïda, a role in which she formed a long and famous partnership with the Czech dramatic soprano Emmy Destinn as Aïda.  (This partnership is preserved on record, not only in a 1911-recorded 'Ebben qual nuovo fremito' from Verdi's work, but also in a 1911 'L'amo come il fulgor', from Ponchielli's La Gioconda. Both in England and America, she was also a famous Dalila in the opera by Saint-Saëns. She sang, too, in the Covent Garden premieres of Saint-Saëns'Helene and Massenet's Hérodiade, Gluck's Armide and Tchaikowsky's Eugene Onegin.  Gluck's Orfeo, which she first delivered in 1905, was considered one of her best parts, and her showpiece aria, 'Che faro?', was committed to disc.
Louise Kirkby-Lunn (1873-1930). Photo by Aime and Etta Dupont (1842-1900).
Henry Wood first conducted the Prelude and Angel's farewell from The Dream of Gerontius, with Kirkby Lunn, in February 1901.  In March 1904, she was a principal soloist in the Elgar Festival concerts given at Covent Garden, appearing on the first night with John Coates and Ffrangcon-Davies in Gerontius, and on the second with them and with Agnes Nicholls, Kennerley Rumford (the husband of Clara Butt) and Andrew Black in The Apostles.
In this way she effectively replaced Marie Brema, the original choice for the Gerontius angel. Two years later she performed it with the same colleagues (but for Henry Wood) in Leeds. She sang it under Hans Richter at Birmingham in 1909 with John Coates and Frederic Austin; The Athenaeum remarked, 'each, in turn, brought to it an accession of glory.'  Wood greatly admired her, and employed her frequently, choosing her for a Sheffield Festival presentation of a suite from Rimsky-Korsakov's opera Christmas Eve, with Francis Hurford, in 1908. 
In 1909, Kirkby Lunn performed the Sea Pictures songs under Elgar's baton at the Royal Philharmonic Society concerts. On that occasion she was awarded the Gold Medal of the Society, when the Honorary Secretary, composer and pianist Francesco Berger, referred to her 'rare combination of personal artistic achievement added to a richly endowed nature.'  She made two further appearances before the society before the war, on the opening nights (November) of the 1913 and 1914 seasons.
At the former she sang the scena from Wagner's Rienzi, 'Gerechter Gott!', for Willem Mengelberg, and on the second occasion the Ballade La Fiancee du Timbalier by Saint-Saëns, for Thomas Beecham.  She performed the Brahms Alto Rhapsody at Queen's Hall under Henri Verbrugghen in the Festival of April 1915, and she also sang in the Festival of British Music there the following month. In November 1916, she reappeared with the RPO to sing Mozart's 'Non piu di fiori' from La clemenza di Tito. She made a recording of the Clemenza item.
Before the outbreak of the Great War in 1914, Kirkby Lunn had been in great demand for oratorio appearances on the European Continent, and she sang frequently as far afield as Budapest. New York also heard her during this period. In 1912, she had made a tour of Australia with William Murdoch, the celebrated pianist who had made his London debut two years earlier.
She died in London in 1930, aged 56, from undisclosed causes. Although she could speak four different languages and sing fluently in them, she had always retained her distinctive Manchester regional accent in conversation.
More
Louise Kirkby Lunn was a leading contralto who had trained in her native Manchester and studied at the Royal College of Music in 1890 for three years. In 1895 she appeared in the first of Henry Wood's Promenade concerts and then began her stage appearances, including small roles at Covent Garden.  Then in 1896 she joined the Carl Rosa Opera Company as principal mezzo-soprano until her marriage in 1899 to William Pearson.  In the 1901 census they are living at Hyde Park Mansions, with a year old son named  Louis Kirkby and her aunt Anne living with them. They later lived in St Johns Wood Park. She sang many roles at Covent Garden during the first two decades of the 20th century and first appeared at  the Bechstein (later Wigmore) Hall in 1902, giving her first full recital (with pianist Percy Pitt) on 3 November 1906, followed by many others in subsequent years when her husband was manager there.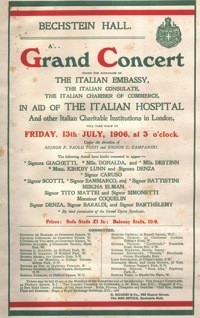 Louise Kirkby-Lunn (1873-1930). Poster 1906.
She also performed in a charity concert in aid of the Italian Hospital in London in July 1906 and was awarded the Gold Medal of the Royal Philharmonic Society for her rare combination of personal artistic achievement added to a richly endowed nature.   She was famous for her Delilah in Samson and Delilah, and for Gluck's Orfeo. In 1909, she sang Elgar's Sea Pictures with Elgar conducting  the orchestra. She often toured Europe and made trips to New York and Australia. In 1922 she made her farewell to Covent Garden with her celebrated part of Kundry but continued for some years to appear in concerts and recitals. Sir Henry Wood said she was a singer with a glorious voice and an even tone throughout a compass of well over two octaves, a singer with whom I never found fault in so much as a quaver all the years I worked with her, and who never sang out of tune.
More
She was born in Manchester and studied with J.H. Greenwood, afterwards with Alberto Antonio Visetti in London. Further studies with the renowned Jacques Bouhy in Paris (Louise Homer was also a student of him). She made her early debut as Margaretha in Schumann's Genoveva at the Drury Lane Theatre in London. Later she appeared in Délibes' Le Roi l'a dit (!). She considered her real debut as  Nora in Charles Standford's opera Shamus O'Brien. She also sang at the Harris Opera Theatre and at the Carl Rosa Opera Company. From the very beginning she loved to sing on the concert platform. After her marriage in 1899 she had planned to terminate her career, but in 1901 she continued singing and signed a contract with Covent Garden. She was an important member at this famous opera house until 1914 (and again in the season 1921/22).
She participated in some first  opera performances: Massenet's Hérodiade, Saint-Saëns' Hélène and Gluck's Armide. In 1902 she was invited to the Metropolitan where she debuted as Ortrud. Within the next two years she also sang Brangäne and Amneris. She toured America in 1904 where she was heard as Kundry (first performances of the opera in English) and this role was one of her greatest achievements.
She created the role of Dalila in Saint-Saëns' opera Samson et Dalila in the first English performance at Covent Garden. Despite her great success on stage she made many concert appearances and she became even more popular on the concert platform than in opera. She became THE great British oratorio contralto besides Dame Clara Butt. She was not only heard at the festivals of Birmingham, Sheffield and Norwich but also toured widely (USA, Australia and New Zealand). Her last opera appearance (as Amneris) took place in 1922 at Covent Garden. She continued to give concerts and recitals. At the end of her career she became a renowned singing coach.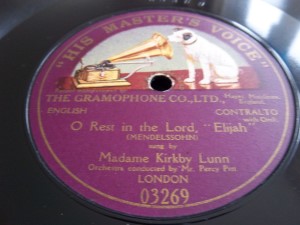 Louise Kirkby-Lunn (1873-1930). Album MHV.
"A singer with a glorious voice and an even tone throughout a compass of well over two octaves, a singer with whom I never found fault in so much as a quaver all the years I worked with her, and who never sang out of tune. Her Brangäne at Covent Garden, her fine acting and singing as Kundry in America, and a marvellous rendering of Isolde's Liebestod … are among my most cherished memories of her" (Sir Henry Wood, conductor).