1,100 seats.
Address: Andrássy út 22.
Also: Hungarian State Opera, Royal Opera House Budapest.
Gustav Mahler was Director of the Hungarian Royal Opera for two and a half years. This stage of his career is still a special pride of the Hungarian music history. The first age of the Opera House opened in 1884 was thanks to the ingenious, uncompromising and sometimes uncontrollable director. Great successes and small intrigues, enthusiastic patrons and fierce opponents have both found Gustav Mahler in his years of Budapest.
Budapest Opera House Orchestra.
In 1888, at only 28, Gustav Mahler was appointed to serve a 10-year term as director. His first major decision was to decree that all performances would be sung only in Hungarian and that, whenever possible, native singers would be engaged.
His deput performance of wagner's Das Rheingold (1889 Opera Budapest 26-01-1889) and Die Walkure – both in Hungarian – were major triumphs.
19-11-1889 Letter about Titan from Gustav Mahler at the Budapest Opera House.
The premiere he conducted of his own Symphony No. 1 (1889 Concert Budapest 20-11-1889 – Symphony No. 1 (Premiere) in the Vigado) , though, was poorly received.
In Budapest Gustav Mahler met Johannes Brahms (1833-1897) for the first time, who attended Mahler's performance of Don Giovanni (1890 Opera Budapest 06-09-1890) and was so impressed that years later he championed Mahler's appointment as director of the Vienna State Opera.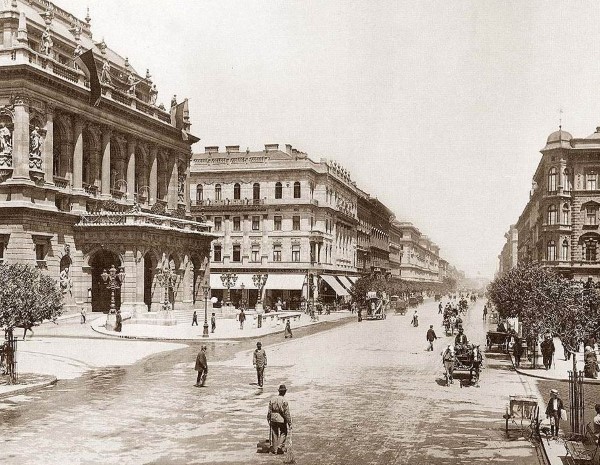 Year 1896. Budapest Opera House.
In 1891, with the expected appointment of a new head of the opera, Graf Geza Vasony-Teo von Zichy (1849-1924), who had already indicated that he and not Mahler would have artistic control, Mahler accepted an invitation to become principal conductor at the Stadttheater in hamburg.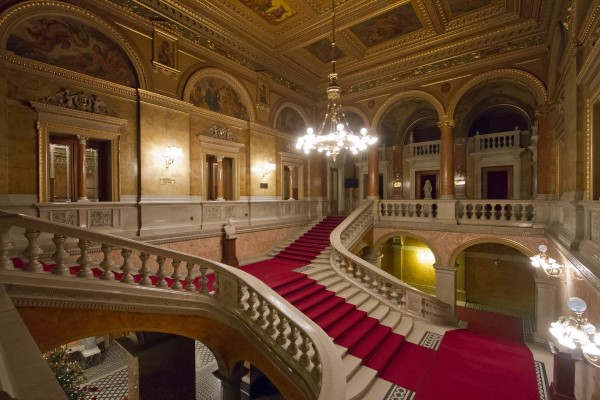 The decision to build the Opera House was made in 1873. Following a public tender, the jury selected the design submitted by famed architect Miklós Ybl (1814-1891), a major figure of 19th century Hungarian architecture. Construction began in 1875 and, despite minor delays, was completed nine years later. The project was funded by Emperor Franz Joseph of Austria-Hungary. The opening night – to which Emperor and King Franz Joseph was also invited – was held on 27 September 1884.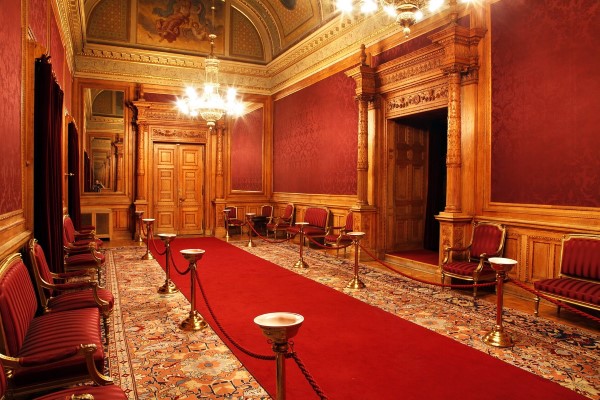 The gala performance, conducted by Ferenc Erkel and his son Sándor, featured the first act of Bánk Bán, the overture from Hunyadi László and the first act from opera Lohengrin of Wagner. Today it is the largest opera house in Budapest and in Hungary. Miklós Ybl's neo-renaissance palace has remained virtually unchanged in the 130 years since and continues to attract admirers of opera and ballet alike. Each year, thousands of tourists visit the building to take in one of Budapest's most impressive 19th century national monuments. In beauty and the quality of acoustics the Budapest Opera House is considered to be amongst the finest opera houses in the world.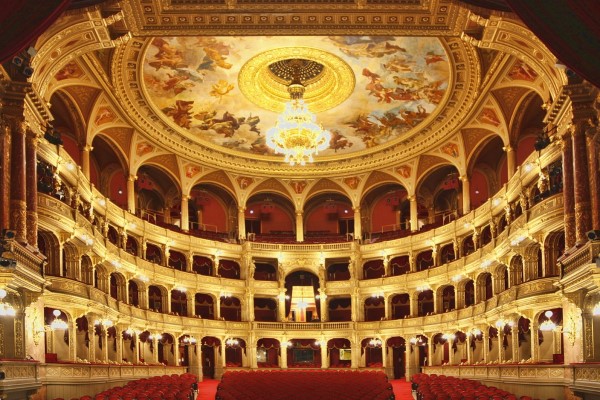 It was built in neo-Renaissance style, with elements of Baroque. Ornamentation includes paintings and sculptures by leading figures of Hungarian art including Bertalan Székely, Mór Than and Károly Lotz. In front of the building are statues of Ferenc Erkel (1810-1893) and Franz Liszt (1811-1886). Both were sculpted by Alajos Stróbl.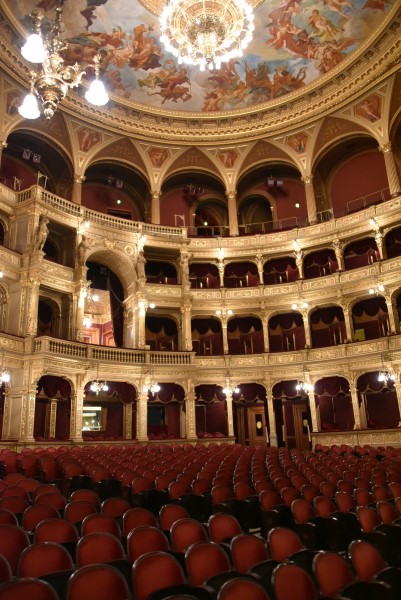 Liszt is the best known Hungarian composer. Erkel composed the Hungarian national anthem, and was the first music director of the Opera House; he was also founder of the Budapest Philharmonic Orchestra. Each year the season lasts from September to the end of June and, in addition to opera performances, the House is home to the Hungarian National Ballet. Today, the opera house is home to the Budapest Opera Ball, a society event dating back to 1886 (like in Vienna).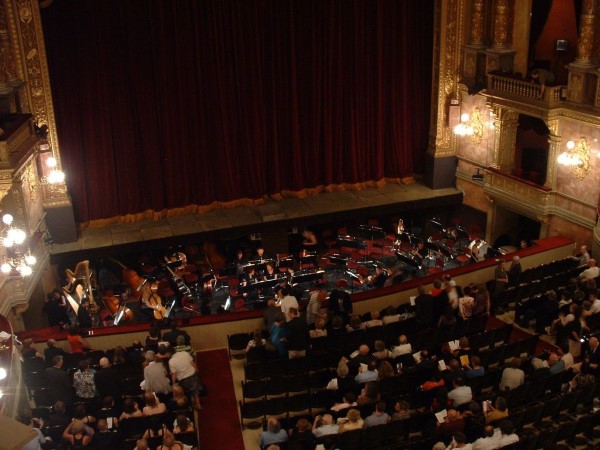 It's all purple velvet and ornate gold decorations, and the walls aren't walls but row upon row of private boxes elegantly decorated with mirrors. The horseshoe-shaped, three-floored auditorium provides a breathtaking experience. The auditorium holds 1,261 people. It has – according to measurements done in the 1970s by a group of international engineers –  the third best acoustics in Europe after La Scala in Milan and the Palais Garnier in Paris.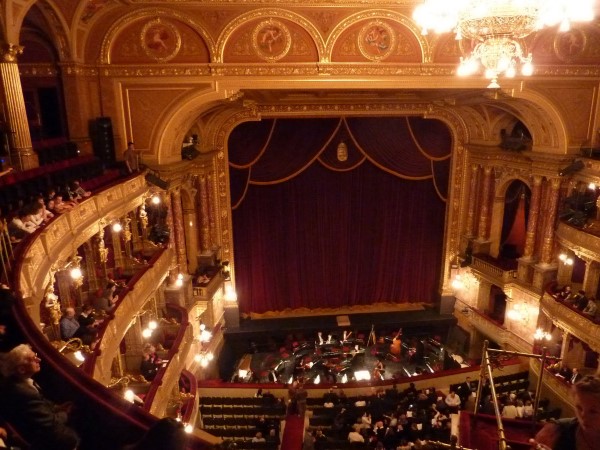 Although many opera houses have been built since, the Budapest Opera House is still among the best in terms of the acoustics. The gorgeous red-gold colours, the relaxed, harmonised composition with its ceiling fresco above and the lavish bronze chandelier make this the most memorable space in this representative building. Each level is decorated differently, but the overall picture is uniquely harmonious.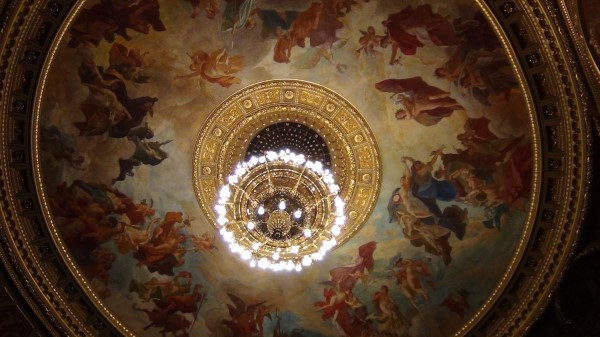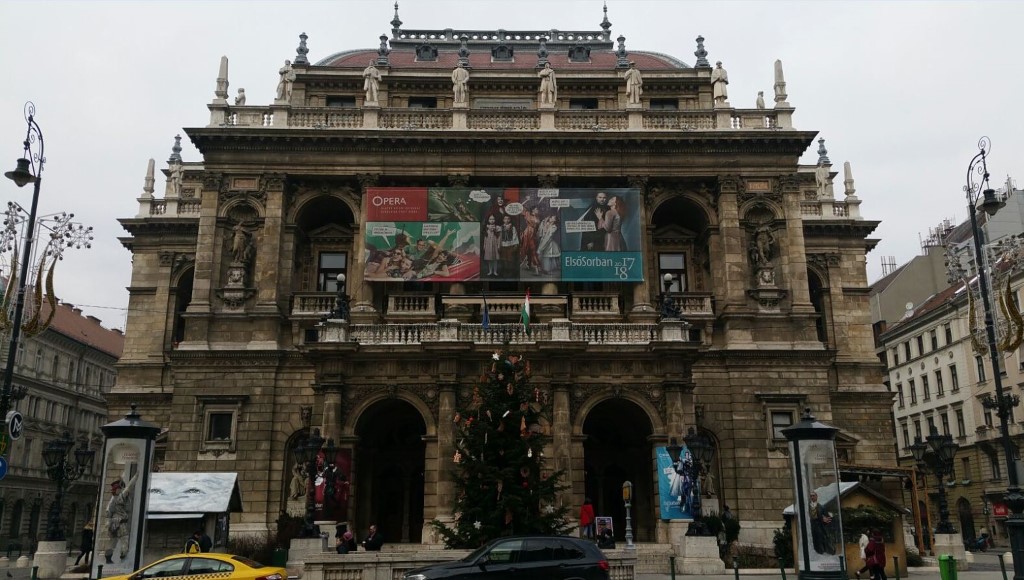 2017. Budapest Opera House.