Composed
Performances by Gustav Mahler
Versions
Arrangements Erwin Stein (1921) and Klaus Simon (2007)
Mahler's Fourth Symphony, which is available in two reduced orchestrations: one by Erwin Stein (a pupil of Arnold Schoenberg) made in 1921 and another by Klaus Simon from 2007.
The orchestration in the two adaptations is very similar. They both use single woodwinds, the full percussion called for in the Mahler original (omitting only the timpani), harmonium, and piano. The earlier version, by Stein, calls for two pianists at one keyboard for a fuller piano texture. The most significant difference between the two versions is Stein's choice to omit the bassoons altogether from the woodwind section and to leave out all of the brass instruments. Simon's version includes one bassoon and one horn, neither of which are used in Stein's arrangement.
Stein's version, with its slightly smaller ensemble, is the more chamber-like of the two arrangements. But the absence of the bassoon and horn also create some compromises. For example, certain prominent solo passages for the horn, such as the one in the first movement, measures 10-12, and the introduction to the second movement are performed on the clarinet in Stein's version, which preserves the pitches, but not the original color or effect. Although the melody line of the clarinet is exactly the same as horn solo, it does not match Mahler's opulent horn sound. The absence of the bassoon comes at a similar cost. Though the bassoon rarely has a solo melody in Mahler's original, it is nevertheless crucial as harmonic support. Stein solves this by assigning some of the material for the bassoon to the viola and the double bass. Most often, Stein gives the bassoon material to the left hand of the harmonium.
The woodwind, percussion, and string writing in the two versions are mostly similar. As does Simon, Stein closely followed Mahler's original string writing. He keeps all of the solo woodwind passages in his chamber version. However, his arrangement is focused on the string section rather than the woodwind section. The effect is of a string quintet with other instruments; it gives a greater impression of chamber music than does the more recent Simon version. At the same time it sacrifices some of the orchestral grandeur of Mahler's original. This is more fully maintained in Simon's arrangement.
Publications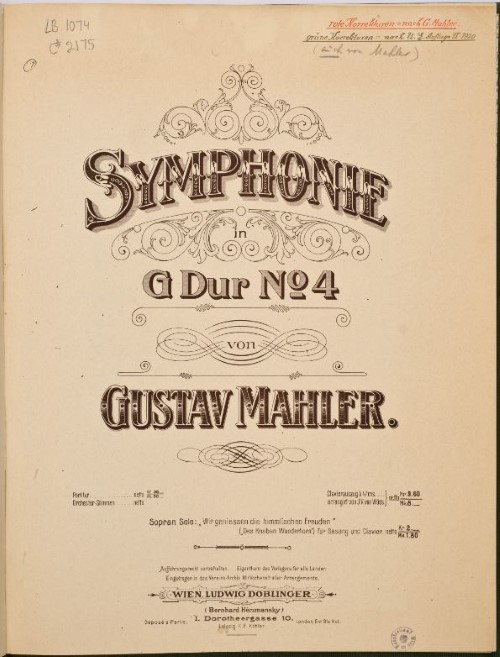 1902. Score published by Ludwig Doblinger.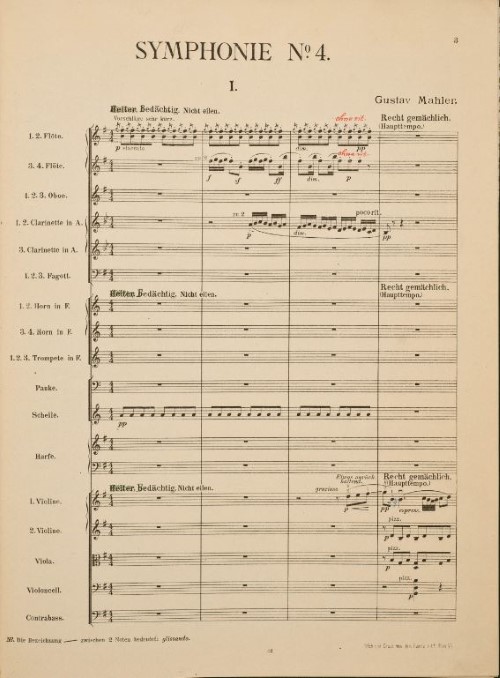 1902. Score published by Ludwig Doblinger. Movement 1: Bedachtig-nicht eilen-recht gemachlich.
Historical recordings
09-11-1905 Leipzig. Year 1905. Gustav Mahler. Symphony No. 4 – Movement 4: Lied: Das himmlische Leben (Sehr behaglich) (start 06:06). Welte-Mignon.
1930 Japan, Tokyo: World premiere electrical recording. Eiko Kitazawa (soprano) with the New Symphony Orchestra of Tokyo conducted by Hidemaro Konoye (1898-1973), Japanese Parlophone. 05-1930.