Gustav Mahler's Symphony No. 7 was written in Year 1904 and Year 1905, with repeated revisions to the scoring. Although the symphony is often described as being in the key of E minor, its tonal scheme is more complicated. The symphony's Movement 1: Langsam (Adagio) – Allegro risoluto, ma non troppo moves from B minor (introduction) to E minor. The work ends with Movement 5: Rondo-Finale in C Major.
This symphony concludes the trio of Mahlers 'middle' instrumental symphonies (No. 5, No. 6 and No. 7).
In Year 1904 Gustav Mahler had international success as a conductor and became known as a composer. His second daughter, Anna Justine Mahler (Gucki) (1904-1988), was born in june and during his customary summer break away from Vienna in his lakeside retreat in Maiernigg, in his 1901-1907 House Gustav Mahler Maiernigg – Villa Mahler No. 31 (Composing cottage), he sketched the two ´Nachtmusik movements´ for Symphony No. 7:
He then worked on Symphony No. 7 intensively the following summer (Year 1905), claiming to take just four weeks to complete the first, third and fifth movements.
The completed score was dated 15-08-1905, and the orchestration was finished in 1906. Mahler laid Symphony No. 7 aside to make small changes to the orchestration of Symphony No. 6, while rehearsing for its premiere in 05-1906.
In the three years which elapsed between the completion of the score (Year 1905) and the symphony's premiere (Year 1908) Mahler witnessed dramatic changes in his life and work: In 1907 he had to resign his conductorship of the Vienna State Opera, his first daughter Maria Anna Mahler (Putzi) (1902-1907) died and he learned that he was suffering from an incurable heart condition.
Musicologists surmise that this is why the optimism and cheerfulness of the symphony was subsequently tempered by the small but significant revisions Mahler made in the years (Year 1907 and Year 1908) leading up to its premiere.
Symphony No. 7 had its premiere on 19-09-1908 in Prague with the Czech Philharmonic, at the festival marking the Diamond Jubilee of Franz Josef I, Emperor (1830-1916). See: 1908 Concert Prague 19-09-1908 – Symphony No. 7 (Premiere).
Architecture
The five-movement structure seems to adopt a symmetrical arch-like form:
But there is a hugely differing significance to the individual movements. The Schezo has insufficient weight for a central movement, and there is a complete lack of a connection between the two outer movements in a semantic sense. Mahler himself contrasted Movement 5: Rondo-Finale with Movement 1: Langsam (Adagio) – Allegro risoluto, ma non troppo and Movement 4: Nachtmusik. Andante amoroso.
Two parts structure
Beginning with the darkest situation, gradually brightening until Nachtmusik II. In two parts:

First movement – Nachtmusik I,
Scherzo – Nachtmusik II.

'Daylight music', as Gustav Mahler called it, with a triumphant finale.
Three parts structure
In 1906 Richard Specht (1870-1932) divides the symphony in three parts:
The defiantly weighty first movement, struggling in tragic battles,
The interlude with the three middle movements,
Last movement.
Dusk until dawn
The harmonic and stylistic structure of the piece may be viewed as a depiction of the journey from dusk till dawn. The piece evolves from uncertain and hesitant beginnings to an unequivocal C major finale, with its echoes of Richard Wagner (1813-1883)'s Die Meistersinger von Nürnberg.
This journey from night to day proceeds via an extraordinary Scherzo, Movement 3: Scherzo. Schattenhaft, marked schattenhaft (shadowy), which may have been what prompted Arnold Schoenberg (1874-1951) to become a particular champion of the work. The abundance of themes based upon the interval of a fourth has parallels with the First Chamber Symphony.
Heiter (bright)
It is striking that Mahler himself repeatedly uses the German word 'heiter' (bright, or cheerful). He speaks of 'bright, humorous content' (December 1907) and a 'predominantly cheerful character' (early 1908). Those who have problems with this characterisation must recollect Mahler's definition of the 'cheerfulness of a higher world', such as specified by the composer for the first three movements of Symphony No. 4, 'which has something unearthly and harrowing'.
This also enables an understanding of the scene with a Prague trumpeter, as recounted by Mahler in a letter to Alma dated 10-09-1908: 'A despondent trumpeter said to Bodanovich: (a playful reference to Arthur Bodanzky (1877-1939)) 'I just don't see what's beautiful about blasting out muted high notes all the way up to C-sharp for bars on end.' The remark instantly called to mind the human soul, which is likewise incapable of comprehending its own misery, its tormented but muted struggle with the sublime, its failure to grasp the ultimate purpose or visualise how such shrieks unite to form a great chord in the universal symphony.' This purportedly jocular anecdote reveals a great deal about Mahler's empathetic understanding of human fate, the world and the symphony.
Movements
Movement 1: Langsam (Adagio) – Allegro risoluto, ma non troppo.
Movement 2: Nachtmusik. Allegro moderato. (Nachtmusik I)
Movement 3: Scherzo. Schattenhaft.
Movement 4: Nachtmusik. Andante amoroso. (Nachtmusik II)
Duration
The duration of the symphony is around 80 minutes. There is an exceptionally lengthy recording by Otto Klemperer which is 100 minutes long, as well as a recording by Hermann Scherchen with the Toronto Symphony Orchestra that is 68 minutes. The Symphony is sometimes referred to by the title Song of the Night (German: Lied der Nacht), though this title was not Mahler's own and he disapproved of it.
Reception
Mahler conducted the premiere in Prague in 1908. A few weeks later he conducted it in Munich and the Netherlands. Both the audience and the performers at the premiere were confused by the work. It remained for a while as one of Mahler's least appreciated works, often accused of incoherence. More recently conductors have experimented with a range of interpretations of the work, especially the tempo of the finale, and the work has thrilled more audiences worldwide and has since become more popular.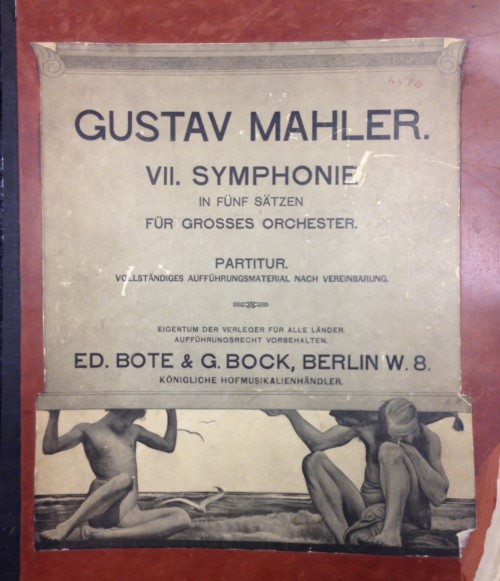 Score Symphony No. 7 by Bote & Bock music publishers, Berlin.
---
Listening Guide