Year 1890. Betty Frank (1866-1920).
Profession: Soprano.
Residences: Prague.
Relation to Mahler: Love affair (Prague, 1885). Love life Gustav Mahler through the years
Correspondence with Mahler: Yes. Probably destroyed by Alma Mahler.
Address: Stadtpark 621, Prague.
Address from 1897: Mariengasse No. 21, 1402/II. Now: Opletalova No. 21, Prague.
Married: Married to Otto Ruckert (1847 Buhl). Daughter Eleonore (18-04-1896).
Born: 02-07-1866 Breslau
Died: 00-00-1920 Berlin?
Buried: 00-00-0000
Also: Betty Frankova, Betty Frank-Ruckert. 
Betty Frank, singer at Prague and one of Mahler's first loves.
18-09-1885 Prague: Debut (Zauberflote).
28-11-1885 Prague: Letter by Gustav Mahler to Friedrich Fritz Lohr (1859-1924) about Betty Frank (1866-1920).
18-04-1886 Prague: The programme also involved performances by singers whom Mahler accompanied. Mahler's Praag friend Betty Frank (1864-0000) sang three of his songs. We know the titles of two, but the third is less certain.
Frank definitely sang the two songs:
Steh auf!, later renamed Lied 1: Fruhlingsmorgen and included in the collection Vierzehn Lieder und Gesange aus der Jugendzeit (1880-1892);
Lied 3: Hans und Grethe from the same collection;
While the third was from the collection Lieder eines fahrenden Gesellen, and probably Lied 2: Ging heut' Morgen uber's Feld. 
The critics particularly praised the singer for the chamber intimacy of her performance and excellent vocal technique, Mahler's music was considered "interesting and natty in conception." 
Prague, Grand Hotel Wintergarten, 12 am.
Fundraising concert. Premiere. Conducted by Gustav Mahler.
Chronology
More
Between 1880 and 1885 she studied in Paris with M. Marchesi. She was engaged in Riga, two seasons in the court theater in Wiesbaden and 1884-1885 as a guest at the Kroll Opera in Berlin. In the summer of 1885, the incoming director of the German theater in Prague, A. Neumann, received it for his new ensemble. Here F. was friends with G. Mahler, who worked as a bandmaster at StD. Her contract was interrupted by a holiday from November 1889 to April 1890, when she was guest of German performances at the Metropolitan Opera in New York. The Prague Treaty ended after the breakup with Neumann in September 1891, when the director did not want to accept her terms.
She left for a short time in Breslau, where the city theater worked in a financial emergency, then to Zurich. Already in 1891 she acted with the director of Czech ND F. Šubert for an engagement, promising to sing Czech, but was politely rejected. In 1893, she apparently ended her theatrical career because she applied her pension entitlement to the German theater in Prague and she opened a singing school in Prague (M. Drozenová and M. Gärtnerová were among her pupils). After 1918 he appeared as a teacher at the Stern Conservatory in Berlin.
She often concerts in Prague. On 18-04-1886 she sang at the Charity concert with Mahler's accompaniment three of his songs, Mahler's first composer's performance. On 14-02-1891, for the first time at the concert of the German theater, Basta vincesti and Donne Vaghe, found by G. Adler in the funds of the Prague Clementinum (both played as Mozart's, although Donne Vaghe is the work of Paisiels) performed at the German Theater concert. 14-04-1891 was one of the soloists performing Verdi's Requiem in the theater.
The technique of bel canta was controlled and her sopran had perfect coloring capabilities (including staccato and trills to high d). At the time of her work in Prague, she was the only colorful soprano in the ensemble and included the entire current repertoire in the color and lyrical field (up to 80 appearances in the season). Almost all Prague critics highlight technical brilliance, purity of intonation, safe tone, perfectly balanced passages and other features common in the technique of Italian singers of the first half of the 19th century. His actor's speech, initially more sophisticated in naive, flirtatious and lyrical roles and princess figures, enriched F. during the Prague engagement.
She did not compete in Prague like the Queen of the Night (Mozart: Die Zauberflöte) and Rosina (Rossini: Der Barbier von Sevilla); (Bellini: Die Nachtwandlerin, Halévy: Der Blitz, after 30 years), and in September 1891, a cycle of Meyerbeer's works for the composer's anniversary (Robert der Teufel) , Die Hugenotten, Der Nordstern, Dinorah, Die Afrikanerin, the role of Berty in Der Prophet singing outside the cycle). The sharp distinction of her singing type turned into a disadvantage when around 1890 the repertoire changed in favor of dramatic musical works at the expense of virtuoso; before 1890, however, F. was an indispensable force in the Prague German ensemble.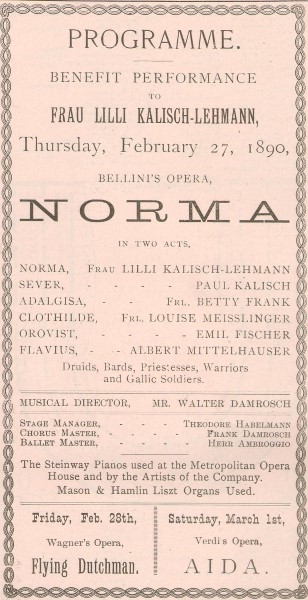 Year 1890. Betty Frank (1864-0000) at New York Metropolitan Opera (MET) in Bellini's opera Norma with Lilli Lehmann (1848-1929).
Roles
Prague Koniglich Deutsches Landestheater and Neues Deutsches Theater (State Opera)
1885: Rossina: Der Barbier von Sevilla, Mozart: Die Zauberflöte, Susanne (Mozart: Figaros Hochzeit), Wagner: Das Rheingold, Wagner: Die Walküre, Lucia Donizetti: Lucia von Lammermoor), Marie (Donizetti: Die Regimentstochter), Eudoxia, Madeleine (Adam: Postillon von Lonjumeau), Margarethe of Valois (Meyerbeer: Die Hugenotten), Leonore (Verdi: Der Troubadour) Mrs. Fluth (Nicolai: Die lustigen Weiber von Windsor), Isabelle (Meyerbeer: Robert der Teufel), Lady Durham (Flotow: Martha);
1886: Anna (Boitzerie: Die weisse Dame), Astaroth (Goldmark: Königin von Saba), Constance (Lindsay von Chamounix), Gilda (Verdi: Rigoletto) : Coste fan tutte, Elvira (Die Stumm von Portici), Ines (Meyerbeer: Die Afrikanerin), Bertha (Meyerbeer: Der Prophet), Rose Friquet (Gluck: Armide) Mathilde (Rossini: Wilhelm Tell), Angela (Auber: Der schwarze Domino);
1887: Voice of the Bird (Wagner: Siegfried), Micael (Bizet: Carmen), Fatima (Weber: Abu Hassan), Olympia (Offenbach: Hoffmanns Erzählungen), Henriette (Der Blitz) Leonore (Flotow: Alessandro Stradella);
1888: Donna Elvira (Don Juan), Donna Clarisa (Weber-Mahler: Die drei Pintos), Carlo Brioschi (Auber: Teufels Anteil), Amina (Bellini: Die Nachtwandlerin) ), Margianna (Cornelius: Der Barbier von Bagdad);
1889: Baucis (Gounod: Philemon und Baucis), Oskar (Verdi: Ein Maskenball), Peace Messenger (Wagner: Rienzi), Philip (Thomas: Mignon), Juliet ), Marie (Rubenstein: Kinder der Haide), Dinorah (Meyerbeer: Dinorah). • In Metropolitan Opera in New York:
1889/90: Zerlina (Don Juan), Leonore (Verdi: Der Troubadour), Oscar (Verdi: Ein Maskenball), Mathilde (Rossini: Wilhelm Tell), Eudoxia Jüdin), Gerhilde (Wagner: Die Walküre), Adalgisa (Bellini: Norma), Voice of the Bird (Wagner: Siegfried).