Kammerhof/Wildpretmarkt/Kienmarkt.
Parterre and 1st floor of a residential building.
Address: Tuchlauben No. 12.
Also: Rother Igel.
1822 The Gesellschaft der Musikfreunde rents premises within a building on the Tuchlauben in Vienna, "Zum roten Igel" (same complex).
1829-1870 The Gesellschaft der Musikfreunde buys "Zum roten Igel", the building it had formerly rented, planning to replace this with a new building bringing the diverse activities of the Musikverein together under one roof.
1885 The former owner built the Mattonihof instead of the part of town Stadt 558 (Tuchlauben 12), which was cultivated on the farmyard of the house Stadt 550 (Wildpretmarkt 1) at the Wildpretmarkt (which continued to bear the sign "Zum rote Hedgehog"). This, however, the century-long existing connection Tuchlauben-Wildpretmarkt was interrupted.
16-08-1894 Steinbach am Attersee: (Thursday) Letter sent by Gustav Mahler to Friedrich Fritz Lohr (1859-1924) to meet him Tuesday 21-08-1894 at Gasthaus Zum Roten Igel in Vienna.
Also visited frequently by Anton Bruckner (1824-1896) and Johannes Brahms (1833-1897).
Famous 19th century coffee house in Vienna, Zum Roten Igel, the regular haunt of many composers of the period. Celebrated regulars included Franz Schubert (1797-1828), Robert Schumann (1810-1856), Felix Mendelssohn Bartholdy (1809-1847) and particularly Johannes Brahms (1833-1897) (who stubbornly refused to eat or drink anywhere else).
Viennese hub of socialising, beer-drinking, and of music. Both Brahms and Schubert went there to hear gypsy musicians play, and their influence found its way into their writing, most closely in the Brahms Clarinet Quintet and the Schubert C Major Quintet.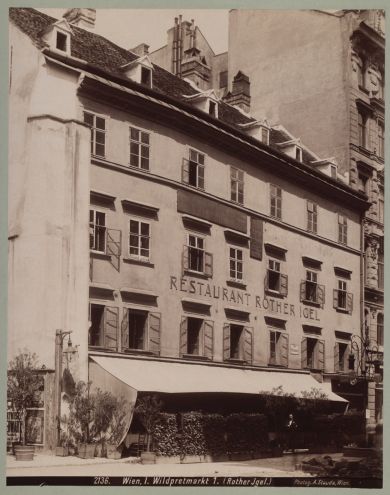 Robert Kahn recalls that Johannes Brahms (1833-1897) never ate alone at the Rote Igel; he always had "two or three acquaintances" with him, and the meal could be accompanied by jokes and prickly insults of all sorts. Brahms was evidently fond of a "highly-seasoned meat course" there (goulash beef). The staff at the Rote Igel "kept in the cellar a small barrel of the finest Hungarian Tokay for his private consumption." He was also known to have a special weakness for Rindspilaw (beef-pilaf), a simple peasant dish.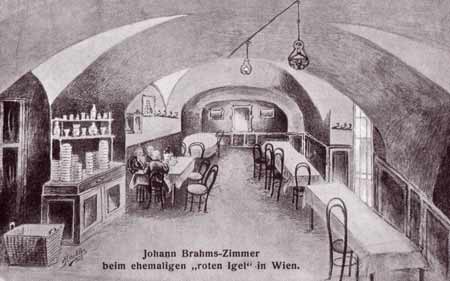 Residential building (1, Brandstätte 10, Wildpretmarkt 1), built in 1905/1906 to plans by Carl Riess (reshaped by Max Fabiani) for Marie Weber. A relief of glazed panels represents the old house "To the red hedgehog" dar. The facade was also simplified after the Second World War (stucco work in the hallway give an idea of the original façade decoration). The restaurant "Zum rote Hedgehog" found no place in the new building.