Erich Wolfgang Korngold (1897-1957).
Profession: Composer.
Residences: Vienna.
Relation to Mahler: In 1909 Gustav Mahler recognized his talent and advised him to study with Alexander von Zemlinsky (1871-1942). Korngold also visited Gustav Mahler (1860-1911) in his hotel in Munich at the time of the world premiere of Mahler's 8th symphony (1910 Concert Munich 12-09-1910 – Symphony No. 8 (Premiere)).
Correspondence with Mahler: Yes. All of the correspondence between Mahler and Korngold, and with Korngold's father Jullius to and from Gustav Mahler, appears to be lost.
Born: 29-05-1897 Brno, Moravia, Czech Republic.
Died: 29-11-1957 North Hollywood, America.
Buried: Hollywood Forever Cemetery, Los Angeles, America.
Erich Wolfgang Korngold was an Austro-Hungarian composer who adopted US nationality. While his late Romantic compositional style was considered well out of vogue at the time he died, his music has more recently undergone a re-evaluation and a gradual reawakening of interest. Along with such composers as Max Steiner and Alfred Newman, he is considered one of the founders of film music. Korngold's 1938 Academy Award for his score to The Adventures of Robin Hood marked the first time an Oscar was awarded to the composer rather than the head of the studio music department (as had occurred, for example, with Korngold's award-winning score to Anthony Adverse in 1936).
He was born in a Jewish home in Brünn (Brno), Austria-Hungary, now Czech Republic, the second son of eminent music critic Julius Korngold. A child prodigy, Erich played his cantata GOLD to Gustav Mahler (1860-1911) in June 1906 (as confirmed by Korngold's father in his memoirs, and by others). 
During the final days of his Vienna season, Gustav Mahler (1860-1911) received a visit of Julius Korngold in House Gustav Mahler Vienna 1898-1909 (Auenbruggergasse No. 2, Rennweg No. 5). Julius was music critic at the Neue Freie Presse (1864-1938) and accompanied by his 9-years-old son, Erich Wolfgang Korngold (1897-1957). In Year 1906, period 07-06-1906 to 12-06-1906. Mahler called him a "musical genius" and recommended study with composer Alexander von Zemlinsky (1871-1942). Richard Strauss (1864-1949) also spoke very highly of the youth.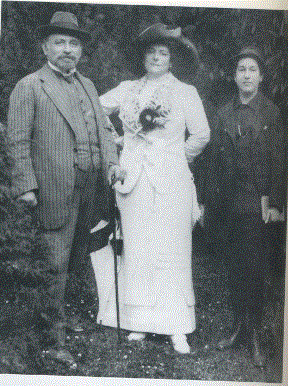 1911. Erich Wolfgang Korngold (1897-1957) (aged 14) with his parents Julius Korngold and Josephine Korngold.
At the age of 11 he composed his ballet Der Schneemann (The Snowman), which became a sensation when performed at the Vienna State Opera (Hofoper, Wiener Staatsoper), including a command performance for Franz Josef I, Emperor (1830-1916). This work was followed first with a piano trio, then his Piano Sonata No. 2 in E major, which Artur Schnabel played throughout Europe. During his early years Korngold also made live-recording player piano music rolls for the Hupfeld DEA and Phonola system and also the Aeolian Duo-Art system, which survive today and can be heard.
Korngold also visited Gustav Mahler (1860-1911) in his hotel in Munich at the time of the world premiere of Mahler's 8th symphony (Year 1910, period 05-09-1910 to 13-09-1910) and met Willem Mengelberg (1871-1951) there, who played 4 hand piano with the young composer. This was mentioned in an interview given by Korngold in 1925 to the Dutch newspaper Sumatra Post (28-12-1925). Korngold's own concert at the Royal Concertgebouw was on 26-11-1925 (conductor).
Korngold wrote his first orchestral score, the Schauspiel Ouverture when he was 14. His Sinfonietta appeared the following year, and his first two operas, Der Ring des Polykrates and Violanta, in 1914. He completed his opera Die tote Stadt, which became an international success, in 1920 at the age of 23. At this point Korngold had reached the zenith of his fame as a composer of opera and concert music. Composers such as Richard Strauss and Giacomo Puccini heaped praise on him, and many famous conductors, soloists and singers added his works to their repertoires.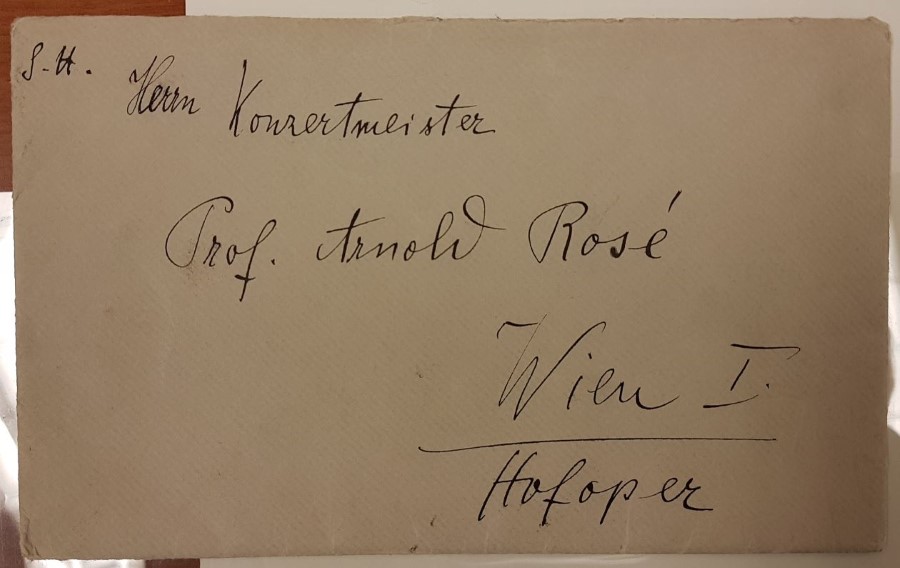 1917. Letter from Erich Wolfgang Korngold (1897-1957) (aged 19) to Arnold Josef Rose (1863-1946). 27-05-1917. Korngold expresses his thanks, through Rosé, to the Hofopernorchester for making his conducting debut the day before so successful.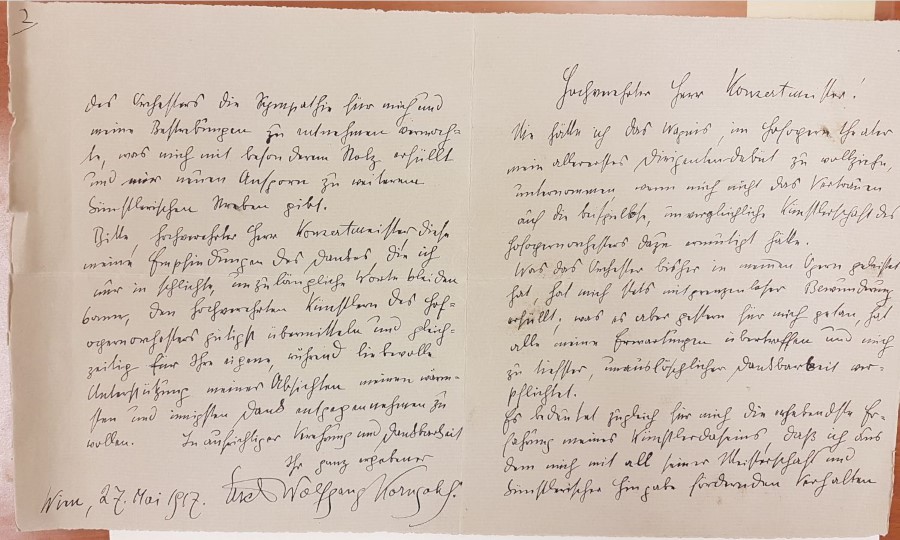 1917. Letter from Erich Wolfgang Korngold (1897-1957) to Arnold Josef Rose (1863-1946). 27-05-1917.

1917. Letter from Erich Wolfgang Korngold (1897-1957) to Arnold Josef Rose (1863-1946). 27-05-1917.
He completed a Concerto for Piano Left Hand for pianist Paul Wittgenstein in 1923 and his fourth opera, Das Wunder der Heliane four years later. He also started arranging and conducting operettas by Johann Strauss II and others while teaching opera and composition at the Vienna Staatsakademie. Korngold was awarded the title professor honoris causa by the president of Austria.
Max Reinhardt (1873-1943) , with whom Korngold had collaborated on the operettas Die Fledermaus and La belle Helene, asked the composer to come to Hollywood in 1934 to adapt Felix Mendelssohn's A Midsummer Night's Dream incidental music for his film version of the play. Over the next four years, he became a pioneer in composing film scores that have been recognized ever since as classics of their kind.
In 1938, Korngold was conducting opera in Austria when he was asked by Warner Brothers to return to Hollywood and compose a score for The Adventures of Robin Hood (1938), starring Errol Flynn. He agreed and returned by ship. When, shortly after he arrived in California, the Anschluss took place, the condition of Jews in Austria became very perilous and Korngold stayed in America. Korngold later stated, "We thought of ourselves as Viennese; Hitler made us Jewish."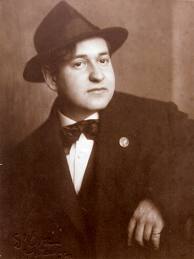 Erich Wolfgang Korngold (1897-1957).
Korngold later would say the film score of The Adventures of Robin Hood saved his life. He won the Academy Award for Best Original Score for the film, and was later nominated for The Private Lives of Elizabeth and Essex (1939) and The Sea Hawk (1940).
A Korngold authority wrote: Treating each film as an 'opera without singing' (each character has his or her own leitmotif) created intensely romantic, richly melodic and contrapuntally intricate scores, the best of which are a cinematic paradigm for the tone poems of Richard Strauss and Franz Liszt. He intended that, when divorced from the moving image, these scores could stand alone in the concert hall. His style exerted a profound influence on modern film music.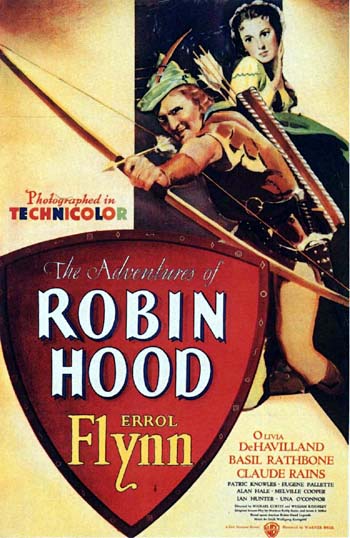 The Adventures of Robin Hood. Music by Erich Korngold (1938).
In 1943, Korngold became a naturalized citizen of the United States. The year 1945 became an important turning point in his life. His father, who had never been entirely comfortable in Los Angeles, and who had never approved of Erich's decision to focus exclusively on film composition, died after a lengthy illness. Around the same time, the war in Europe drew to an end.
Korngold himself had grown increasingly disillusioned with Hollywood and with the kinds of pictures he was being given, and he was eager to return to writing music for the concert hall and the stage. Korngold stopped writing original film scores after 1946.
His final score at Warner Bros. was for Deception starring Bette Davis, Paul Henreid, and Claude Rains. However, he was asked by Republic Pictures to adapt the music of Richard Wagner for a film biography of the composer, released in Trucolor, as Magic Fire (1955), directed by William Dieterle from a script by Ewald André Dupont.
Korngold also wrote some original music for the film and had an unbilled cameo as the conductor Hans Richter. After World War II Korngold continued to write concert music in a rich, chromatic late Romantic style, with the Violin Concerto among his notable later works. He died in North Hollywood on November 29, 1957, and was buried at Hollywood Forever Cemetery.