Gustav Mahler (1860-1911) in Prague:
See also: City of Prague map Gustav Mahler.
The history of Gustav Mahler (1860-1911)'s relationship with Prague (Prag, Praha) started in July Year 1885, when he was engaged by the Prague Koniglich Deutsches Landestheater as a conductor at the young age of twenty-five. Prague was to prove an important milestone in Mahler's life, for it was here that he first confronted major professional challenges and it was here that his music was played for the first time. Mahler last visited Prague in Year 1908, when he conducted the premiere of his own Symphony No. 7. "My symphony [the 7th] will be performed on the 19th of September in Prague–if the Czechs and Germans don't go for each others throats before then", he wrote to Bruno Walter on the 18-07-1908.
It was a time when Czechs and Germans were indeed battling for political hegemony, but Mahler's symphony was nonetheless premiered by a joint Czech-German orchestra. The Prague public and critics of both nationalities received it with respect, acknowledgement and even enthusiasm. Mahler was and remained a figure who commanded the allegiance of both Czech and German musicians in Prague, and feelings were mutual: Mahler identified with German and Czech musical Prague. See 1908 Concert Prague 19-09-1908 – Symphony No. 7 (Premiere).
In June Year 1885 Mahler was offered a post as conductor at the opera in Leipzig, but this was not coming vacant until the 1886-1887 season. While still in Kassel he therefore tried to find work for the 1885-1886 season. On the 03-12-1884 (Year 1884) he wrote a letter to the director of the theatre in Bremen, Angelo Neumann (1838-1910), enquiring about the possibility of collaboration.
Neumann however, had just finished in Bremen and was preparing to take over the Neues Deutsches Theater (State Opera). He had no interest in Mahler and had already chosen Anton Seidl (1850-1898), an outstanding conductor with whom he had very good experience, as orchestra conductor for the Prague theatre.
Over the next weeks, however, it transpired that Seidl was angling for an engagement at the New York Metropolitan Opera (MET). Neumann was concerned that Seidl might let him down in Prague, and so turned to Mahler. Quite probably he visited one of the young conductor's performances in Kassel, because he never engaged musicians he did not know. He had an unerring ability to discern talent and he took Mahler, even though the twenty-five-year old Kapellmeister had no experience of large-scale theatres and productions.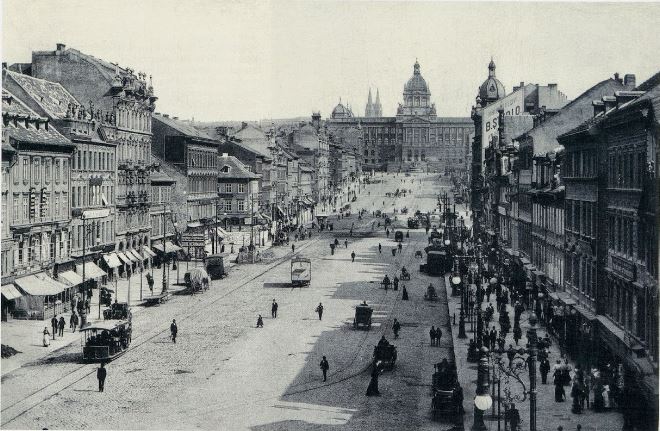 Angelo Neumann (1838-1910)'s caution was justified. Immediately after the start of the first Prague season, in August 1885, Anton Seidl (1850-1898) requested a long leave of absence to guest conduct in Bayreuth and then went straight on to New York rather than back to Prague.
Neumann's ambitious Prague opera programme now rested on the shoulders of the soon to be departing Ludwig Slansky (1833-1905) who had worked at the Prague Theatre for more than twenty years, and Gustav Mahler (1860-1911).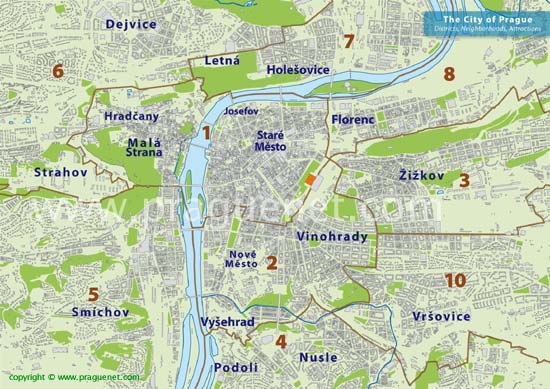 City of Prague. Districts. Map.
Praha 1: Staré M?sto (Old Town), Josefov (Jewish Quarter), Hradcany, Male Strana
Praha 2: Nové M?sto (New Town), Vinohrady and Vysehrad (Upper castle)
Praha 3: Zizkov
Praha 4: Nustle and Podoli
Praha 5: Smichov
Praha 6: Strahov, Dejvice
Praha 7: Letna, Holesovice, Stromovka
Praha 8: Florenc, Karlín (

Karolinenthal

)
Praha 9: Cerny Most, Letnany
Praha 10: Vrsovice