From 1809 to 1813, during the Napoleonic interlude, Ljubljana was the capital of the Illyrian Provinces. In 1813, the city became Austrian again and from 1815 to 1849 was the administrative center of the Kingdom of Illyria in the Austrian Empire. In 1821, it hosted the Congress of Laibach, which fixed European political borders for years to come. The first train arrived in 1849 from Vienna and in 1857 the line was extended to Trieste.
1885. City of Ljubljana.
Town Square is a major square in Ljubljana, the capital of Slovenia. Ljubljana Town Hall is located at the square. In front of Town Hall stands a copy of the Robba Fountain. Near the square, at Cyril and Methodius Square, stands Ljubljana Cathedral.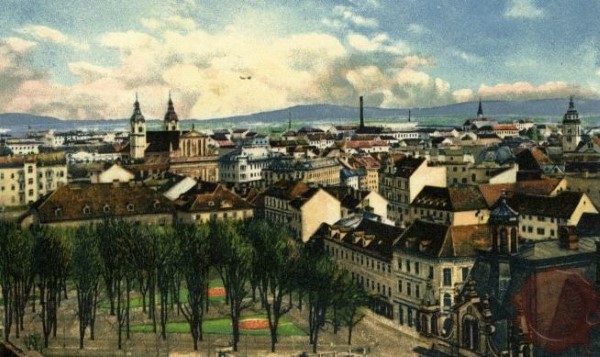 Earthquake
In 1895, Ljubljana, then a city of 31,000, suffered a serious earthquake measuring 6.1 degrees Richter and 89 degrees MCS. Some 10 of its 1,400 buildings were destroyed, although casualties were light. During the reconstruction that followed, a number of districts were rebuilt in the Vienna Secession style. Public electric lighting appeared in the city in 1898.
Revival of Ljubljana
The rebuilding period between 1896 and 1910 is referred to as the " revival of Ljubljana " because of architectural changes from which a great deal of the city dates back to today and for reform of urban administration, health, education and tourism that followed. The rebuilding and quick modernization of the city were led by the mayor Ivan Hribar. In 1918, following the end of World War I and the dissolution of Austria Hungary, the region joined the Kingdom of Serbs, Croats and Slovenes. In 1929, Ljubljana became the capital of the Drava Banovina, a Yugoslav province.